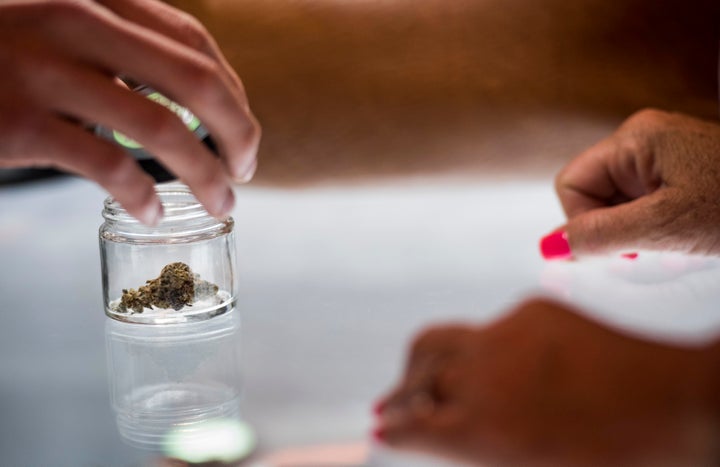 "Marijuana policy in this country has disproportionately targeted Latinos from the start," NHCSL President and Pennsylvania state Rep. Ángel Cruz (D) said in the press statement. "Research shows that the benefits of legalizing cannabis range from taking advantage of its medicinal benefits, increasing tax revenues for health and education, to lowering crime while at the same time reducing disproportionate incarceration of minorities."
Racist politicians who first criminalized cannabis [used the term 'marijuana'] ... to refer to it, precisely because they wanted to underscore that it was a Latino, particularly Mexican 'vice.'"

NHCSL resolution on legalizing cannabis
"Banning LGTBQ discrimination in the workplace is another civil rights issue and we are making it a priority for our organization," he added. "We are proud to stand with the LGTBQ community and will fight any form of bigotry because an attack against one community is an attack against all of us."
The resolution to decriminalize marijuana, on the state and federal levels, points out various examples of how past politicians have used the criminalized drug to paint Latinos in a negative light. 
The resolution's text states that the term "marijuana" (which originates from Mexican Spanish per Merriam-Webster dictionary) was used by "racist politicians who first criminalized cannabis ... to refer to it, precisely because they wanted to underscore that it was a Latino, particularly Mexican 'vice,' and that word, with all its implications, has become the most common names for cannabis in the United States today."
"Just last year, Hispanics received 77 percent of federal marijuana sentences, despite making up around 17 percent of the U.S. population," NHCSL Executive Director Kenneth Romero-Cruz told HuffPost on Thursday. "When making cannabis policy we cannot turn our back on the anti-Latino reasons why that medicinal plant was criminalized and how its criminalization has disproportionately affected Latinos and other people of color."
"To this day, even in states where it is legal, the federal government is willing to deport legal permanent residents for using marijuana," he added. "This is what systemic, chronic persecution and injustice looks like."
The NHCSL's resolution to protect LGBTQ rights in the workplace and beyond highlighted the high cost of having employees leave jobs because of unfairness or discrimination. The text also rejected Trump's recent intention to ban transgender people from serving in the U.S. armed forces.
"Defending our LGBTQ brothers and sisters from discrimination ― in the workplace and in the military ― is a moral duty for us as state legislators," Arizona state Rep. César Chávez (D), who sponsored the resolution, said in a press statement. "NHCSL has taken a bold stance on this matter, which is the civil rights issue of our time, and I could not be prouder to stand with them as we move forward to enact policies that protect everyone from being mistreated for the mere fact of whom they love and not for any harm they have committed towards others." 
Calling all HuffPost superfans!
Sign up for membership to become a founding member and help shape HuffPost's next chapter
BEFORE YOU GO
PHOTO GALLERY
50 Years Of Marijuana Polling