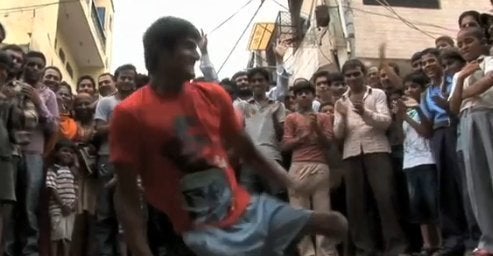 Vinod Thakur's slick moves have already made him a breakout star of "India's Got Talent" -- and now the young break dancer is preparing to conquer the world.
What makes each of his hip-hop thrusts and acrobatic flips even more remarkable is that the 21-year-old Thakur was born with any legs. The victim of a sporadic birth defect, Thakur says he began dancing with encouragement from his friends, who'd seen other handicapped people turn to dance as a way to gain physical strength.
Though he has been thrilling audiences in his East Delhi neighborhood for some time, Thakur says he is astonished by his "Talent" success. "I had never thought they they would like my performance," he told The Telegraph, amidst rehearsals for his second round on the Indian franchise of the British reality series. "I was shocked and couldn't believe my eyes when I was standing on the stage before the judges."
Watch footage of Thakur's incredible performance in East Delhi via the Telegraph:
Popular in the Community