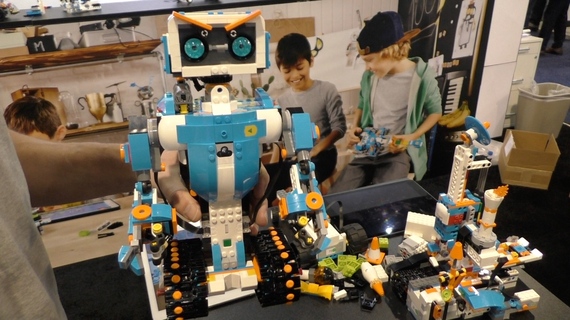 Mention LEGO and pretty much anyone will instantly think of building blocks. Of course, in recent years LEGO has expanded into video games and robotics (MindStorms), but the core of LEGO has always been about building and play.
The challenge for LEGO is how to meet the growing demand for younger and younger kids to have more tech connected toys, while still staying true to their building roots. The answer as we saw at CES 2017 is LEGO Boost Creative Toolbox.
LEGO Boost Creative Toolbox is a robotics kit for kids ages 7-12 with a heavy emphasis on building and playing. Please watch our video review of the LEGO Boost Robotics Kit -
Coding But With a Strong Emphasis on Playing and Building
When you hear about a new LEGO robotics kit, the obvious question is how does it compare to LEGO Mindstorms. The LEGO Boost is definitely less intimidating and much more accessible than MindStorms.
The LEGO Boost really plays up the build and play aspect of making robots. Yes, kids can definitely learn the basics of coding and programing, but Boost is not going to replace Mindstorms.
Here are the key features of the LEGO Boost Robotics Kit:
•Includes over 840 LEGO® pieces, plus a LEGO Move Hub, Interactive Motor and a Color & Distance Sensor.
•Move Hub features Bluetooth Low Energy (BLE) connectivity, two encoded motors, activation button, internal tilt sensor and a light.
•Interactive Motor is an encoded motor.
•Color & Distance Sensor detects distance, motion and color, and can also function as a light.
•Rotate Vernie's head to activate its shoulder-mounted spring-loaded shooter.
•Build the M.T.R.4 (Multi-Tooled Rover 4) and try out the different tool and customization attachments to prepare the vehicle for an array of exciting activities.
•Learn how to play a song and rock out with the Guitar4000.
•Look after your own pet with Frankie the Cat. Be sure to feed it the right food--or it might get upset!
•Construct, code and operate the AutoBuilder to produce real miniature LEGO® models.
•Build and code robots and models, and complete exciting activities with the playmat and intuitive LEGO® BOOST app, available for iOS and Android tablet devices.
•Easy-to-use intuitive software with icon-based drag-and-drop coding interface.
•Building instructions for all 5 models are included with the free LEGO® BOOST app.
When Can You Try The LEGO BOOST System?
Unfortunately, the LEGO Boost system is not launching until August 2017 and It will retail for $159,
As soon as we can get a sample, we will do a full review of the LEGO Boost Creative Toolbox.
Related
Popular in the Community