One creative fan of "RuPaul's Drag Race" has taken his appreciation for the show to the next level by turning four of his favorite queens into LEGO masterpieces.
Sam Hatmaker became inspired to make these little ladies after being wowed by the queens on the eighth season of "Drag Race," which premiered earlier this month. He chose to feature the three queens who live in New York City -- Thorgy Thor, Acid Betty and Bob The Drag Queen -- along with Kim Chi from Chicago.
"I was inspired by so many of the queens this season from their very first interviews," Hatmaker told The Huffington Post. "Sometimes it's the look that attracts me, like Kim Chi, and sometimes it's the queens themselves. Bob just made me laugh from the the first sentence. I think Thorgy Thor and Acid Betty have style and a good attitude about what drag is. It doesn't have to be feminine; it doesn't have to be traditionally beautiful. It can be anything you wear. As Thorgy says, 'a clown is drag!'"
Check out the images of these four LEGO creations below, along with an interview with Hatmaker.
How did you get started making your LEGO tributes?
I had lots of LEGOs from my childhood and they were all stored in big bins. It made it hard to be creative because you would dig for pieces for hours and not really know what you had. A friend suggested I sort them into smaller containers by color and size. Once that giant project was done I felt compelled to see what I could make. My first model was a Flying Bison from the cartoon series "Avatar the Last Airbender." He came out better than I could have hoped, so I decided for another. I built the "Golden Girls" house, including the living room and kitchen, out of LEGOs. It was a lot of work and involved me ordering specific pieces online that I didn't have. I showed it to friends and posted it online, and suddenly it went viral and was everywhere. The outpouring of love and support for that was overwhelming.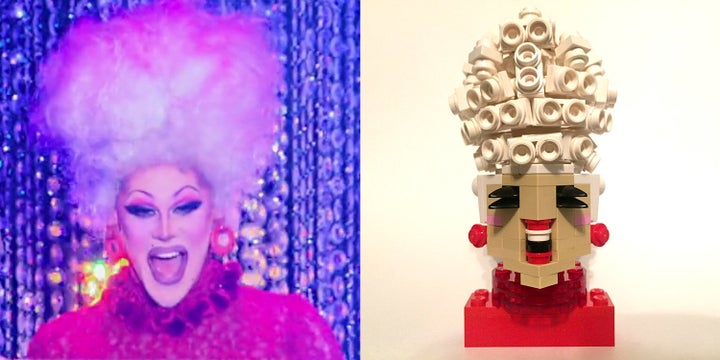 What is it about "Drag Race" that you find so compelling?
The queens this season just inspired me. I felt immediately drawn to some of them. I love that three of the queens are form NYC where I live. I'm not a nightlife kind of person, so I'd never seen any of them, but lots of friends had mentioned them to me before. Kim Chi from Chicago, near where I grew up, just made me fall in love with her unique styles and nerd personality. I bet we would be amazing friends if she lived close to me.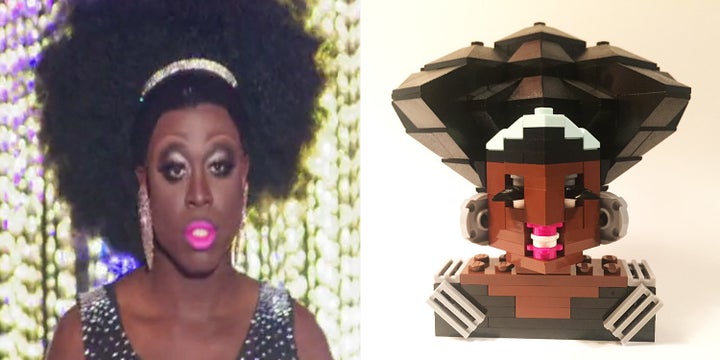 Are any of the queens standing out from the rest of the pack for you? Who would you want to see nab the crown?
I think the four queens I made will make it to the top five. I have a feeling that although Bob hasn't won a challenge yet, she's on a rocket to win this thing. He just has such a great attitude, sense of humor, and he doesn't seem like he wants to make drama. Acid Betty really shines for me too. If you can get past the acid burns, I think she has a great work ethic and really just wants to be good and isn't going to let anyone else stand in her way or keep her from doing her best work.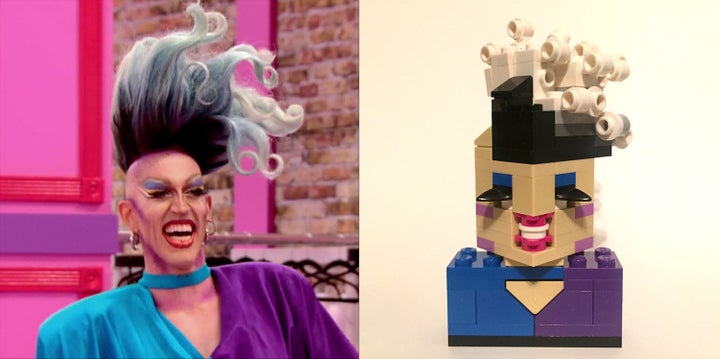 Do you have any other upcoming projects?
I've started working on a new Lego project unlike any I've ever done. I want to make a full size bust of the Medusa from mythology. It's a long-term goal. I would like to make some Madonna minifigures. I've also been learning the Banjo.
"RuPaul's Drag Race" airs on Mondays on LOGO at 9 p.m. ET/PT.