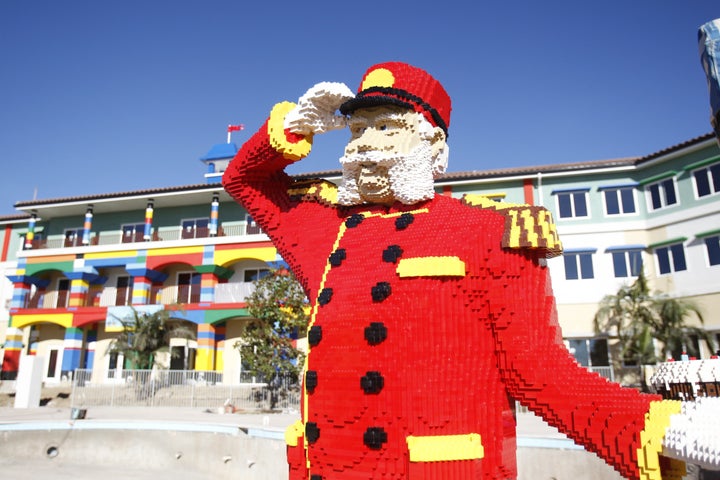 Mark Larson is a grown man who spends his days building Lego models. This may sound like indictment of his work ethic, but as a Lego Master Modeler employed by the Danish toy corporation it's his job to pile tiny plastic blocks into improbably lifelike creatures. His current project: Sprucing up America's first Lego hotel.
Legoland Hotel, modeled -- not unlike other more luxurious domestic accommodations -- on similar hotels in Europe, is due to open at Legoland on April 5. Larson's job is to make sure that when it does, it is chockablock with toy sculptures, thousands and thousands of toy sculptures.
Building regulations being what they are, the hotel itself is not made of Lego bricks, but it is made to look like it is; much of the interior has been constructed from the building blocks. An entire cityscape of Legos surrounds the restaurant. A castle beckons children. Lego animals hide in the corners of the pirate-, adventure- and knight-themed rooms.
A construction worker of a specific sort, Larson has helped build or overseen the creation of thousands of these pieces. He says he never grows tired of working in the medium he's favored since childhood even while admitting that the final push to get all the creatures ready before the hotel's grand opening -- reservations are already coming in -- has been hectic.
Mark spoke to HuffPost Travel about his work from Legoland.
HuffPost Travel: How does one become a Lego Master Modeler?
Mark Larson: I've worked for three and half years at Lego. I was recruited at a convention in Chicago. I brought in a 12-square-foot city with a train that was actually pretty similar to some of the stuff we're doing at the hotel. They took an interested in that. Two of the of the modelers on my team were discovered during a national search. One is from Seattle and the other is from Wisconsin. These guys were put through all sorts of tests.
HPT: How close are you to finishing work on the hotel?
ML: The final feature we're working on is a talking dragon in a bathtub right between the park and the hotel. She'll be interacting with the kids and have some other special features. She'll squirt water and converse. She's one of the four dragons at the hotel, but she's significant because she's the mother.
Our biggest dragon is in a tower as you enter. He's made of over 400,000 Lego bricks and took roughly 4,000 man hours to construct.
HPT: How do you get a Lego dragon to talk?
ML: That's a Lego secret. Lego magic.
HPT: How many Lego models are in the hotel?
ML: There are more than 3,500 models in the hotel. They range from ladybugs, butterflies and mice to what we call "Big Figs," which are massive Lego characters actually made from Lego bricks. Each individual brick is glued down and we use steel cores that we can bolt to the ground because these figures are heavy. We can't have them falling on people.
HPT: Does that mean that you use materials not normally included in Lego packs?
ML: We don't cheat and we don't do anything a kid couldn't do if they put their mind to it. We have steel interfaces for the larger models that lock into the building and we use concrete anchors. We're not making it easier for ourselves, just making sure everything is safe. About 98 percent of our goal is to make kids happy, so we want to it to be relatable.
HPT: What is your favorite model?
ML: My favorite is the snail that goes in the "Kingdom" rooms. It goes above the mirror in the themed rooms and it just speaks to me. It is adorable.
HPT: And where do these models come from?
ML: The original Legoland opened in Denmark in the '60s and was used as a marketing tool as well as a model shop that designed new products. The modelers tracked their work, so we have decades of stuff we can either use or update. There is actually a master catalogue of options for us. It is a pretty amazing thing to page through.
Related
Before You Go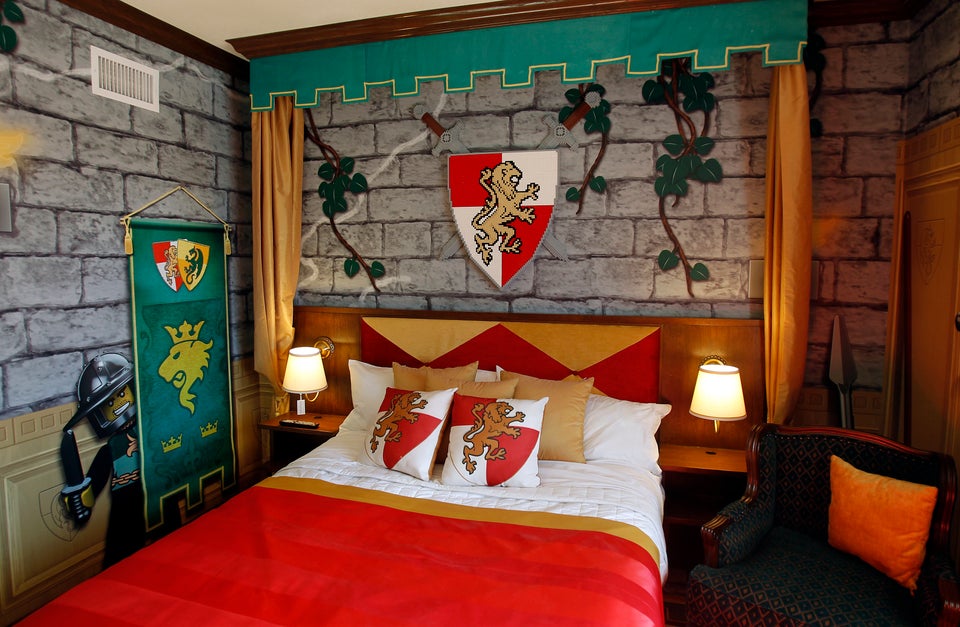 California's Legoland Hotel