If you were to drive due east of the warm, coastal snowbird capital of Fort Myers, Florida, you'd soon find yourself in the midst of a sprawling grid of unadorned streets and quarter-acre lots collectively known as Lehigh Acres.
Welcome to ground zero of the foreclosure crisis. Properties that sold in 2007 for hundreds of thousands of dollars are now being shuffled in and out of auctions for tens of thousands. Unemployment tops the national average by a few percent. Crime has surged. Abandoned homes have become havens for drug labs and illegal squatters.
Lehigh, in terms of land size, is relatively large. I've been told anecdotally that it has more streets than New York City. But when I first passed through Lehigh in 2008 while working for a local political campaign, I couldn't help but notice that the place felt like a bona fide ghost town. Our door-to-door voter outreach was essentially a waste of time, given that on some streets only one or two houses were actually occupied.
Three months after the elections ended, I returned to Lehigh, armed with a camera and two friends to help capture in more detail what I had witnessed. What we uncovered was startling and intriguing: The seeds of Lehigh's demise had been planted far longer ago than any of us had imagined.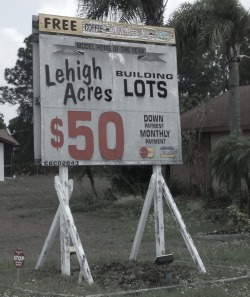 In the early 1950s, a marketing tycoon named Lee Ratner, who owned nearly all of the undeveloped land east of Fort Myers, decided to transform his sprawling ranch into one of Florida's first major real estate developments. Working closely with his friend and marketing protégé Gerald Gould, Ratner launched one of the most brilliant land schemes in Florida history.

Catering mostly to middle-class, post-World War II families in the American Midwest, the extensive advertising efforts of Lehigh Development Corporation earned the company swift success. Beautiful color brochures introduced cold-climate readers to a world of tropical sun and sport. For the rock-bottom price of $10 down and $10 a month, you too could own a parcel of Floridian soil.

Despite the early consumer enthusiasm and rapid sales of land, no one on the original development team had actually expected people to move to Lehigh. After all, the town was unincorporated (and remains so until today). Basic utilities, including power, water and drainage, were simply non-existent. Two-way streets had been provisioned in an incomplete grid, mostly so prospective buyers could visit their own plots.

The gilded shimmer of Lehigh's original plan wore thin as the years progressed. Soon, profits were disappearing into the cavernous black hole of marketing expenses, and it was discovered (perhaps to no one's real surprise) that $10/month was not enough of a revenue stream to keep a corporation afloat. Lehigh Corp. was sold and re-sold to avoid bankruptcy until finally disappearing in the late 1980s.

By the 1990s, Lehigh had devolved into a calm shadow of its former self. Many of the baby boomers who had inherited the parcels of land purchased by their parents during the 1950s and 1960s discovered that the decades-old deeded land in their possession was worth less than the annual taxes on the parcel itself.
The vast stretches of pre-planned neighborhoods proved to be kindling for the fire that was sparked by the sudden availability of subprime mortgages in the early 2000s. Fueled by a sudden boom in construction, property prices began to surge overnight. Soon everyone jumped in on the real estate flipping game. If you could sign a dotted line, you were handed the keys to a brand new house in Southwest Florida.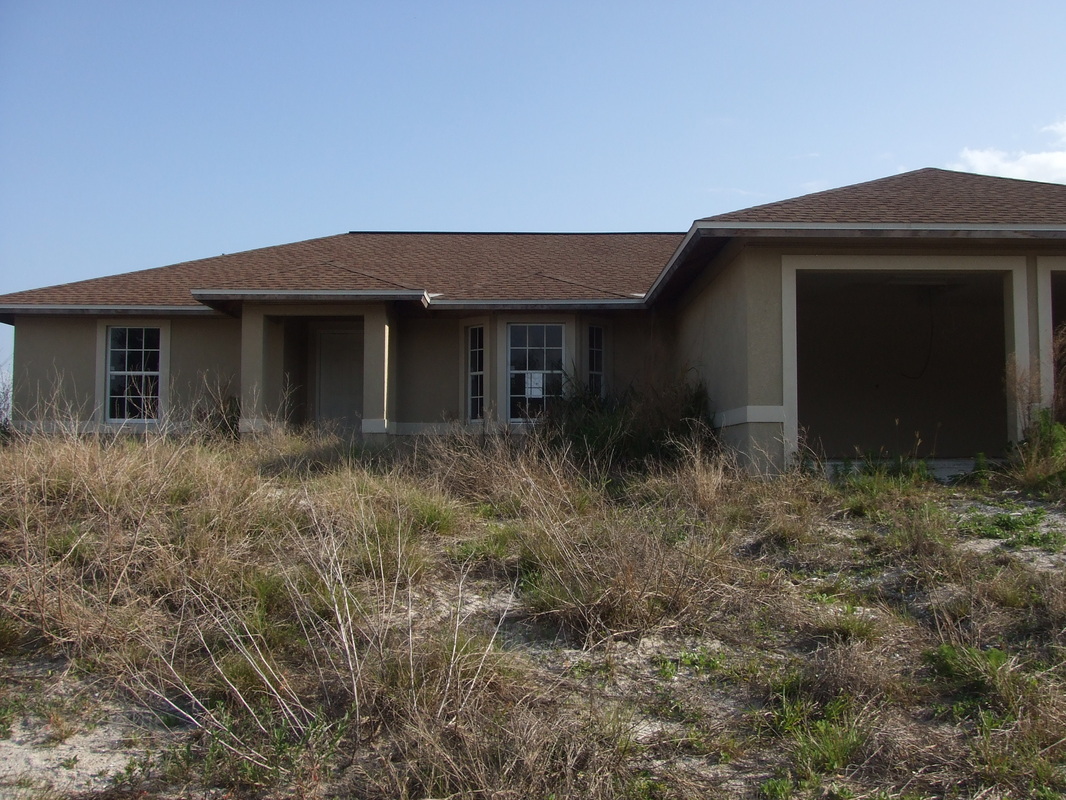 By 2006 and 2007, however, the tide had abruptly turned. New construction was sliding to a grinding halt, as investors began to back away from some of the riskier ventures they had pledged to support. Buyers were suddenly finding themselves stuck with properties for which they had paid top-dollar, only to discover that no one was interested in paying that price -- or any price. Fear reigned, and panic ensued. By 2008, the financial meltdown went global, and the rest is history.

The tragic fall of Lehigh Acres lacks the glitz of the analogous real estate market catastrophes in Las Vegas or Miami; there are no empty high-rise condos here among the sea of hastily constructed and visually monotonous one-, two- and three-bedroom houses. Only a handful of the now bank-owned lots are well-kept; the rest could double as elaborate dioramas of local flora.
As for the inevitable day when the housing market finally comes around, it is hard to imagine there will be any significant demand for property in this somewhat rural, landlocked, and unincorporated swath of Floridian swampland.
The faces and voices that make up my film, Dreams for Sale, are of the citizens of Lehigh and its neighboring communities who have braved the eye of the storm and lived to tell about it. They will be responsible for shaping Lehigh Acres in its next half-century, and their commitment to that future is the only hope for bringing Lehigh back from the brink of catastrophe.
Related
Popular in the Community