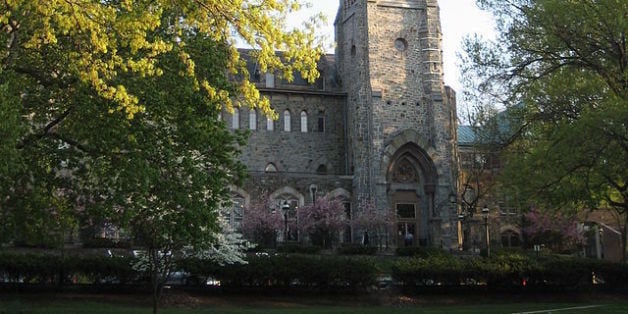 The U.S. Department of Education's Office for Civil Rights has ended its investigation into claims of a racially hostile environment at Lehigh University without saying whether the school did anything wrong.
A federal complaint contended Lehigh failed to report hate crimes, destroyed evidence, and failed to stop racial harassment on the campus in Bethlehem, Pennsylvania.
Students reported finding fliers posted around campus showing photos of President Barack Obama and a black student arrested for fighting a white student, asking, "Which one's the n-----?" A multicultural student residence called Umoja House was egged and spray-painted with variations of the N-word, and was called "Kappa Nig" by white students, according to the complaint. Students claimed Provost Patrick V. Farrell and the university's counsel warned during a meeting with students of color that the school would lose federal funding and close if the Office of Civil Rights found it had violated federal laws. Lehigh said it actually warned students that refusing to cooperate in the investigation would lead to the funding loss.
But none of those claims will be addressed in resolving the federal complaint.
Instead, the Education Department's Office of Civil Rights and Lehigh signed a voluntary resolution agreement on Sept. 26. The agreement ends the federal review and prevents investigators from revealing what they had already found -- good or bad.
Questions about why the Education Department cut off the investigation should be directed to Office of Civil Rights, not Lehigh, said university media relations director Jordan Reese. "We've complied with every request from the outset," Reese said.
The Education Department declined to speak directly on how the resolution came to be, but said the goal of its Office of Civil Rights, or OCR, is to ensure students can "attend school in an environment free from discrimination."
"We are glad that Lehigh University has agreed to enter into a voluntary agreement with OCR that comprehensively addresses issues related to racial harassment and we look forward to working with university officials to ensure that all students have access to a school environment that is safe and conducive to learning," Education Department spokeswoman Dorie Nolt said.
Lehigh must issue an anti-discrimination statement by Feb. 27, 2015, enact a racial harassment policy subject to federal approval, provide annual racial harassment training to faculty starting in March 2015, and discuss racial harassment in orientation programs for new students, the resolution agreement states. In addition, the university must document racial incidents in detail and send annual reports to OCR.
A university investigation pinned the Umoja vandalism on a Sigma Chi fraternity member, who stashed evidence of the crime in the frat house. The university said it expelled the vandal.
Students alleged there have been other problems with fraternities. One student complained to federal investigators that when one black student threatened to report a fraternity for preventing him from attending a party, a fraternity member responded, "No one will believe a n-----." Another fraternity, Phi Kappa Theta, is currently being investigated by the university for complaints that include frat brothers singing, "He's gay, he's gay, he's gay as fuck."
A separate federal complaint against Lehigh accuses the school of violating the Clery Act, which requires public disclosure of campus crimes. Education Department officials have not decided whether to investigate the complaint. That decision isn't affected by the resolution of the civil rights probe.
Lehigh acknowledged the end of the racial harassment investigation doesn't end the school's work.
"We have expressed throughout this investigation that our work in this area will never be finished and will require constant vigilance, commitment and cooperation between all our constituencies –- students, faculty, staff, alumni, community partners and supporters -– to be certain that we continue to evolve and to embrace the values of inclusion and respect for all," Reese said.
Photos from the November 2013 vandalism of Umoja House at Lehigh University: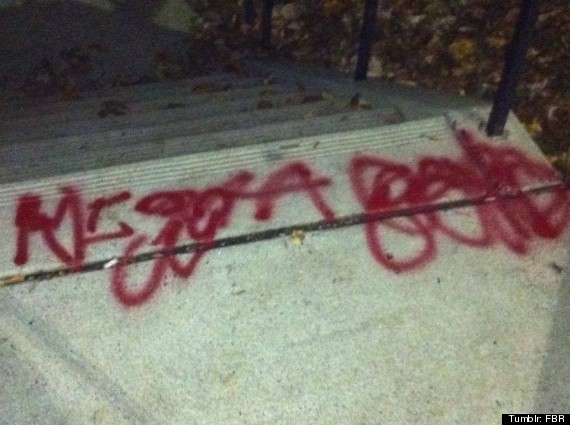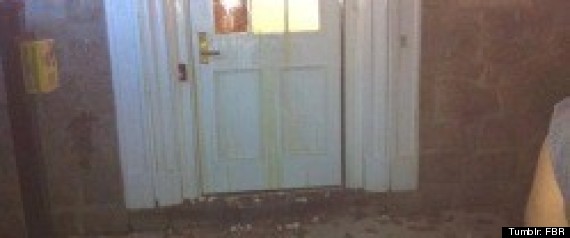 Images via FromBeneathTheRug.Tumblr.com
Calling all HuffPost superfans!
Sign up for membership to become a founding member and help shape HuffPost's next chapter