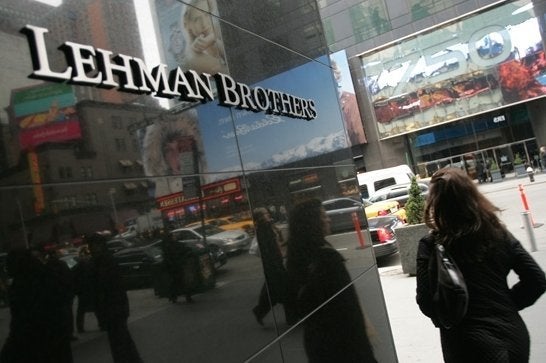 Scroll down to read the first part of the report
The examiner in charge of investigating the collapse of venerable Wall Street investment house Lehman Brothers, the most expensive bankruptcy in U.S. history, said in a report publicly released Thursday that senior officials failed to disclose key practices, opening them up to legal claims, and that JPMorgan Chase and Citigroup contributed to the firm's collapse. In addition, the report concludes that the firm's auditor, Ernst & Young, failed to meet "professional standards."
The exhaustive report was unsealed today by Judge James M. Peck, who said the report reads "like a best-seller."
The examiner, Anton Valukas, also found that parties have claims to pursue against JPMorgan Chase and Citibank in connection with their behavior regarding the modification of agreements with Lehman and their increasing collateral demands in Lehman's final days. These demands had a "direct impact" on Lehman's diminishing liquidity -- its cash on hand -- which was a prime reason behind the firm's demise.
"Citi is reviewing the report, which is over 2,000 pages long, but notes that, based on its preliminary review, the examiner has not identified any wrongdoing on Citi's part -- or anything that would suggest that Citigroup helped cause Lehman's collapse," said Danielle Romero-Apsilos, director of corporate affairs for Citi Institutional Clients Group.
The examiner's report notes:
The business decisions that brought Lehman to its crisis of confidence may have been in error but were largely within the business judgment rule.

But the decision not to disclose the effects of those judgments does give rise to colorable claims against the senior officers who oversaw and certified misleading financial statements -- Lehman's CEO Richard S. Fuld, Jr., and its CFOs Christopher O'Meara, Erin M. Callan and Ian T. Lowitt.

There are colorable claims against Lehman's external auditor Ernst & Young for, among other things, its failure to question and challenge improper or inadequate disclosures in those financial statements.
The examiner defines a "colorable claim" as those for which the examiner "found that there is sufficient credible evidence to support a finding by a trier of fact." In other words, plaintiffs can start lining up.
The examiner notes that the issue giving rise to these potential claims was Lehman's creative use of repurchase agreements, otherwise known as repo. These are agreements between financial firms that essentially act as loans for cash -- one firm pledges collateral to another in exchange for cash with a promise that they'll buy back that collateral.
The examiner said the sole function of Lehman's use of repo was "balance sheet manipulation," according to the report:
Although Repo 105 transactions may not have been inherently improper, there is a colorable claim that their sole function as employed by Lehman was balance sheet manipulation. Lehman's own accounting personnel described Repo 105 transactions as an "accounting gimmick" and a "lazy way of managing the balance sheet as opposed to legitimately meeting balance sheet targets at quarter end." Lehman used Repo 105 "to reduce balance sheet at the quarter‐end."
The reason for that, the report notes, was to lower Lehman's leverage -- a critical component of the firm's credit rating.
In 2007‐08, Lehman knew that net leverage numbers were critical to the rating agencies and to counterparty confidence. Its ability to deleverage by selling assets was severely limited by the illiquidity and depressed prices of the assets it had accumulated.

Against this backdrop, Lehman turned to Repo 105 transactions to temporarily remove $50 billion of assets from its balance sheet at first and second quarter ends in 2008 so that it could report significantly lower net leverage numbers than reality.

Lehman did so despite its understanding that none of its peers used similar accounting at that time to arrive at their leverage numbers, to which Lehman would be compared...

Lehman's failure to disclose the use of an accounting device to significantly and temporarily lower leverage, at the same time that it affirmatively represented those "low" leverage numbers to investors as positive news, created a misleading portrayal of Lehman's true financial health.

Colorable claims exist against the senior officers who were responsible for balance sheet management and financial disclosure, who signed and certified Lehman's financial statements and who failed to disclose Lehman's use and extent of Repo 105 transactions to manage its balance sheet.
But Lehman wasn't alone in its gimmickry. The firm's auditor, Ernst & Young, one of the four biggest auditing firms in the world, failed in its oversight role:
In May 2008, a Lehman Senior Vice President, Matthew Lee, wrote a letter to management alleging accounting improprieties; in the course of investigating the allegations, Ernst & Young was advised by Lee on June 12, 2008 that Lehman used $50 billion of Repo 105 transactions to temporarily move assets off balance sheet and quarter end.

The next day ‐- on June 13, 2008 ‐- Ernst & Young met with the Lehman Board Audit Committee but did not advise it about Lee's assertions, despite an express direction from the Committee to advise on all allegations raised by Lee.

Ernst & Young took virtually no action to investigate the Repo 105 allegations. Ernst & Young
took no steps to question or challenge the non‐disclosure by Lehman of its use of $50 billion of temporary, off‐balance sheet transactions.

Colorable claims exist that Ernst & Young did not meet professional standards, both in investigating Lee's allegations and in connection with its audit and review of Lehman's financial statements.
In total, the examiner collected in excess of five million documents, estimated to
comprise more than 40,000,000 pages
Although a handful of subpoenas were threatened and in a few cases served, ultimately Valukas received nearly all requested documents voluntarily.
In all, more than 250 individuals were interviewed:
There was only one individual the Examiner sought to interview but could not. The Examiner requested an interview with Hector Sants, chief executive of the UK's Financial Services Authority ("FSA"), to discuss the FSA's involvement in the events of Lehman Weekend and the Barclays transaction. The FSA considered the request, but did not make Mr. Sants available for an interview. However, the FSA did provide detailed, written answers to specific questions that would have been posed to Mr. Sants.
Related
Popular in the Community