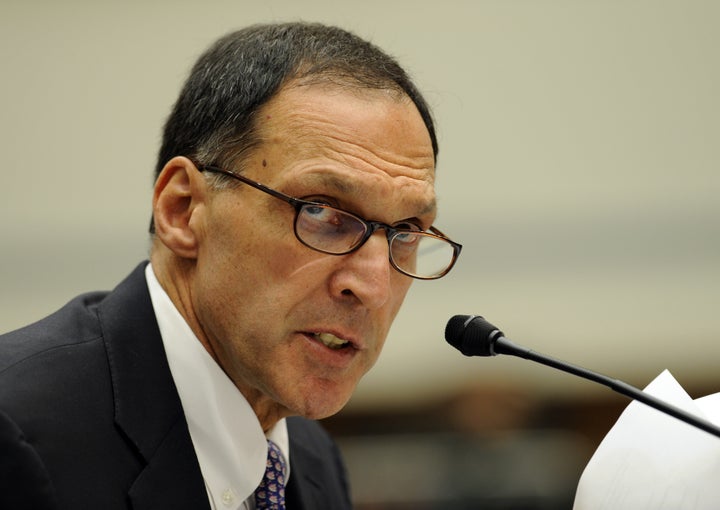 ** UPDATE: Scroll down to see Dylan Ratigan's segment **
As news organizations pore through the 2,200 pages of documents released by Anton Valukas, the examiner in charge of sifting through the most expensive bankruptcy in history, new details have surfaced about possible criminal actions by Lehman executives.
An executive referred to by Lehman execs as the firm's "balance sheet" czar -- who later went on to become the firm's COO -- likely had knowledge of the firm's highly creative accounting maneuvers, notes The New York Times. Here's the NYT:
"I am very aware ... it is another drug we [are] on," Herbert McDade wrote in an April 2008 e-mail cited by the examiner's report. At other times, he is described as calling for a limit to the number of Repo 105 transactions.
At the center of the controversy is a technique called "Repo 105," under which Lehman was able to move $50 billion off of its balance sheet in the second quarter of 2008 alone, MarketWatch reports. Here's more from Market Watch:
[Repo 105 is] essentially a type of secured loan and is booked that way in the accounts -- leading to an increase in both assets and liabilities.

Lehman's trick was to use a clause in the accounting rules to classify the deal as a sale, even though it was still obliged to repurchase the assets at a later date. That meant the assets disappeared from the balance sheet, and it could use the cash it received to temporarily pay down other liabilities.... [Repo 105] was crucial for maintaining the group's credit rating as rating agencies and investors began to focus more on leverage and demanded lower risk.
Here's the NYT with another seemingly incriminating email:
In a series of e-mail messages cited by the examiner, one Lehman executive writes of Repo 105: "It's basically window-dressing." Another responds: "I see ... so it's legally do-able but doesn't look good when we actually do it? Does the rest of the street do it? Also is that why we have so much BS [balance sheet] to Rates Europe?" The first executive replies: "Yes, No and yes. :)"
But these accounting techniques did not sit well with every Lehman executive. The Wall Street Journal passes along this nugget from the examiner's report, which suggest that Ernst & Young, Lehman's auditors, were not concerned about the firm's use of Repo 105. Here's the WSJ:
In May 2008, a Lehman Senior Vice President, Matthew Lee, wrote a letter to management alleging accounting improprieties;82 in the course of investigating the allegations, Ernst & Young was advised by Lee on June 12, 2008 that Lehman used $50 billion of Repo 105 transactions to temporarily move assets off balance sheet and quarter end.

The next day on June 13, 2008 Ernst & Young met with the Lehman Board Audit Committee but did not advise it about Lee's assertions, despite an express direction from the Committee to advise on all allegations raised by Lee. Ernst & Young took virtually no action to investigate the Repo 105 allegations. Ernst & Young took no steps to question or challenge the non disclosure by Lehman of its use of $50 billion of temporary, off balance sheet transactions. Colorable claims exist that Ernst & Young did not meet professional standards, both in investigating Lee's allegations and in connection with its audit and review of Lehman's financial statements."
The question will be how far anybody can prove the responsibility extended. The report says "colorable claims" could be made against some Lehman execs and against Ernst & Young, the accountants. And by colorable claims, it means evidence that's strong enough to potentially get a jury to award damages.
UPDATE: On Friday's Dylan Ratigan Show, the MSNBC host delved into the Lehman saga with former New York Governor Eliot Spitzer, breaking down the firm's fraudulent meltdown in easily-understandable terms.
Support HuffPost
The Stakes Have Never Been Higher
Related
Popular in the Community