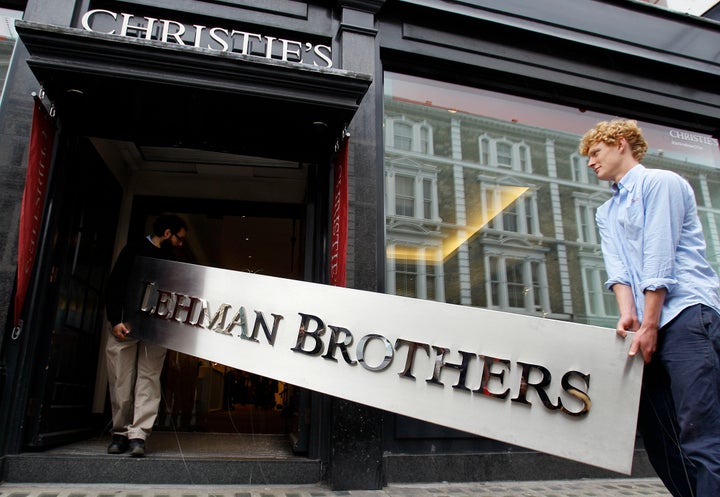 A group of banks including Goldman Sachs (GS.N) and Morgan Stanley (MS.N) has filed a plan to restructure Lehman Brothers Holdings Inc that would let the failed bank's different parts remain separate.
The plan, filed on Monday in U.S. Bankruptcy Court in Manhattan, is one of three competing plans to restructure Lehman. Another was filed by Lehman. A third was filed by a group of creditors including hedge fund Paulson & Co.
The plans come as different groups jostle to see who will be able to recoup money that they lost when Lehman filed for Chapter 11 protection in September 2008.
At the time, it reported $639 billion of assets, six times more than any other U.S. company to go bankrupt.
The latest plan would allow creditors to file claims against the scores of individual Lehman entities involved in the bankruptcy. This contrasts with the creditor group's plan, which supports consolidating all the units.
Lehman's plan seeks a compromise in which recovered assets would be redistributed among different classes of creditors.
It would appoint a representative for the banks and the hedge funds that filed it. It also would ensure that all claims that different Lehman units have against each other are treated the same way.
A spokeswoman for Lehman said the company is reviewing the new plan. She had no other comment. Representatives for the Paulson Group declined to comment.
Attorneys for the banks did not return telephone calls on Monday.
Creditors have an April 29 deadline to file their plans. Bankruptcy Judge James Peck has scheduled a hearing for them on June 28.
The group led by Paulson & Co proposed a reorganization plan in December that would boost bondholder recoveries to nearly 25 percent.
That plan is kinder to that group than Lehman's proposal, which would provide 21.4 percent recovery for the Paulson group and other bondholders. Lehman's plan also would provide more than 34 cents on the dollar for derivatives creditors.
(Reporting by Nick Brown. Editing by Robert MacMillan)
Calling all HuffPost superfans!
Sign up for membership to become a founding member and help shape HuffPost's next chapter