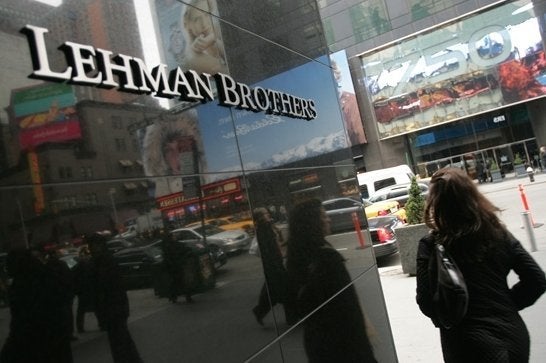 The turmoil after Lehman Brothers' bankruptcy two years ago created a rare money-making opportunity for a certain type of debt trader, according to a new paper by the National Bureau of Economic Research (hat tip to New York Times). And next week, it will give art collectors a chance to buy important works at bargain prices.
For arbitrage traders, the NBER paper says, there was -- and still is, though not on as large a scale -- a chance to make a huge profit betting on the price convergence of two types of government bonds. Strictly speaking, arbitrage refers to simultaneous buying and selling of two (or more) identical assets, at different prices, often in different markets, thereby winning an easy profit for the trader. In this case, though, the arbitrage is between similar, not identical bonds, and it's a riskier bet, in which profits only come with movement in the market.
The two securities in question are Treasury bonds and "Tips," or Treasury inflation-protected securities, which, unlike the former, are price-adjusted for inflation. The nominal (non-adjusted) Treasury bonds are more expensive than Tips, but according to the NBER, the spread is irrationally huge. "To the best of our knowledge, the relative mispricing of Tips and Treasury bonds represents the largest arbitrage ever documented in the financial economics literature," the paper says. To pull off the arbitrage, a trader might buy Tips and short Treasury bonds, and then make money when the prices converge. At the time of Lehman's filing, the paper says, the price spread was $9.60. (The paper's authors, professors Francis Longstaff and Hanno Lustig, and PhD student Matthias Fleckenstein, are with the UCLA Anderson School of Management.)
Profit opportunities in the wake of Lehman's collapse extend to the art world as well. Next week, Sotheby's will auction off the $10 million art collection of Lehman and the money-manager it once owned, Neuberger Berman. According to the New York Observer yesterday, the firm was a shrewd collector. "Neuberger Berman's art advisers and curators were known privately for doing with art what Lehman did with subprime mortgages, which is to say they bottom-fished," the Observer notes.
According to an "insider," the article continues, Lehman and Neuberger spent only about $2 million on the collection, which includes works by Rudolf Stingel and Damien Hirst, and then watched it climb in value. But because the sale is being held out of semi-desperation, to help fund the bankruptcy proceedings, buyers at Sotheby's can get good deals.
"It's not a fire sale, but it's priced to sell," art collector Larry Warsh told the Observer.
Popular in the Community