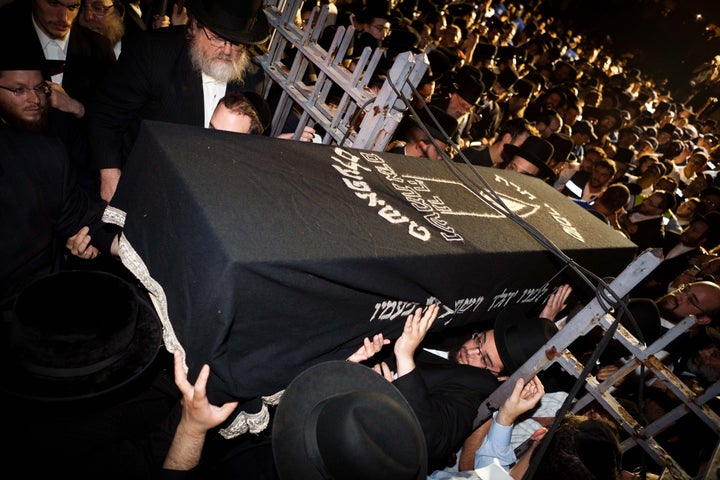 BROOKLYN, N.Y. -- Sobbing mothers dressed in black crowded the streets of Brooklyn Wednesday night.
Many had come from Monsey and New Square, 50 miles to the north, and they wailed as if the child they'd come to mourn was their own.
The women were among the thousands of mourners who filled the streets of the Orthodox Jewish enclave of Borough Park for the funeral of Leiby Kletzky, the 8-year-old boy whose dismembered remains were discovered nearby early Wednesday morning. Parts of the boy's body were found in a dumpster a few miles from the neighborhood and in the freezer of a man who is now in police custody.
"It's as if we all lost a child," said Esther, a mourner who declined to give her last name.
Leiby was supposed to meet his mother at a neighborhood grocery store shortly after 5 p.m. Monday evening. Instead, he vanished from the neighborhood, last seen alive on a surveillance camera outside a dentist's office where his alleged killer had come to pay a bill.
That man, Levi Aron, 35, allegedly told police he killed the boy in a panic after seeing the child's face on a missing poster, New York City Police Commissioner Ray Kelly told reporters at a press conference Wednesday morning.
Officers tracked Aron to a Brooklyn home owned by his father. When confronted, Aron allegedly gestured to the kitchen, where police found the boy's remains inside the refrigerator, along with three bloody knives and a cutting board, Kelly said.
The grisly slaying has rocked this close-knit community, whose members consider their corner of New York among the safest in the city.
"We hear these stories on the news, but we don't live these stories," Faigy Neumann, a mourner who lives in the neighborhood, said.
In the nearly two days between when Lieby went missing and his body was found, she said she and her friends worried over him as any mother would.
Those who spoke with The Huffington Post all said the boy's fate was simply unthinkable.
So, too, was the identity of his suspected killer. For many, as horrible as Leiby's gruesome death is the knowledge that it came at the hands of one of their own.
"The shocking part is that it's one of us," Neumann said.
A neighbor, Hindy, who also declined to give her last name, physically recoiled when another mourner showed her a picture of the alleged killer on his BlackBerry. She said she'd been too distraught to eat since hearing the news. Instead, she'd spent most of the day Wednesday outside the family's five-story building, a sack of tissues strung around her arm.
That night, she joined the thousands attempting to cram into a narrow ally near 16th Avenue outside the synagogue where Leiby's funeral service was held. Many held cell phones aloft, so absent mourners could hear the speeches.
"This child was a sacrifice for our sins," Rabbi Binyamin Eisenberger said in Yiddish, audibly weeping as he addressed the crowd.
He was not alone in his tears. When a brief but punishing downpour delayed the service, many noted that the sky itself was weeping for Leiby.
Or as one mourner, Chana, put it: "God was crying with us."
Calling all HuffPost superfans!
Sign up for membership to become a founding member and help shape HuffPost's next chapter