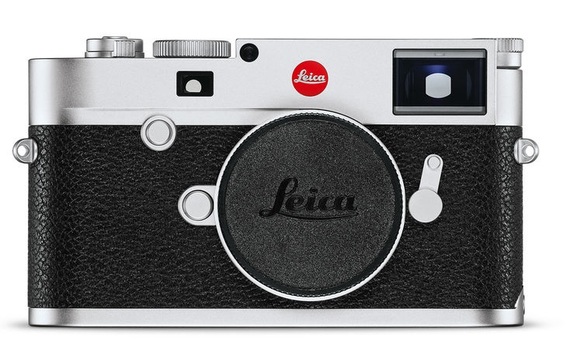 The Leica M10 is official. With a new smaller design, upgraded performance, and new sensor, we may have a new king of the mirrorless camera market. But this awesome camera isn't for everyone with no autofocus, no video mode, and slower 5fps max continuous shooting for starters. But for many enthusiasts, the M10 will be a glorious tribute to the past with many newer technologies such as GPS, WiFi, and Live view with a simple and yet functional design.
Press Release
Leica M10. Slimmer in size, faster in performance, and offering the best image quality with smarter connectivity for intuitive usage - the Leica M10 sets the new standards for rangefinder photography and state-of-the-art imaging.
The Leica M10 builds on more than 60 years of rangefinder expertise, 11 years of digital M-Camera development and the invaluable feedback from dedicated M-Photographers to not only bring the slimmest digital M of all time, but the most refined and state-of-the-art digital rangefinder Leica has ever created.
ISO Setting Dial For Better Control
One of the most striking changes with the Leica M10 is the ISO setting dial on the top plate. For the first time in a digital M, the M10 allows all essential shooting parameters such as distance, aperture, exposure time and ISO values to be preselected without using the menu or switching on the camera. This allows for better control and more discreet photography.
Superior Imaging Performance
The key component of the Leica M10 is the new 24 MP full-frame CMOS sensor developed specifically for this camera. It features new technologies that lead to significant improvements in all parameters relevant to imaging performance - impressive dynamic range, excellent color rendition, exceptional sharpness and the finest resolution of details.
ISO Range Extended, now from 100-50,000
The new sensor of the M10 extends the ISO sensitivity range from a base of 100 to a maximum of 50,000 with much improved performance and less noise at higher ISO values. The Leica M10 opens up new avenues of photography and delivers exceptional imaging performance in difficult lighting conditions.
The New Maestro-II Processor
The latest generation Leica Maestro-II image processor of the Leica M10 reflects the state-of-the-art of advanced processor technology. In combination with the new 24 MP sensor, this ensures that all exposures fulfill the promise made by Leica cameras - pictures that captivate with exceptional quality and brilliance. The Leica M10 delivers images with low digital noise levels and true-to-life detail, even at ISO values as high as 50,000.
New Optical Rangefinder/Viewfinder
The new optical rangefinder/viewfinder in the M10 greatly improves the focusing and composing of subjects. The field of view has been enlarged by 30%. The magnification factor has been increased to 0.73 x. Also, with a 50% increase of the eye-relief distance, the viewfinder is much more convenient to use, especially for those who wear glasses.
Leaner Operating Concept
With a slimmer profile and only three buttons on the back of the camera - Live-View, Playback and Menu, the Leica M10 is incredibly easy to handle and use.
With a 2.0 GB buffer memory and continuous shooting of up to 5 frames per second at full resolution, the Leica M10 ensurEs that a photographer will never miss decisive moments.
Weather Resistant for All Conditions
The Leica M10 is perfectly equipped to withstand light water sprays and dust. The camera's top and bottom plates are machined from solid blocks of brass, with a full-metal magnesium-alloy chassis and scratch-resistant Corning ® Gorilla® Glass covering the LCD. The build of the camera and its special rubber seals make it able to resist the adversities of everyday life, even in bad weather.
The "Favorites" Menu
The importance of particular settings varies according to personal preferences and photographic needs. To cater for these, the Leica M10 offers a programmable "Favorites" menu. In this menu, the photographer defines personal preferences for the relevant parameters and can later access them at the press of a button. The settings can be easily changed and adapted to meet the needs of specific photographic situations at any time.
Wireless Connectivity
The Leica M10 is the first M-Camera with an integrated Wi-Fi module. This allows pictures to be sent conveniently to iOS devices, via a wireless connection, and immediately shared online while on the go or in the field. It also enables remote control of the Leica M10 via Wi-Fi with a smartphone or tablet equipped with the Leica M-App. Important shooting parameters, such as shutter speed, or functions such as firing the shutter can also be controlled from the smart device. An equivalent app for Android devices will be made available at a later time.
Live-View Focusing with Focus Peaking
Live-View offers both focus peaking, the automatic marking of sharply focused edges as colored lines, as well as magnification to attain pin-point accurate focusing on the LCD monitor. In the Leica M10, the visibility of these contrasting peaking lines has been vastly improved from the previous generation, and now enables even more convenient focusing by allowing the magnified view to be moved anywhere on the Live-View image.
Sustainability Longevity
Leica has been making history for decades - with cameras that have always been ahead of their time. Throughout all these years, Leica has always kept a tight focus on sustainability. In the 1950s, Leica created a timeless and enduring standard - the Leica M-bayonet. Nearly all Leica M-Lenses produced ever since can be mounted and used on the Leica M10. Leica cameras and lenses are timeless and faithful companions with enduring reliability and an exceptionally long life.
Compatibility With Leica Visoflex EVF and R-Lenses
The combination of the Leica R-Adapter and the Leica Visoflex 2.4 MP electronic viewfinder makes it possible to use nearly all Leica R-Lenses ever made on the M10. Manually focusing R-Lenses is now easier than on prior M cameras with the combination of the Visoflex and the M10's improved Live-View functions. Additionally, the Visoflex's built-in GPS functionality embeds geotag data into every image the M10 captures while it is mounted.
Leica M10 Camera Features
Slimmest digital M ever made, for better handling
Full-frame digital rangefinder, concentrated on photography
Full-frame digital rangefinder, concentrated on photography
Simple and intuitive control via the new ISO dial and only three buttons: Live-View, Playback and Menu
Improved rangefinder/viewfinder provides better control of focus and composition with larger field of view, higher magnification and increased eye relief
First Leica M with integrated Wi-Fi and smart connectivity via iOS app (Android app launching later)
Programmable "Favorites" menu for quick access to desired options
Easier Live View focusing with improved Focus Peaking and adjustable/movable magnification
All new 24 megapixel full-frame CMOS sensor ensures exceptional image quality and improved performance
ISO 100 - 50,000 for better photos in both bright and very low light
Faster performance with a new Maestro II processor and 2 GB buffer capacity, enabling high speed frame rate of up to 5 fps with longer continuous shooting
Wide range of tailor-made accessories
Leica Visoflex compatibility for high resolution electronic viewfinder needs with GPS functionality
Compatibility with nearly every Leica M lens ever made, and additionally Leica R lenses via an adapter and Live-View
Body constructed from brass and magnesium-alloy with Corning Gorilla Glass LCD cover
Weather resistant to withstand light rain and dust
REAL LIFE. REAL NEWS. REAL VOICES.
Help us tell more of the stories that matter from voices that too often remain unheard.