My friend Leigh would have loved that I'm writing a HuffPost piece about her. LOVED it! She would say, though, in that sassy way of hers, "Why'd you wait until I died to write it... I was awfully swell alive, you know." And she really was.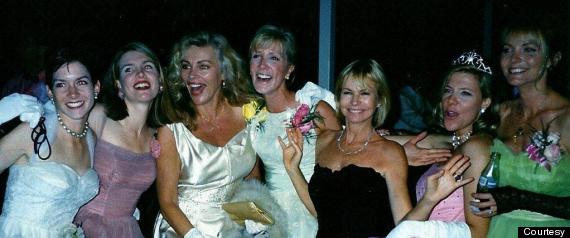 She died September 8th after what is commonly referred to as "battling cancer" for over a year. But there was nothing common about Leigh, or the way she fought harder then a solider in the trenches to beat our plague. Until the very end she held fast to the hope that she would beat it, or at least gain a few more years. She wanted more time with her husband and her 12 year old daughter, the miracle girl of her dreams. Even in the face of death she barely allowed the word. Staying positive was all she had left to fight with.
But let's get into the real story. It's not the way she fought, and it's not that she died. That's not the story at all.
It's that she lived and for a bunch of years graced this planet with her presence. It's that she was amazing and totally unique and one of those rare and wonderful people we sometimes call characters.
She was someone one could call, larger than life, and some did.
Leigh Hamilton was a beauty. She was the quintasential California Girl all of us east coast girls growing up in the early '60s dreamed of becoming. Her blond, surfer-chick-meets-beauty-queen looks matured over the years into a sexy, sassy, smart throw back to those glamourous old Hollywood starlets. She was tall; statuesque is the right term, with a killer body, the kind that calls forth the expression Va Va Voom. And she had the voice, and the laugh to go with the rest of the package.
My introduction to Leigh was 20 years ago, and it went like this. She had just gone from being an actress to owning an art gallery, smart gal that she was. She had fallen in love with Warren, the painter whom she married, and threw herself into promoting him and his art. A much worthier cause, I might add, than hanging out waiting for her agent to call. Not that she wasn't a good actress. She was, but life as a young "starlet" in LA was limited and Leigh's spirit was way too big to be limited. Warren is talented, extremely handsome and shy and was a much more worthy career choice for Leigh. So she went in with a couple of friends and opened her first gallery in Pacific Palisades. The openings were the best parties in town, with people literally spilling out to the street. My husband, who had just officially become my boyfriend, and I were heading into the gallery with a group of friends when in what seemed like a matter of seconds, he, my BF now husband, seemed to be scooped up by the sexiest creature I'd ever seen.
"Who's the big blond all over my guy?" I said to my best friend, Glynis, in a tone that meant small as I was I was ready to go to the mat with the big blond.
"What big blond?" replied Glynie, scaring me that perhaps she'd gone blind.
"THAT big blond," I said in a most unbecoming shriek, pointing straight at Leigh.
"Oh Annie! That's just Leigh!" said Glynis with a laugh. "All of the boys are crazy about Leigh" she continued, letting me know that as sexy as Leigh was, draped over my guy like a mink on Marilyn, I was safe! After we were introduced and Miss Leigh Leigh, as I took to calling her, poured a little of that sugar on me I felt relived... and smitten.
Leigh was born to hold court. Over the years her openings became like reunions where all of us, now spread out all over LA, having kids, building careers, changing careers, came together and caught up. It seemed like the art was secondary to the party. And she loved art, especially Warren's art. One of her nurses at St John's this last time asked her what her husband's paintings were like and her face lit up. She said, "They're beautiful." Adding, with her whole shrunken face stretched into a smile, "They are brilliant."
The fun, the laughter, the connecting, and the creative buzz, that's what Leigh was all about And there she towered, always the center of the action, with the best and loudest laugh. The truest laugh, because that was the main thing about the Big Blonde, she was 100% real with a heart that was open and ready to embrace everyone. Unless one pissed her off... but even then she'd let the foolish soul know it, in no uncertain terms or polite words, and then be done with it.
For a several years, too many to my deep regret, Leigh and I didn't see much of each other. Nothing happened. No girl drama, just life .We both had our "late life" babies, thanks to medical science. Between us we most have shot up more than half the hormones in LA. Leigh opened a gallery in Santa Monica and continued having openings, her baby girl on her hip. My world became about my daughter's, their friends, their schools, being the room mom, the team mom. I was never a good juggler. My husband and I would show up at openings from time to time, but we were no longer regulars. Yes, credit goes to me. Truth be told, I had become a party pooper. Leigh, on the other hand managed to do it all; open and run the gallery, be a wife, raise a child, be the hostess with the most-est at all of the openings , be in car pool, and schlep to music lessons. She handled it all with that signature sass. I admired that hell out of her for embracing it all, and usually in a tight dress, (her leopard D&G always comes to mind) with just enough cleavage to make it Roman, think Claudia Cardinelle that kind of cleavage, and heels. If not, then in a bathing suit that again brought you back to a time when a fully curved and richly endowed body was a thing to be worshipped.
But here's the beauty part of real friendship. None of that matters. One night about ten months ago, my husband came home from dinner with our friend Andrew, who was Leigh's BMF, best male friend for more than forever. Slipping into bed beside me, he took me into his arms saying he had something sad to tell me. When he said that Andrew had told him that Leigh had cancer, and added the dreaded tag line, stage four, all I could think or say was "Not Leigh." Someone as vibrant and full of life like Leigh doesn't get cancer went my incorrect thinking. That was instantly shoved aside by the thought of her young daughter losing her mother. The idea of this band of three being cast asunder and thrown into the shit storm from hell was too much for a wimp like me so I turned over and cried myself to sleep.
To my credit I did show up at Leigh's door the next day. Bearing gifts, being a big believer that a nice treat may not heal a thing but can usually help a little. I brought flowers and huge strawberries. I arranged the flowers and she told me where to put them. Even from the sick bed she was the director of her own life, as well as several others. She'd have been glad to direct many lives, opinionated gal that she was. From this massive bed with wide white European pillow shams, tons of them lined up against the headboard holding her up, she ruled her country. Once settled in the chair beside her bed and fully present with my friend who had taken on what I can only describe as the slipping-away-look (where the eyes are the largest prominent facial feature and they do most of the talking), Leigh and I transcended past any form of small talk and zoomed straight down to the deep, to bare bones real life without a pinch of fat.

Her side of this massive California-king-sized bed, which now took up the living room of their large two-bedroom apartment in a landmark mid-century modern Santa Monica building, was close to the window out to the courtyard. With the window open and through sheer curtains Leigh could see and hear the comings and goings of most of the small complex. Yet again the blond general had placed herself in the middle of her life. This time, though, in pajamas with a newly adopted funny little dog with white spiked hair that looked kind of like an albino rat, on her lap, with most of her own prized blond hair gone.
Thus began my spring and summer of Leigh lessons, a study in bravery, passion and commitment in the fullest. From that day on I had a front row seat to watch Warrior Woman battle THE KILLER CANCER.
Lesson number one: cut the crap. Lesson number two: can the guilt." I'm so so sorry" began my litany of excuses for not showing up at openings, not staying in touch regularly...."
"Stop. Guilt is a waste. You're here now, right" said as statement not question.
There is a metaphysical saying that the guru or teacher comes when the student is ready. I believe something similar about friends; that we come into each others lives when we have the most to give and receive from each other. There sitting beside the big blonde who no longer looked so very big, bolstered up by an army of pillows in that massive bed, I felt, hard as this is to articulate, that this was my time with Leigh.

Having lost my mother to Lou Gehrig's disease as a young teenager, and then my favorite aunt to cancer in my early twenties, Leigh's physical appearance and the knowledge of what was to come didn't shock, frighten or deter me. It took less than a second for me to step into her daughter's shoes and understand what she was and would be going through. My youngest daughter, at 16, is still nowhere near being fully cooked. If you have read my previous blogs you know I'm no spring chicken, so I could imagine fairly well what the emotional torment of leaving her children would have been for my mother, and what it now was for Leigh.
"I haven't taught her to cook yet," she said one day. Painstakingly making her unsteady way into her kitchen where I was putting some groceries away, she repeated it. "So much I haven't taught her," sounding annoyed with herself, she shook her head. Like we all have this list, things to teach my kids before I die, and she was flagrantly behind on hers.
The last week of her life was spent in the critical care unit at St. John's Hospital in Santa Monica. She had been there several times over the last few months, but this time the consensus of her inner circle, a circle that spread, by the way, from Hollywood to Malibu branching out to Orange County and New Mexico, was that this time she probably wasn't going home. Not Leigh though. She'd been accepted into a trial at USC conducted by a specialist in her particular kind of stomach cancer and was holding tight to the hope that she could still get into it. Getting into this trail had been her goal all summer. It was her sole basket and all her eggs were in it. At this point, her face was just a pair of enormous blue eyes, and those never ending legs of hers where two tall spindly sticks, purple veined, looking ready to snap. Her smile, weak as it was, could still manage to spread the width of her face and light up the room. Which was a continuous party, thinning out and filling up again all week. They flocked from near and far. Martha's Vineyard and Santa Fe. The first night I got there her nurse asked if I was the one arriving from Seattle.
More Leigh lessons: no matter how much pain one is in at the end, or how many tubes are coming out of you, remain generous and giving. After begging for ice chips for several days, she was allowed to have these tiny hospital-issued lime popsicles. Her expression while sucking on one was ecstatic, like nothing had ever been so delicious. In the weakest yet sweetest voice, she offered everyone in the room a bite! If awake and talking, she asked about us, our kids, and how their school year started. With a minimal supply of her own oxygen, she asked me how my daughter's first day at her new high school was. The Democratic convention being on was a blessing. Sick as she was, she was into it. She never complained about the pain, stated it, yes, sang the pity song, never. But she railed against the Republicans and loathed those right wingers. She audibly cheered during Michelle Obama's speech.
"I haven't taught her anything." Really, Miss Leigh Leigh... maybe not to cook, but school was definitely in session.
Her memorial service was everything she would have wanted, had she ever wanted a memorial service. It was hosted by her two best friends, incidentally both named Brooke, the dos Brookes, and was attended by a cast of thousands. Actors, painters, everyday people came to celebrate her life, her love, and their own good fortune of having had her in their lives. Both Brookes spoke, a Mary Oliver poem was read, white doves and butterflies were released, but the highlight was when her daughter got up in front of the packed house and sang "If I Die Young" by The Band Perry. Freshly 12, looking 16, she was her mother's child, all legs, height and hair. Not a dry eye in the house. A few people whispered, "she's got Leigh's balls too..."
The eulogies ended with her beloved friend, Andrew , telling the story of being on the Amalfi coast with Leigh twenty years earlier. The soap opera Santa Barbara was the rage in Italy that summer and the natives up and down the coast mistook Leigh for the star of the show. Everywhere she went crowds gathered shouting San-Ta Bar-Bra, San-Ta Bar Bra. Leigh, in big Jackie O sunglasses, would toss her mane back, flash that smile, and wave to her Italian fans! Andrew said by the middle of the trip she too was convinced she was the star of San-Ta- BarBra! He said every time he left her alone for a minute, he'd return to see her surrounded by adoring young Italian men with profiles straight off a Roman coin.
"Darling," Leigh would say to him with a wink, "They can't help themselves!" Andrew followed this up with, "She was right, none of us could"
Why is this in the style section? Years ago I was featured in an article in More Magazine shamefully enough called Women of Style and their Dogs. Seriously. (It was my golden retriever Radar who got us the gig!) When asked what "true style" was, I went for something highbrow, to off set the dog story, and said that true style was not about whose name was sewn into one's jacket but in how one treated others. Sweet, it is much more than that. True style is in how we do everything. How we choose to live, and often, in how we deal with dying. Leigh was fearless woman. Whether being smart, sassy or sexy in her D&G dress with bright red pucci-colotta lips, or lying in bed propped up by the linen militia with tubes coming and going, my friend Leigh Hamilton was the epitome of true style.