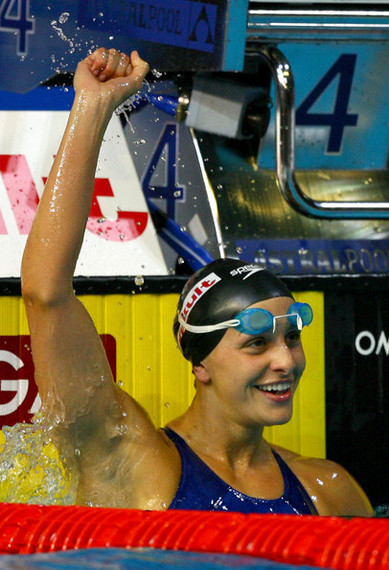 Leila Vaziri of the USA celebrates victory in the Women's 50m Backstroke Final during the XII FINA World Championships at the Rod Laver Arena on March 29, 2007 in Melbourne, Australia.(March 28, 2007 - Source: Al Bello/Getty Images Sport).
With the goal of harnessing the untapped potential of Iranian-Americans, and to build the capacity of the Iranian diaspora in effecting positive change in the U.S. and around the world, the West Asia Council has launched a series of interviews that explore the personal and professional backgrounds of prominent Iranian-Americans who have made seminal contributions to their fields of endeavour. We examine lives and journeys that have led to significant achievements in the worlds of science, technology, finance, medicine, law, the arts and numerous other endeavors. Our latest interviewee is Leila Vaziri.
Leila Vaziri is the first Iranian American swimmer to win a world Championship and set a swimming world record. She graduated from Indiana University in Communication and Business, where she was the most decorated female swimmer in the school's history, earning 15 All American certificates, winning a National Championship, and representing team USA in 2007, the year she won a gold medal for the USA and broke the world record in the 50 M backstroke.
Leila currently is a swimming coach based in New York City, where she produces swimming tutorial videos. In 2013, she launched her own swimwear collection, Vaziri Swim, drawing on her experience as a former competitive swimmer to create pieces that are a mix of form and function.
Could you tell us about your background? Where were you born and raised? Where did you go to school?
I was born in New York City to my Iranian father and American mother and I have an older brother. When I was 5 years old my dad, a civil engineer, got a job transfer to Florida. I went from elementary all the way through high school in Coral Springs, Florida. Being the youngest and the only girl, I looked up to my brother and was athletic and a tomboy from the start. My earliest memories are having so much energy and needing to put it towards something. When I was a kid I needed to be active and athletic to release my energy.
How did you get into competitive swimming and what was the hardest thing you had to do on this path?
My mom always loved swimming and signed me up for a little kids league when I was seven. Florida has a plethora of beautiful outdoor pools and I loved swimming on the little kids team. After one season, the head coach pulled my mom aside and said I had a natural talent and recommend I continue swimming the following season. I excelled in the sport and soon found myself a freshman in high school and already being recruited nationwide for a full scholarship to any college of my choice. Swimming opened up the world to me. I traveled to Europe for World Cups while still in High School, visiting countries I was reading about in school. I made friends from countries around the world at international competitions as a teenager. I was very fortunate to have all of these experiences, but it was only by a sacrifice of time with family and friends .The hardest part would be time away from my family that competitive training required which was hard when I was young. For a young girl in the suburbs of Florida, swimming was my ticket to travel, study, and success.
Most Iranian parents expect their children to pursue traditional careers. How supportive were your parents in your becoming an athlete? What role did your family and your coaches play in your development as an athlete?
Both my parents, my mother and my father, were the most supportive parents. It was never suggested to me that I had to do X, Y, and Z or take a particular path to happiness or success. They instilled in me values and beliefs about what was important to strive for in life, but beyond that never asked me to live my life a certain way. I know that this sounds unique for an Iranian father, but it's true and when I was old enough to travel on my own and decide what college and education I wanted to pursue my dad put his faith in my decision making. I think its evidence to how well-adapted my Iranian father was to American culture.
I worked hard and my parents were happy to see my hard work pay off. As a teenager I was shy and not so confident. I would get nervous at National competitions. My coach knew this and would encourage me to believe in myself and set my goals higher. My coach and parents helped me develop the self confidence that would ultimately allow me to believe I could be the best in the world which was necessary in turning that belief into reality. The lifestyle of being an athlete can be quite lonely and tough, with so many hours spent training in a gym or pool. Having the right support from family is important to keep your heart and head in the game. I had just the right kind of support from coaches and family who where there for me but it was always my call to continue or stop. For many kids they get too aggressively pushed by someone and you see them burned out or become resentful which fortunately was never the case for me.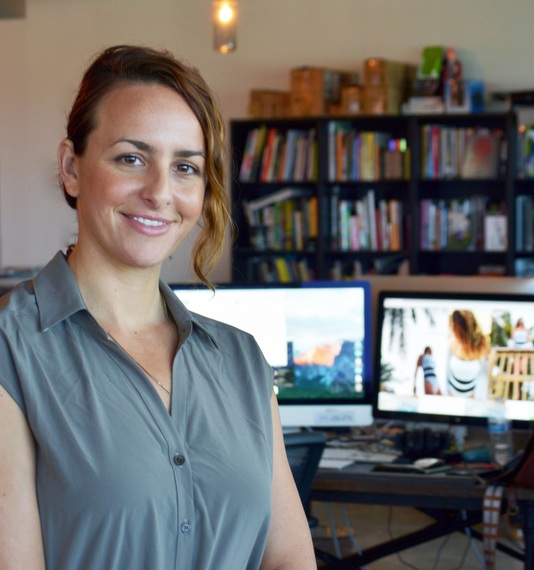 You were the first Iranian-American woman to set a world record and won a gold medal for the U.S. What did that mean to you at the time, and what does that mean to you now?
At the time, I did not think of myself in terms of first "Iranian- American" woman athlete to excel in sport. I thought in terms of needing to qualify for Team USA, the most competitive league in the world. I thought of wanting to reach the self potential I knew I had in me. And at the time all I was consumed with were thoughts of racing in the fastest pool, highest competition in the world with my family in the stands. Team USA is diverse with people with European, East Asian, and Latin heritage. I was the only one with West Asian origins. And yes I was aware of it at the time but never thought it would become as significant as it has.
It wasn't until after success and press picked up that I could see the uniqueness of my ethnicity and how people reacted. I never had a public identity until my swimming success so I had to become accustomed to be recognized as an Iranian American woman athlete and representing my ethnic identity. I try to do my best to be an example of Iranian culture to an audience who might not be familiar with it. Today I proudly carry an the "Iranian American" identity, and have been encouraged by so much love and support from the Iranian American community, the broader West Asian community, and even support from Iran itself.
Preparing for the Olympics is very taxing. How did you deal with the pressure and how did you stay mentally focused? How many hours per week and how many months of training are needed for being ready for the big day?
Training for the Olympics was both exciting for being totally immersed in an athlete's lifestyle, but also taxing because it leaves zero time for anything outside the narrow focus that is required. I trained as a professional swimmer a year out of the 2008 Olympic Games. I put in two practices a day, six days a week only taking Sundays off, twenty five hours of training a week. For me it was very hard mentally to stay fresh and positive. Swimming comes down to hundredths of seconds between winning and losing, qualifying or not. Spending hours and days and weeks worrying about the hundredths of seconds that will decide the fate of race can drive you mad. In the end, I told myself I am doing the best I can do today. Tomorrow I will do the best that I can do. On the day of the race I can only do the best that I can do that day. I cannot effect tomorrow or the day after. All I can do is learn to be the best I can be on any given day.
What is the biggest challenge you've faced in your career?
During my junior year of college I was faced with a unique situation of heading to Nationals without a coach. Half way through the season the team had a management change, leaving the women's team coach-less and in limbo for several weeks. I was personally having a great training season and didn't want to stick around, so I packed up and came home to my Florida team for the remainder of the season. I was living at home and knew I was in the best shape and condition of my life. I told my mom I think this could be the year I win Nationals. My mom and I booked our plane tickets and hotels, and flew out to California. This was the first Nationals I won and I didn't have a team to warm up with or stay with at the competition. It was just my mom and me and it was one of the most satisfying wins I ever felt. It was not the biggest challenge I ever faced in my career. But it was a big challenge and it was the first time I believed in myself knowing that I could get the work done and I could do it on my own.
What has swimming taught you about yourself?
Swimming taught me about taking direction from coaches, listening to myself, respecting my teammates, the ability to work in a team, the value of hard work, the importance of patience, the ability to set both long and short term goals, and that failure is a requirement for growth. I could go on and on about the lessons sports and swimming taught me. It instilled in me so many life lessons which I put to use everyday in my current business pursuits, both as a swimming coach and swimwear designer. Swimming taught me that whatever my endeavors hard work and patience are required.
I wanted to ask about what your thoughts are on your Iranian-American identity. What does it mean to be an Iranian to you?
Iranian American means to me coming from a tight knit family, large holiday gatherings, heaping plates of delicious food, dancing at dinner parties, and being warm and hospitable to guests. It also means valuing and respecting the history of Iranian culture and knowing the necessity of family. I have tastes and styles that are Persian while still being an American woman. I get to live a culturally blended life and I believe my life is richer for it. The only downside would be being misrepresented and misunderstood by others. I try to shed light on my culture to others who are interested in knowing more but I also don't spend my day worrying too much about what other people think.
For somebody who reads this and is thinking about being a swimmer, what advice would you have for them?
For someone who is a reader of the Huffington Post and is looking to include swimming in their workout regime I would say do it! Swimming remains to this day my favorite form of exercise. It's cardio and full body, yet low impact so leads to very little injury or wear and tear on your body. There's also a meditative quality to being in the water. Any doctor will tell you it is one of the best forms of exercise. I would say you should invest in a few swim lessons and that these will go a long way because swimming is all about technique. You should receive some professional advice about correct breathing, pacing, and form. You should also visit my website leilavaziri.com for swimming advice and tips. And then I would say pack your suit and get to a pool and enjoy. I love the time I have to myself in the pool. I'm busy these days and like everyone I seem to be over-stimulated with cell phones, emails, etc. When I'm in the pool all of that is placed to the side and it is time for myself. I hope you are able to find this for yourself to, and swimming is a great place to look for it.
How can our readers stay current on what you're doing now?
I retired from competitive swimming in 2008, and began coaching and designing swimwear. I spend my time between New York City and Florida. I coach adults and children and from beginners to advanced. I write, edit, and produce swimming and training videos, tips and tutorials, found on youtube.com/leivaziri. I also design a collection of women's swimwear that aims to be both fashionable and functional. I always had an interest in design and learned about design and manufacturing while living in New York. I found there wasn't a swimwear brand that was athletic and stylish. Vaziri swimwear is available on vaziriswim.com.
Popular in the Community