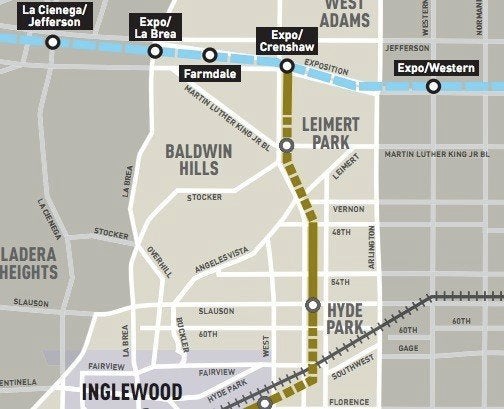 Officials and community members agree: Leimert Park should get a metro stop on the planned Crenshaw/LAX line. The neighborhood, a historic symbol and vibrant scene of the African-American community in Los Angeles, won approval for a station from Metro Board officials last Thursday. But it was only a job half-done, reports the LA Times.
While $1.7 billion is set aside for the Crenshaw/LAX line, funding was never explicitly set aside for the Leimert Park stop, and the Metro Board community meeting didn't change anything in that regard. Mayor Antonio Villaraigosa and Supervisor Zev Yaroslavsky, who were present at the meeting, expressed cautious support to the LA Times. Villaraigosa called for a "a fiscally responsible proposal" that adheres to the set budget, while Yaroslavsky said, "The only question was, and remains, how to pay for it." The Leimert Park metro stop and the necessary tunnel under Park Mesa Heights would cost an additional $131 million and $269 million, respectively.
In a HuffPost blog published before the meeting, LA County Supervisor Mark Ridley-Thomas (and the campaign's main proponent), said wrly: "It turns out an agency with a $4.15 billion annual budget and $40 billion available over the next 30 years through Measure R, the 2008 transit funding ballot measure has a little bit of financial wiggle room." His collaborative research with the Metro planning staff revealed that the abandoned "Red Line Project" frees up $251 million for Leimert Park's use, as well as a $1.4 billion pot of money for low-priority projects that could be transferred for other means. Still, his findings weren't enough for the Metro Board to commit financial support to the project everyone agrees should be implemented.
It seems a strange oversight for a place long considered the "center of the African-American community cultural scene in Los Angeles," as Councilwoman Jan Perry put it. In a support letter (PDF) co-written with Councilman Bernard C. Parks, the pair recalled both its historic import as a "cultural destination spot" and looked to its future, emphasizing the Leimert Park stop as crucial to the area's "job-creation and economic development goals."
Perry took to her blog after the meeting to express dismay at the missed opportunity to nail down funding for the stop once and for all. She stated simply: "It just made sense for any line passing through the area to stop in a place that is home to quality merchants, great restaurant options, and entertainment venues." LA Weekly alluded to the inherent regional bias: "It would be like a 'subway to the sea' that skips Westwood or Gold Line rail service that said no to an East L.A. Civic Center stop."
Popular in the Community