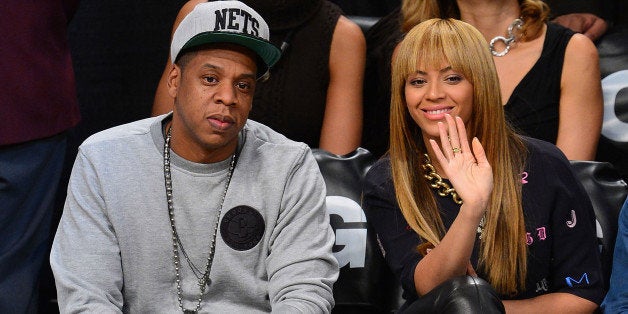 On Saturday, Beyoncé released her visual album Lemonade, an apotheosis to the Black woman. I, as many Beyoncé fans, watched in awe at all the conjuring of black girl magic taking place on my screen. By happenstance, if I were just listening to Lemonade, say, on the car ride to work, I'd be doing my best "boy bye" impersonation with my middle fingers up in solidarity cause name me a woman devoid of heartache and f*ck boys. But, this wasn't just a studio album about relationship problems. In order to grasp the significance behind Lemonade, one had to sit in meditative silence and become enmeshed in the thematic tropes visually present throughout its 57 minutes. This was an intricately woven ode to diasporic tradition told through poetic interludes and stunning cinematography. It was about hurting and healing and forgiveness but it was also a necessary celebration of roots, culture, and manifestation and it was breathtaking.
In true Beyoncé fashion, Lemonade became the top trending topic on social media (still is). Between the allegations of infidelity, the ominous identity of Becky with the good hair, deconstructing the symbolism of Orisha Deities and the salve of Somali-British Poet Warsan Shire there was much to unpack. Then something happened. Black women asked, no, Black women demanded that Lemonade be their song cry. Black women wanted to write about Black women from a Black woman perspective and rightfully so because of Nina and Piers. They wanted to claim this art and all of its representation and say look we did that. Some folks got it and others were in their feelings cause who are Black women to want to write about Black women? What could they possibly know about identity?
Here's the thing: As a Latina, there were themes within Lemonade that resonated with me. Intuition, denial, anger, apathy, emptiness, accountability, reformation, forgiveness, resurrection, hope, and redemption are universal attributes within any relationship and yes because of The Trans-Atlantic Slave Trade, African roots and culture are deeply embedded in our history. Even with the appearance of Afro-Cubana sisters Ibeyi, which I took to symbolize the interconnectedness of Afro-Latinidad within the diaspora, it still wasn't about us. It's okay that it isn't about us.
This is not to say that we cannot listen to, sing about or even enjoy Lemonade. Nor is it to say that we have to be anti-black or even deny our own rich and complex ancestry. What it does mean however is that we cannot co-opt someone else's experience as our own, because we haven't lived it. I don't know what it means to navigate the world as a Black woman.

"We cannot co-opt someone else's experience as our own, because we haven't lived it. I don't know what it means to navigate the world as a Black woman."

As one non-black, light brown-skinned woman (her words not mine) stated in an op-ed for NBC Latino, "I know the last thing Beyoncé wants is to divide the world into black and white. Beyoncé is simply giving a voice to the voiceless." Ummm no, it's way deeper than that. Black women were ready, willing, and able to share their well-crafted think pieces and requested the space to do so. To say that they are voiceless is a disservice to the concernment that is Lemonade. It, in fact, affirms everything that Malcolm X said in regards to Black women being the most disrespected and neglected person in America. What the aforementioned non-black, light brown-skinned woman attempts to do is take away the profundity of lived experiences by the Black woman because she feels excluded.
I am a Brookly-born and raised Puerto Rican woman cognizant of the way African culture has influenced my life and identity, but it does nothing to erase the anti-blackness present in our communities. How do we address that? How about we write think pieces about the lack of spaces Afro-Latinas are given to fully represent themselves. Instead of crowning a Black woman an honorary Latina how about we celebrate the ways in which our blackness defines the spaces we occupy. I'm pretty sure between "Formation" and Lemonade Beyoncé has made her identity clear.
As a poet and performance artist, I celebrated Lemonade in all of its creativity. I was wowed and reminded that I seriously need to step my game all the way up. It also brought to mind that we as Latinas don't have a Beyoncé. We don't have a mainstream pop culture phenom that is creating the kind of art that encompasses all of who we are. We don't have a mainstream pop artist that has taken the risk to give us an intergenerational work of art that celebrates us in all our complexities. We don't have a mainstream pop artist willing to politicize what it means to be Latina or even an Afro-Latina in America. We don't have a mainstream pop artist using her agency to make a socio-political statement.
Puerto Rico is facing economic depression. Suicide amongst Latinas is at the highest rate in the nation, and, yes, our children are also victims of state-sanctioned violence. Where is our activism in mainstream pop culture and in the same breath why aren't we supporting those artists who are doing the work? There are many and I have questions. Why don't we have this? What can we do to fill the void? I didn't ask why Lemonade was not my story to write about but more so, how can I conjure up my own magic to do what Beyoncé did for black women but on my own platform. I was simply inspired.

I attended the Association of Writers and Writing Program in Los Angeles earlier this month and sat in on the Black Poets Speak Out panel. Poet and co-founder of Black Poets Speak Out Amanda Johnston left me with these indelible words: "How are you using your power and privilege to break down power and privilege?" To paraphrase, how are we showing up as allies without appropriation or co-optation? Before closing the panel Amanda went on to affirm, "Ya'll act like there's something wrong with saying black." Then she had everyone in the room say BLACK and guess what? We survived.
REAL LIFE. REAL NEWS. REAL VOICES.
Help us tell more of the stories that matter from voices that too often remain unheard.