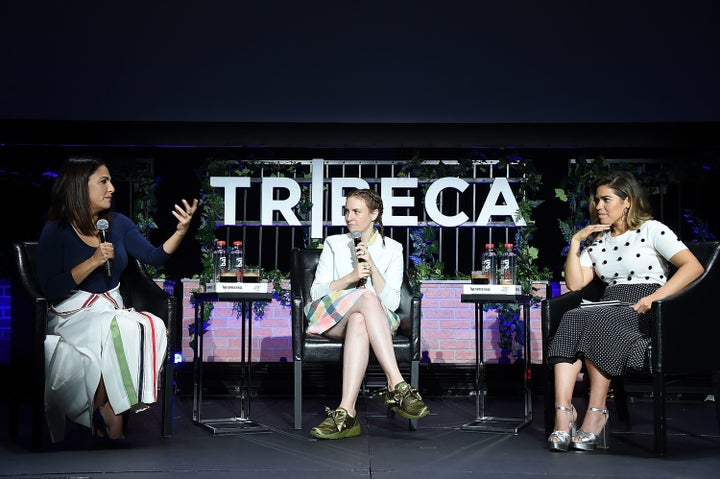 After six seasons of her hit HBO series "Girls," Lena Dunham says she never quite understood the extensive criticism she got about her nudity on the show.
On Tuesday, the actress and show-runner joined co-producer, Jenni Konner, and moderator, America Ferrera, for an in-depth discussion on the legacy of the show at the Tribeca Film Festival. Ferrera, recalling her own experience starring on the ABC show "Ugly Betty," asked Konner and Dunham how they felt about the reactions to Dunham's "non-traditional" body.
"Men, generally, were very angry that she felt comfortable showing her body," Konner commented.
"In the third season, a reporter from The Wrap raised his hand at [a press conference] and asked 'Why do you show your body so much?' And I had a rage spiral."
For Dunham, the vitriolic reaction to her body confidence seemed to stem from the fact that she didn't feel she was being "so brave" by doing nude scenes.
"I've always been like Rihanna to myself. Like, I just have a great time with my own body," the actress explained.
"I think people were so ready to believe that I was, like, jumping past some massive hurdle in order to get naked on television. That's not where my fear lies. If that's what scared me, I wouldn't do it every week."
Dunham added that she got more criticism from men and women who "also didn't have perfect bodies" than anyone else.
"Some of the most love and compliments I've gotten have been from women who are considered to have perfect and beautiful bodies, who I think feel the constant pressure to maintain those bodies," Dunham added.
"They seemed to have felt freed in some way by seeing me just say 'fuck it.'"
Now that "Girls" is over, Dunham has plans to focus on her online feminist newsletter, Lenny Letter. She and Konner announced plans to expand the newsletter into a traveling variety show this May.
Related
Popular in the Community