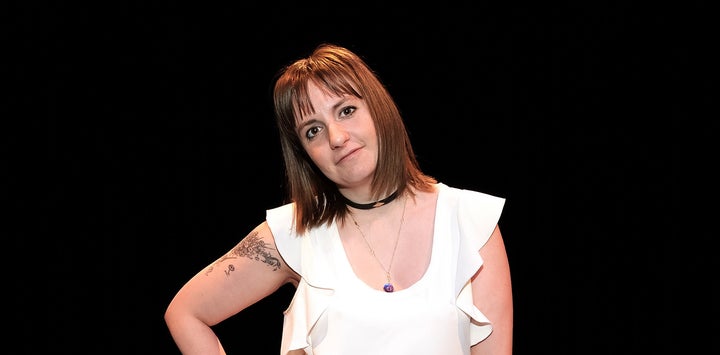 In her 2014 memoir Not That Kind Of Girl, actress Lena Dunham revealed that she was raped by a former college classmate when she was just 19 years old. Now, she's reflecting on how her assault has affected her ability to be sexual and fantasize freely. 
In Tuesday morning's Lenny Letter, Dunham wrote a poignant essay titled "One Of A Kind," which recounts her sexual healing after her assault so many years ago. "A therapist once told me that a hallmark of trauma is losing the ability to fantasize," Dunham began her essay. "The space where possibility was is now filled to the brim with disruptive and painful reality." 
Dunham wrote that after her assault she struggled with feeling authentically sexual. "After my assault, all I could imagine when I thought about sex was not being injured or, when I really didn't like myself, being very injured," she wrote. "That's all there was room for."
In her essay, the 30-year-old described how for years after her assault she often felt as though she was feigning her sexuality; performing with her back arched and adding just the right amount of "meaningless sounds" to convince her partner she was having a good time. 
"In the past few years I've started to ask myself what I really want out of sex," Dunham wrote. "Like an amnesia patient trying to piece my old life back together, I look back on the fantasies that propelled my solitary teenage lust and I wonder what I'd want now, at age 30, if I were unloosed upon the dating world and presenting a completely new me to someone who had zero relationship to my trauma."
"It's hard to know how best to protect yourself right now as an American woman," she wrote. "So much is unclear. So much feels out of our control, like strategy being played out in a remote locked room. So much is up to men who have never seen us and will never see us, who don't even want to see us." 
But, what about taking a small step towards self care on your own? Dunham asked. She continued: 
What about something that tells a story words can't? What if every time you fuck for the next four years, you say exactly what it is that you want? You move the hands on your body to the place you need them to be so that you can get off? What if you take control of systems that were put in place a very long time ago to keep you from getting off? What if you never have sex again where you're just lying there wishing you were somewhere or someone else (and if you've never had that kind of sex, genuine and worshipful congratulations!)? What if you always recognize your voice? What if you ask for more? What if, as a result of this asking, you get exactly what you want?
Now that sounds like a good game plan. 
REAL LIFE. REAL NEWS. REAL VOICES.
Help us tell more of the stories that matter from voices that too often remain unheard.
BEFORE YOU GO