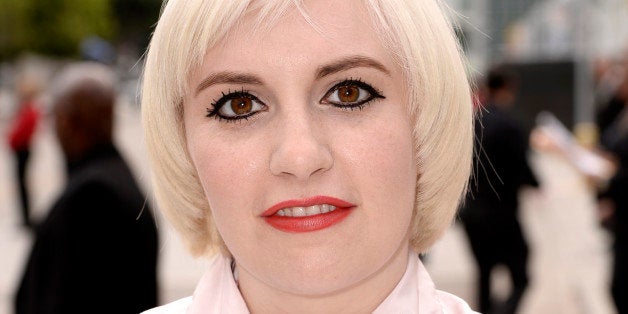 Random House has stated that a change will be made to future editions of Lena Dunham's essay collection, Not That Kind of Girl.
Originally, Dunham's book included a story about being raped at age 19 by "Barry," one of her Oberlin classmates. Dunham describes the student's appearance and personality in detail, and her description closely matches an actual student of the same name, who has denied committing the crime. His attorney, Aaron Minc, created a legal fund on GoFundMe.com.
We are offering to pay the fees Mr. Minc has billed his client to date. Our offer will allow Mr. Minc and his client to donate all of the crowd-funding raised to not-for-profit organizations assisting survivors of rape and sexual assault.

Minc responded that "ideally" he and his client "were looking for something from Miss Dunham."
Appalling. The book wasn't a novel; it was a memoir, offered to readers as such. The copyright page, which I suspect few people read, does say that "Some names and identifying details have been changed," but it certainly doesn't tell people which ones.
Volokh mentions that another of Dunham's essays explicitly states that the name of her ex-boyfriend has been changed to "Jonah," "to protect the truly innocent" -- but the note was clearly added for comedic effect, not as an attempt to dodge charges of libel.
Controversy has surrounded the essay since shortly after the book's publication, when Breitbart.com investigated the case. After "a month-long investigation that included more than a dozen interviews, a trip to the Oberlin campus, and hours spent poring through the Oberlin College archives," the site concluded that Dunham's story is unverifiable.
Of course, it would be remarkably difficult to unearth straightforward evidence of rape by culling through a university's archives, and deeming a victim's testimony "unverifiable" is a weighty accusation that is particularly sensitive right now.
Related
Popular in the Community