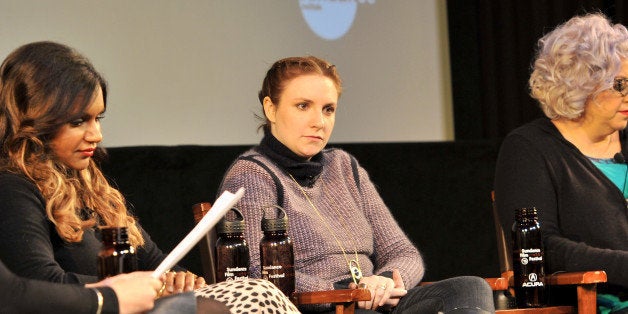 "America is at its most puritanical," Lena Dunham proclaimed to a group of (mostly female) patrons at a Sundance panel discussion on Saturday afternoon. "People are forgetting that humor is a tool for debate and a tool for expression."
The panel, moderated by New Yorker critic Emily Nussbaum, was titled "Power of Story: Serious Ladies" and featured four women who have become some of the most powerful forces in comedy over the last five years: Lena Dunham ("Girls"), Mindy Kaling ("The Mindy Project," "The Office"), Kristen Wiig ("Bridesmaids," "Saturday Night Live"), Jenji Kohan ("Orange Is the New Black," "Weeds").
Maybe as a result, the initial conversation was tight-lipped. Dunham teased they were now all too seasoned to fall for "gotcha" questions -- like when Nussbaum asked what jokes they've cut from their shows for being over the line -- and that perhaps each woman was just too media-trained now. But that didn't stop her from making one buzzy comment about Woody Allen.
The panel had just discussed how fans often assume Dunham and Kaling are just like the characters they write or play. (Wiig joked that if she were anything like the characters she plays, she would be "really fucked up.") They agreed that male artists deal with this less, and Dunham decided to push the conversation further.
Saying she doubts that people like Woody Allen and Larry David walk around being mistaken for the characters they play, Dunham stated: "Woody Allen is proof that people don't think that everything he does in his films is stuff that he does. Because all he was doing was making out with 17-year-old girls for years and we didn't say a word about it. And then he did it. A bunch. No one went, 'Oh, Woody Allen is making out with a 17-year-old in "Manhattan"; I guess he's a real perv.' And then lo and behold ..."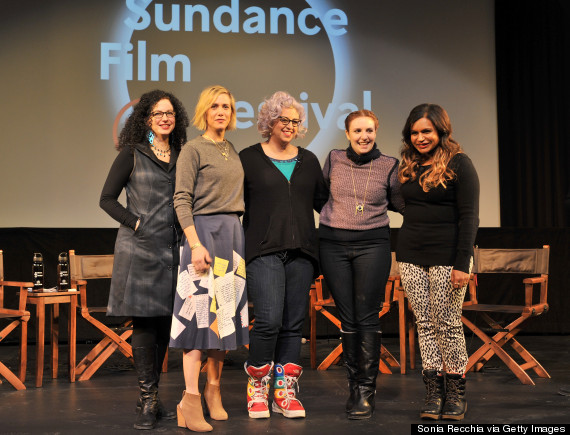 After that, the room was more alive, but the general questions about being female powerhouses came and went, as did queries about if film or television is the better landscape for women at the moment. But each woman on the panel had a chance to discuss what political issue was most important to her.
After muttering under her breath that it was going to sound stupid, Wiig was first to answer the question. "I think it's important to know where your food comes from. The food in schools right now is the worst. The grade of meat they allow is below what supermarkets allow. I think it's terrible and it affects how we learn and it affects our health. Our health is our lives."
Kohan, whose show "Orange Is The New Black" is known for challenging our perceptions of gender and sexuality, stated, "Something I find myself railing against is fundamentalism in all its forms."
Dunham spoke out about reproductive rights and justice. "The idea that this is still something that women, in what I supposed to be the freest nation, are still fighting for every single day. And it's not just a political issue -- it's also a lot about class and race -- it is a part of all of these other forms of inequality and injustice in our country."
"Women on college campuses are some of the most privileged women with the loudest platforms to tell their stories," she said. "Most of them are middle class and white. And they still can't be heard as survivors of sexual assault. So think about what that means. That is indicative of the fact that sexual assault is an epidemic and so many people are voiceless."
Pointing out that she realizes focusing only on campuses is ignoring so much other sexual assault in the nation, Dunham clarified, "I think campuses are a great place to start because that is where we are being educated and where we are told we are going to be safe."
Kaling was also concerned with a female issue. "So many girls who look up to me are young women of color who have been told that they are ugly," she said. "They feel that they are not normal. I think it's so important for us to help illuminate that they can be beautiful and objects of love and attention and affection. I feel sad when people say, 'You are the first person who made me feel that that is possible.'"
Fans can watch the entire panel below: