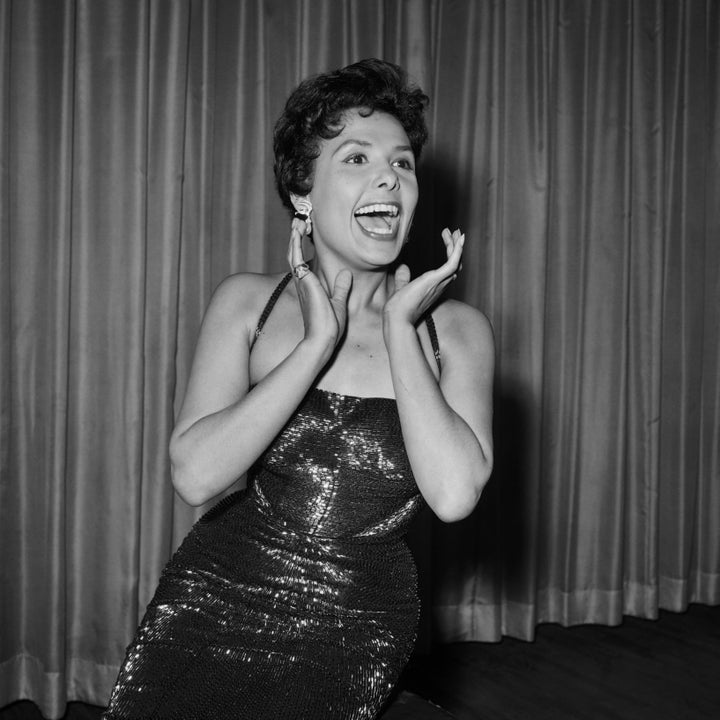 Lena Horne died this Mother's Day at the age of 92.
If you are of my generation of Lena Horne fans your first encounters with the star was her role as Glinda, the Good Witch of the South in The Wiz, the 1978 film of the all-black version of L. Frank Baum's children's classic The Wizard of Oz.
But Ms. Horne's breakthrough on the silver screens was decades before 1978. It began in 1943 when Horne was in the all-black production, "Stormy Weather," where she performed the title song that became her signature tune.
With the help of the National Association for the Advancement of Colored People (NAACP), Horne broke the color barrier that year when movie mogul Louis B. Mayer signed Horne to a seven-year contract with Metro-Goldwyn-Mayer (MGM), the first African American performer to received a long-term deal with a major Hollywood studio.
However, in an era when African American actors in Hollywood were portrayed as toms, coons, bucks, mulattoes, and mammies, Horne's roles were limited because she refused to play stereotypes.
When Ms. Horne was asked by Hollywood agents to play mammy roles she shared in a 1997 PBS interview that her father chimed in emphatically stating, " I can get a maid for my daughter. I don't want her in movies playing maids."
Ms. Horne discovered her light-skinned complexion and white facial features might have opened MGM doors for her. But once she got through them her tenure with MGM was fraught with all sorts of racial problems, the biggest one being her light-skinned complexion.
"I was unique in that I was a kind of black that white people could accept," she told PBS. "I was their daydream. I had the worst kind of acceptance because it was never for how great I was or what I contributed. It was because of the way I looked."
For example, her first screen test at MGM was alongside African American comedian Eddie Rochester Anderson, who played the happy-go-lucky "darkie" to Jack Benny's eponymous hit radio and television series "The Jack Benny Program." Because her complexion was too light juxtaposed to Anderson's the make-up department came up with a special shade for Horne called "light Egyptian" to dispel the notion that the movie studio was promoting an interracial couple.
However, as much as Horne detested how the white show business world exploited her light-skinned complexion, she also exploited the privilege of having it, because of intraracial discrimination or in laymen's terms, "colorism" in the African American community.
While it is true that America's pigmentocracy began with slavery, many of its vestiges are with us today where still lighter-skinned blacks are preferred, trusted and perceived to be more intelligent and attractive looking than darker-skinned ones.
Just look at how American soul, and how R&B singer Beyonce's career is a cross-over success compared to American soul, and R&B singer India Arie's.
In the article "Study: Darker-skinned Black Job Applicants Face More Obstacles" in the 2006 edition of Issues in Higher Education it stated that "a light skinned African American male with a bachelors degree and mediocre experience is more likely to be hired for a typical job than a dark skinned man with a Masters in Business Administration and past experience in the field."
One aspect of President Barack Obama's appeal to those whites who would give him a listening ear during the presidential campaign was not only because he is a brilliant orator, legal scholar, and Harvard Law graduate, but also because his light-skinned complexion engenders less fear -- both visually and emotionally.
And if truth were told, the same was true of Barack's looks for many African Americans.
During Ms. Horne's era, the "brown paper bag test" was used in the application process for admission to many of the prestigious Historically Black Colleges and Universities (HBCUs). Any African American darker than the hue of a brown paper bad was automatically denied admission. But the admission process also included the "comb test" and the "flashlight test." For the "comb test," if you were light-skinned and your hair was coarse, or as we say in black vernacular "nappy," you were denied admission. And for the "flashlight test," if your light-skinned features were not close to those of whites you were denied admission.
Horne dropped out of high school at the age of sixteen to join the famous chorus line of the renowned Harlem's Cotton Club showgirls. The club only wanted "tall, tan, and terrific" dancers.
In 1947 Ms. Horne married her second husband, Lennie Hayton, a Jewish American conductor and arranger at MGM, twenty years before 1967 when U.S. Supreme Court ruled in "Loving v. Virginia" that anti-miscegenation laws are unconstitutional. In a 1980 interview with Ebony Magazine Horne spoke about the pressures of being in an interracial marriage. But she also stated in the interview that she married Hayton to advance her career and to cross the "color- line" in show business because she knew her looks and his connection could make it happen.
Born in the Bedford-Stuyvesant section of Brooklyn in 1917, Horne belonged to New York City's "brown bourgeoisie" whom W.E.B. Dubois called "The Talented Tenth," because of her family's wealth, education, and light-skinned complexion.
Many will argue that Horne got involved in civil rights activism at a nadir in her career to advance herself, after having benefited all she could from light-skinned privilege.
"A kind of racial anger began to grow in me," Horne told PBS. "I had to ask myself if I were merely attaching private feelings, disappointments and resentments to a larger, more critical, crisis."
Horne was more than skin-deep. As an activist she worked with Eleanor Roosevelt to pass anti-lynching laws; she refused to lodge in black sections of towns; and, she criticized the treatment of African American soldiers during the war, to name just a few.
While it is true that Horne was exploited because of her light-skinned complexion, and she also exploited the privilege of having it, I argue that all of what Horne did in her lifetime can nether be understood nor judged merely by the color of her skin.
Popular in the Community