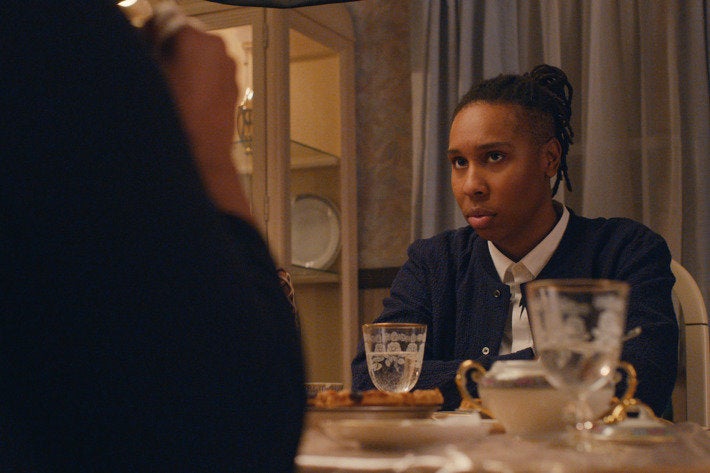 Arguably the best episode of Netflix's "Master of None" isn't about the main character, Dev, played by Aziz Ansari, but about his best friend Denise.
Denise, who is played by Lena Waithe, is Dev's stylish, laid-back black friend who identifies as a lesbian. Throughout the series, viewers see a confident Denise who is comfortable with her sexuality. But the "Thanksgiving" episode of the second season showed a more vulnerable side of her. Creators take a look into the past to follow Denise's character as she realizes she's attracted to women and comes out to her mom, Catherine, played by Angela Bassett.
Waithe, who co-wrote the episode along with Ansari, revealed that it was based on her personal story of growing up and coming out to her family. 
The producer/actor told USA Today that the episode came to fruition after co-creator Alan Yang asked Waithe about her coming out story while in the writers' room.   
"I started to tell the story about what it was like to grow up in a house with all black women, never even hearing the word 'gay' or 'lesbian,' but not being super Christian. [It was] just all about appearances and how people perceive you," she said.
Waithe said that she hadn't intended on bringing elements of her personal experiences to the show, but Ansari called her shortly after she left to ask if they could tell her story ― with her guidance, of course.
The episode follows Denise through a series of Thanksgiving dinners with her mom, aunt (played by Kym Whitley), grandmother and Dev. It starts with Denise as a child and progresses into her teenage and adult years, exploring the nuances of what happens when blackness intersects with gender and sexuality.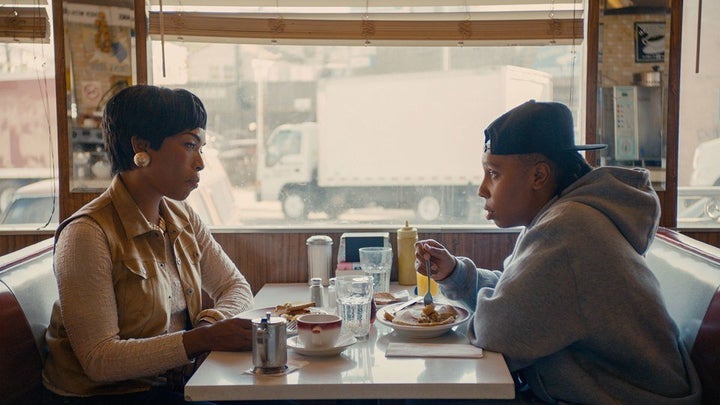 One year, Denise spends the holiday with her mom at a diner, where she decides to tell her mom that she's gay. Catherine's response is mostly worry over her black daughter having to deal with another part of her identity that may make life even more difficult.
"I don't want life to be hard for you," her mom said through tears. "It is hard enough being a black woman in this world, now you wanna add something else to that." 
Waithe, who actually did come out to her mom in a diner about 10 years ago, said that those words were actually said to her.  
"It's very difficult being a gay kid coming out to a parent. I can speak to that from personal experience," she told TV Guide. "But I think what I learned in making the episode is that it's also difficult being a parent, having to have your kid come out to you."
"In writing the episode, I got a chance to step into my mother's shoes a little bit and try to understand where she was coming from," she continued. "I realized that was a very difficult thing for her to go through. Not because she doesn't like gay people and not because she's homophobic, but because she got a kid with an added element that she didn't quite bargain for. And it's also an element that no one ever taught her how to deal with."
She told USA Today that retelling her mom's initially resistant reaction wasn't to villainize her, but to celebrate "what it means to come out and be brave." She added, "We were also celebrating my mom and all moms who have been come out to, who try and say the right thing and want to know the best way to love their kid."
Waithe said that Bassett really elevated that narrative.
Bassett told HuffPost that she accepted the role because she felt it was an important story that needed to be told. The mother of two said it's a parent's duty to love and support their children no matter what, and Waithe's story does a good job of showing that. 
"It just meant so much to me because I know that it emanated out of the life of this beautiful, talented, gorgeous, amazing young woman and how important it is for her and for those [whose stories are] like hers, akin to hers," she said. "I was very proud to be asked to be a part of it."
Waithe, who's currently in a relationship with a black woman, told TV Guide that she hopes the episode has a positive impact on the perception of the black LGBTQ community.
"I feel very honored and proud that I get to tell this story from my point of view," she said. "I hope that we're changing the way mothers, daughters, families, view what it means to be gay and black in America now."
Calling all HuffPost superfans!
Sign up for membership to become a founding member and help shape HuffPost's next chapter
BEFORE YOU GO
PHOTO GALLERY
7 Netflix Shows With Black Stars To Watch This May