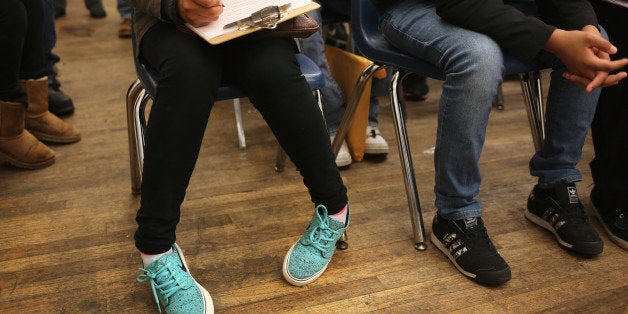 Before June 15, 2012 I knew what it's like to live in the shadow of a constant paralyzing fear. The fear that I could lose my home, my friends, and my life as I knew it at any moment. I went out into the world not knowing if I would ever see my home again. I lived with this fear for years, in silence because I didn't know who I could trust. I thought that I was the only kid who was undocumented. On June 15th 2012, my life has changed dramatically -- it's the day that the Obama Administration implemented Deferred Action for Childhood Arrivals (DACA).
I'm not the usual face you see associated with undocumented youth. 68 percent of undocumented are from Mexico, while Asian undocumented youth, like me, only make up 8 percent of the population. Nationwide, about 33,000 Koreans are eligible to apply for DACA. However, only 8,000 or 24 percent of eligible Korean immigrants have applied for the program. As a Korean DACA recipient, I want to encourage my fellow Korean DACA-eligible community members to apply.
Late last year President Obama announced an expansion of DACA and introduced Deferred Action for Parents of Americans and Lawful Permanent Residents (DAPA). Like DACA, DAPA is a form of immigration relief that ensures that parents of children born before November 2014 will be able to stay in the country to care for their families.
The expansion of DACA and DAPA will reach up to 5 million more people, and was suppose to be enacted on February 18th and May 19th respectively. However, there was a last minute attack on these critical programs by a judge in Texas known for his anti-immigration viewpoint. The decision will be eventually overturned and these programs will be implemented and people are safe to come out of shadows and be recognized.
One of the major challenges for DACA-eligible community members to apply for the program is the financial struggle to pay for $465 DACA application fee. I would encourage people to take advantage of opportunities like Mission Asset Fund's Lending Circles program.
Lending Circle is a loan program to help DACA-eligible members to pay the $465 application fee. Participants take online financial training class and build credit by making payments of $46.50 for 10 months. As a Lending Circle participant I have a higher credit score and financial knowledge to help build a brighter future.
The courts are deciding our futures and we can't afford to just sit around and wait. We need to be out in the streets calling for change and being visible. We also need to get ourselves ready, DACA-eligible community members need to gather necessary documents. We should be saving money to pay for fees by signing up for a Lending Circle. So that we can be prepared to submit the application when we are finally able to. For those who are eligible for the original 2012 DACA program, they can apply or renew their DACA program right now. No matter what, I encourage you to be as prepared as possible, because our time is coming soon.
Popular in the Community