With Europe wracked by a variety of challenges - Russian aggression in Ukraine, terrorism, waves of immigrants from the Middle East, sluggish economies, and populist movements questioning the very democratic foundations of their societies.- it is wise to recall the spirit of Lennart Meri, the Estonian president in whose memory a major international conference is being held this weekend in Tallinn. Since its inception a decade ago, the conference has been attended by prominent European and US scholars, politicians and policy makers, who have often praised the open and intellectual rigor of the proceedings. Meri, who was president of his country from 1992-2001, was widely admired for his erudition and fluency in several languages. He wrote books and made films on ethnic and historical subjects, creative endeavors unusual for a political leader save for that other artist-turned-statesman, Vaclav Havel. In 1976 Meri published his most treasured and inspiring book, Silver White, which blended history and poetry in a world view which provided a basis for Estonians' aspirations towards independence and self-confidence. His liveliness, sense of humor and irreverence made him seem much younger than his age. Meri's insights and diplomatic skills later impressed the world leaders he met. In Europe he was a living paradigm of firmness when standing up to Russia. Meri's vigorous leadership also spawned many colorful anecdotes about him. The legend that he accused the first President Bush of having no Russia policy was untrue, Meri once stated, though it was useful for him to have people think so. Meri also made the most of his opportunities. In 1994, after two years of difficult talks with mixed public support and Russian soldiers stationed only a kilometer from the parliament, Meri got a drunken Boris Yeltsin to agree to withdraw Russian troops from Estonia.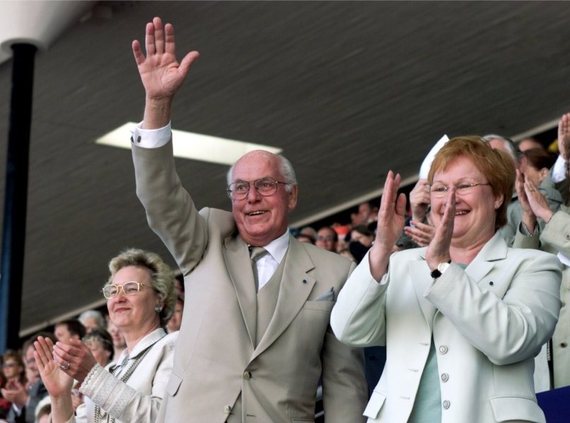 This year's Lennart Meri conference will focus on "Shaping the New Normal." The title reflects the widespread worry among participants that the causes of the West's discontent will not be short-lived. Specific panels also reflect these concerns: Europe's refugee politics; the future of NATO; dealing with a revanchist Russia; the shaky prospects for the European Union; the ongoing Syria crisis; among other topics. A panel from the McCain Institute in Washington DC will discuss the forthcoming presidential elections in the United States and foreign policy under a new US administration.
The prospect of the nomination of businessman Donald Trump as the Republican candidate for US president, which became almost certain only after the conference was organized, will hang heavily over the proceedings. Trump's foreign policy proposals - pulling the US out of NATO if its members do not pay their fair share, suggesting the US may remove the nuclear umbrella over Japan and North Korea, and putting huge trade tariffs on China, are regarded with a mix of "alarm and confusion" in Europe, according to the New York Times. Even if Trump loses the general election, global leaders are wrestling with the possibility that his ascent reflects a strain of US public opinion that could profoundly change America's role in the world. Indeed, it would be a mistake to think that even in defeat the Trump movement will fade away completely. There are echoes of Trump's views in President Obama's comments in his recent Atlantic interview that America's European and Gulf allies are foreign policy "free riders." Even Hillary Clinton, long a committed internationalist, has recently been more protectionist trade issues.Especially troubling are Trump's comments about Russia, another topic certainly to be at the center of the conference discussions. Trump has often spoken positively of Vladimir Putin, saying he respects his strength. Alarmingly, Trump says he hopes to make deals with Putin, an indicator he may be willing to withdraw US forces form Europe or backtrack from the Western alliance's relatively hard line over Russian aggression in Ukraine. In the past Trump has sought to expand his business links to Russia and a key campaign strategist, lobbyist Paul Manafort, has grown wealthy in Washington trying to rehabilitate the reputations of unsavory dictators.Anne Applebaum recent argued in the Washington Post that even if Hillary Clinton -- who has hardly a spotless record herself -- wins in November, Trump already has done enormous damage not only to the reputation of the American political system but to the reputation of democracy (a responsibility, I would add, he shares with populist leaders in France, Hungary and elsewhere in Europe). In the Kremlin, the argument against democracy has long been based on cynicism: with no attractive ideology, Putin has been telling his people that democracy is no different than dictatorship. Both systems, he says, have their oligarchs (a comparison in which the Kremlin has also cited Hillary Clinton, as well as Trump). Only money matters. America's talk of its ideals, therefore, is fake.
These are the kinds of lies Lennart Meri would proudly and loudly have dismissed. Meri's major speeches were "masterly" lectures against laziness, complacency, and above all falsehood, the Economist recounted at his death in 2006. This is sound advice to guide the deliberations of the next several days.
Popular in the Community