Last month I wrote about Lennox, the well-behaved Belfast family pet sentenced to death under the U.K.'s breed specific legislation (BSL) because of his resemblance to what is known as a "Pit Bull Type." Supporters have been holding their breath since May 24, when the court declared it would announce in a few weeks whether Lennox's owners would be allowed to lodge one final, last-ditch appeal. Due to a number of flaws and inconsistencies in the case -- not to mention the fact that the first appeal was reviewed and denied by the very same judge who handed down an earlier sentence -- there was reason to hope that the higher court judges would find reasonable grounds to hear this appeal.
This morning, devastating news quickly spread across the internet: Case lost. Request for appeal denied. A high court in Northern Ireland did the unthinkable, and upheld Lennox's death sentence, clearing the way for what is kindly described as his "euthanization."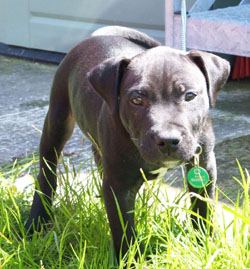 Never mind a massive, highly vocal world outcry -- coming from over 128,000 petitioners, plus virtually every respected dog expert and a gaggle of celebrities. Never mind the in-depth evaluations of not one, but two highly regarded canine behaviorists, who judged him friendly and posing no danger to anyone. Never mind a confirmed adoptive home ready in the Republic of Ireland as a "plan B" option. Never mind conflicting testimony of city dog wardens, and even photo evidence that flies in the face of warden Alexandra Lightfoot's contention that she is afraid of Lennox. Never mind that an earlier "appeal" was heard not by an impartial party but by the same judge who handed down the original ruling. Never mind a growing "Boycott Belfast" movement that threatens the city's much-promoted tourist industry (a boycott petition put online today has already garnered over 8,000 signatures).
All reason apparently fell on deaf ears at the Belfast Court of Appeal, so, barring a miracle, Lennox -- a family pet, a young girl's "bestest friend in the world," an animal who has committed no crime other than having the physical traits of what is known as "Pit Bull Type" -- is to be put to death, yet another victim of BSL. It is reported that even the family's request to see him one last time has been rejected (the Barnes have been barred from seeing Lennox -- or even knowing where he has been held -- since he was unexpectedly wrenched from their home in May of 2010).
Supporters worldwide who have been working long and hard to raise awareness and convince Belfast City Council to release Lennox have flooded social media in anguished protest. Victoria Stilwell -- renowned dog trainer, author and host of the program It's Me or the Dog -- who has been particularly vocal in support for the Barnes family during this case and an outspoken opponent of BSL, posted a heartfelt statement on her Facebook page:
Devastating and unjust... I can tell you now that because of unqualified people who fear certain dogs, BSL will spread to other breeds, but ignorance will never win because we will continue to fight. Thoughts for Lennox's family and for Lennox. You poor, poor boy, trapped in the middle of this horror all because of human ignorance.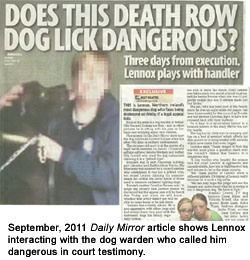 Meanwhile Belfast City Council appears to be working overtime in removing protest comments from their Facebook wall as fast as they are posted, and contrary to their contentions of "abuse" and "an online hate campaign" by Lennox supporters (a claim they made publicly in late May), almost all of those posting in protest are, although expressing frank anger, adhering to the Barnes' family's continued public request to refrain from aggressive or hateful comments against Council or the judges.
Yet as it has from the beginning of this very sad case, Belfast city government seems committed to focusing on harassment claims as a bit of smoke and mirror distraction from the basic facts, as if it should be used as a deciding factor for this life or death case. This morning, in response to a phone request, I received this rather telling email from their press officer:
The council believes that today's ruling is the right decision and that it again vindicates the actions of our staff who, while simply carrying out the legal requirements of their job, have had to endure a relentless campaign of intimidation and abuse. END.
Instead of addressing what they consider the merits of the case itself, Belfast City Council focuses on the political aspects -- such as the need to "vindicate" their staff -- while once again bringing out claims of "abuse" as perhaps some kind of justification for the decision.
This one brief statement speaks volumes (unintentionally, I'm sure) about what has long appeared to be the real force behind Belfast City Council's fight to put down Lennox: the stubborn protection of political pride and reputation. If Lennox is killed, this will become Belfast City Council's legacy.
Related
Popular in the Community