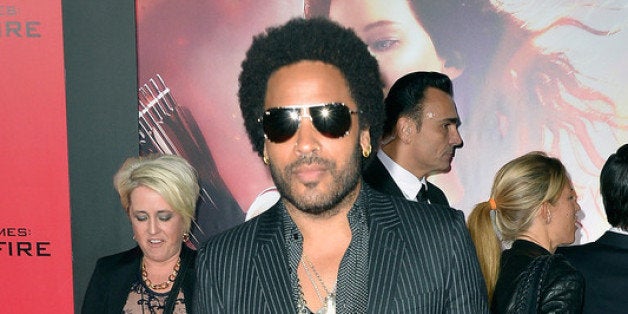 Lenny Kravitz plays Cinna, the stylist to Jennifer Lawrence's Katniss Everdeen, in "The Hunger Games: Catching Fire," but for many of the months before that film's Friday release date, Kravitz has been thinking about another role. In "Lee Daniels' The Butler," Kravitz stars as James Holloway, a White House employee and confidant of the title butler, Cecil Gaines (Forest Whitaker).
"It was an amazing film to be a part of," Kravitz said of the movie, which uses Gaines and his family as a window into much of the American Civil Rights movement (Gaines, based in part on the life of real-life White House butler Eugene Allen, spends over three decades in service at 1600 Pennsylvania Avenue, while his son becomes a key player in the era's social upheaval). The movie enters award season with a healthy amount of buzz, built largely on Daniels' direction, Oprah Winfrey's supporting turn as Gaines' wife, Danny Strong's original screenplay and Whitaker and Kravitz' portrayals of the less-televised side of life in the White House.
"I felt that it was a great story, and I love the historic value and the emotional value and everything -- Lee's direction, the actors," Kravitz said of the film, which earned $146 million worldwide. "But I had no idea that it was going to have this kind of success. No idea."
Reached hours before the "Catching Fire" premiere in Los Angeles, Kravitz took some time to reflect on "The Butler," size up the importance of a role like Cinna and dish on the production of "You And I Ain't Nothin' No' More,'" the original song he wrote and produced for Daniels' film.
A lot of people have a "Lee Daniels story," like Oprah's tale of being harassed for months before relenting to join the picture. What's yours? Was making "Precious" very different than "The Butler"?
No, I mean, it was a different situation, but Lee's style is Lee's style. He works pretty much the same way that I'm used to working, which is very spontaneous and led by the spirit. We're friends as well, so there wasn't anything out of the ordinary. He was just really focused on making this film, and was very into telling this story as clearly as he could.
Can you take us into the production of the song a little bit? You wrote and produced it, but when was that done?
That was after the film was done, or toward the end. Lee and I talked about the song and what we thought it should be about. It was important to not just be some song about black history. It's a song about a father and a son and the relationship, when it gets torn apart. So that's what it's about: "You and I ain't nothin' no more." I was honored to write that song for the amazing Gladys Knight.
Did you know it would be for her?
Pretty much -- I mean, I sang the reference vocals, but we knew we wanted to have a woman to sing it, and her name came right up.
There's been lots of talk about whether or not we're in a golden era for the presentation of black American stories in film. What do you make of that?
I think things are in the air. Somehow, a spirit is going around. It's a great time. It amazes me how many people don't know history. You take it for granted, thinking people know about Freedom Fighters and the sit-ins and know about Jim Crow and the March on Selma and all of these things. So many people don't. So many kids really do not, which I found was surprising.
Did you also get the sense that many of the people who do know these stories seem to talk about them as though they are ancient history?
Yes -- exactly. I agree with that 100 percent.
At times, though, it seems like the emphasis on black stories is only granted in stories that are historical. Put another way, when you look at how the Academy has awarded actors of color, it has almost always been for roles that have to be played by a black person -- as though those are the only times the industry is ready to reward a performance by a black actor. Do you think these movies will help break down that divide?
I would certainly hope so. I mean even with this role, even though it's a supporting role, back it up with me playing Cinna [in "Catching Fire"]. I mean, who knew? Cinna could have been any color. But yes, even the film that I'm about to do with Christopher Walken -- I'm playing his son. We're doing "Little Rootie Tootie," and that could have obviously easily been a white actor, but I'm doing it. In my experience, I'm just looking for characters that can be any color.
I hope that the industry is opening up more, because whether they're African-American or Korean or Mexican or Chinese or whatever they may be, that characters can be characters. Because in my life, growing up, I saw all kinds of people doing all kinds of things. Hopefully that will translate.
What is your hope for "The Butler," in terms of awards? How much of a role does that play in your life -- obviously you're no stranger to hosting pieces of hardware at award shows, is that something that you see as a validation?
I mean, it's a wonderful thing, but it is what it is. A lot of great things don't get celebrated and sometimes a lot of very mediocre things get celebrated. At the end of the day, it's about the creative experience, and if that was true and wonderful, then great. That means everything, whether it sells or gets an award. When you do get an award, however, and you've done good work, it makes you feel good. No doubt.
Do you and Lee have any plans for linking up again?
We'll see! With Lee you never know where he goes next. We've talked about some things, but you never know until he says, "OK, that's it."
You finished "The Butler" before filming "Catching Fire." Was it at all odd to step back into the "Hunger Games" universe?
No, I landed in Atlanta and went straight to work. I knew who Cinna was, though we had a new director, but I knew him because we had worked together in the past in the music business. It all just happened very simply.
You sort of know everyone, at this point. Was there a point in your career when you looked around and realized that you have a huge network and that you were incredibly successful? An "I got this" moment?
In music, well ... I don't know if I ever think of that. I'm always trying to grow, to do better and go deeper. I feel like my best work as a musician is yet to come. I know that there has been a lot of time that has gone by that suggests that I should say that or feel that way, and I'm doing really well, but I don't really feel like that.
Are you also in the camp of musicians who feel like what they've most recently finished is their best work?
The album that I just completed that is coming out next year is somewhere that I haven't been yet. The work is incredibly strong and I'm very proud of it -- I do think it's my best work to date. But five years from now, it will be something else.
And in film--
Oh, all four of my films! I'm four for four, at least. [Note: Kravitz has starred in "Precious," "The Hunger Games," "The Butler" and "Catching Fire," a pretty impressive run.]
Right, "Catching Fire" won't be that small of a film at the box office.
No, no it won't. [Laughs] I'm very grateful.
Tell me a little bit about your Fred Segal collaboration -- have you designed anything yet or is that still to come?
We've begun working on it. Anything from $100 to $100,000 -- it's 10 items that start from the perfect t-shirt up to a piece of jewelry or a weekend bag or headphone cover to a custom motorcycle. It's just 10 items that people use all the time, but we're doing our own version of them.
The particulars of design, film and music can be very different, but in terms of a creative process, do you find that it all comes from one place?
Absolutely. I find that they're all the same. It's all just making something out of nothing. Whether you're creating a song or a piece of furniture or a role, it's all just drawing from the unseen or unheard. I find the processes to all be very similar, if not exactly the same.
Calling all HuffPost superfans!
Sign up for membership to become a founding member and help shape HuffPost's next chapter
BEFORE YOU GO
PHOTO GALLERY
"The Butler" In New York