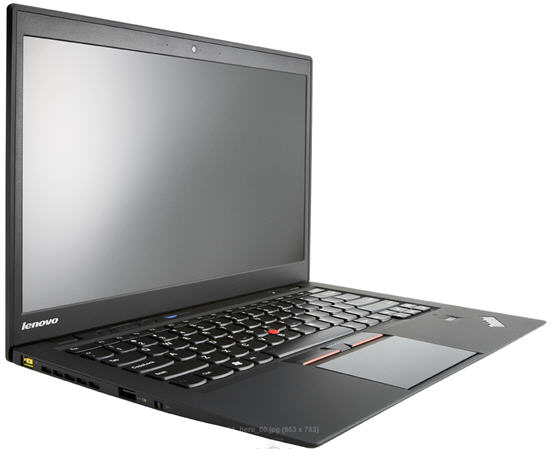 Lenovo X1 Carbon (Image from Lenovo)
Until last January, I was happily carrying a Lenovo X300 lightweight notebook PC but decided it was time to get a MacBook Air and, until today, I hadn't looked back. But now that I have my hands on Lenovo's new X1 Carbon, I'm tempted to cheat on my beloved MacBook Air.
Although it's essentially the same size and weight as the 13-inch Air, the X1 Carbon sports a slightly larger 14-inch screen. The X1 Carbon weighs 2.998 pounds and measures 13.03 by 8.9 by .74 inches compared to the 13-inch Air's 2.996 pounds, measuring 12.8 by 8.94 by 0.68 inches at its thickest end.
It doesn't have the same polished aluminum casing as the Air but it does have a light but strong carbon fiber case with a handsome matte black finish.Like the Air it comes equipped with a solid state drive (SSD) instead of a hard drive. It also shares a couple of the Air's drawbacks. You'll need a dongle to connect it to Ethernet and many external monitors and, like the Air, the battery is sealed inside the unit so forget about carrying an extra one. Lenovo says it gets up to 6.3 hours on a charge. The X1 does of course offer WiFi and some models have a 3G cellular data modem.
Two pointing devices with an excellent trackpad and keyboard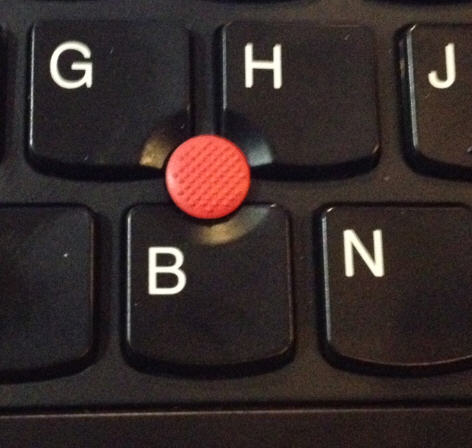 Lenovo's Trackpoint (photo by Larry Magid)
The X1 is equipped with both a trackpad and Lenovo's trackpoint pointing device, which is an eraser-like button that pops up between the G, B and H keys that you manipulate with a finger. The trackpad, unlike most Windows laptops, offers very smooth scrolling. It's one of the best Windows trackpads I've tested and as good as the ones on Macs.
And its keyboard is better than Apple's. When Lenovo acquired IBM's PC divsion in 2005, it inherited "big blue's" attention to quality including some of the world's best PC (and before that typewriter) keyboards. And while Lenovo had to make a tiny bit of a compromise to build a keyboard into such a thin machine, it's still great by laptop standards. For touch typists like me, this makes a difference and, pun intended, it's an area where Lenovo beats Apple hands-down.
The built in speakers can be turned up really loud which is a good thing because most laptop speakers don't put out enough volume for some listening situations. I ofen use my laptop to watch video at home or while I'm on the road and I'm sometimes frustrated by the low level of sound. The new 13-inch MacBook Air is OK but the Lenovo is better.
The overall quality on this machine is top-notch and the carbon case should help reduce the chances that it will break or wear out anytime soon. For someone who spends a lot of time on the road, this is a solid but lightweight device that will take a reasonable beating and keep up with whatever Microsoft and other software vendors throw at us for the next few years (though it doesn't have a touch interface if that matters to you). The X1 Carbon is not for people on a budget. Models with 4 GB of memory start at $1,399 with the Intel Core I5-3317U processor and a 128 GB solid state drive. A roughly equivalent 13-inch MacBook Air costs $1,199. The X1 maxes out at $1,849 for the Intel Core I7 processor and 256 GB, which is the one Lenovo loaned me to test. An Air with similar specs is $1,599.
After two days of testing, I came away very impressed with the X1 Carbon. It's a solid machine and an excellent choice for any well-heeled PC user who wants a Windows system. But it's a bit pricier than the Apple equivalent and a lot pricier than many other Windows ultrabooks. If it weren't so expensive, it could take a bite out of Apple's sales but for it to garner significant market share beyond well-heeled road warriors, Lenovo will have to lower its price. But the good news for Lenovo is that there are a fair number of people with the budget and desire for a top-notch Windows ultrabook.
Calling all HuffPost superfans!
Sign up for membership to become a founding member and help shape HuffPost's next chapter