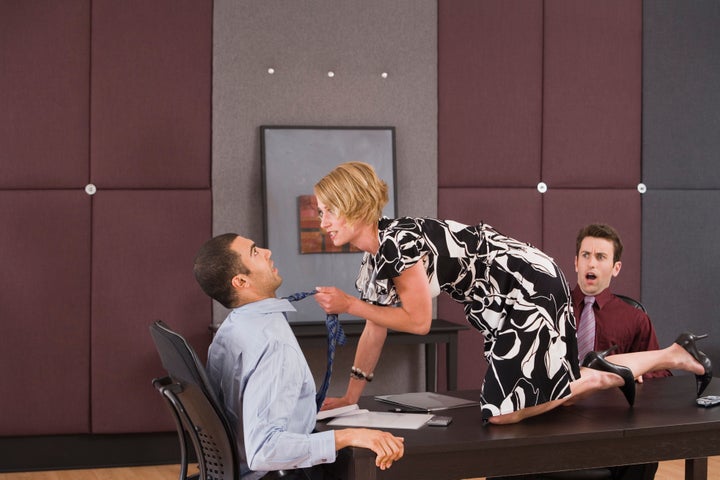 LensCrafters, the largest optical chain in the country, has settled a lawsuit accusing the company of allowing a male employee to be sexually harassed by a female co-worker. The company admitted no wrongdoing, but it will pay former lab technician William Sheard $192,500 and will start educating its employees about harassment against males in the workplace as part of the settlement.
The U.S. Equal Employment Opportunity Commission, which filed the suit on behalf of the technician in 2009, claimed Sheard fended off repeated come-ons from colleague Melissa Brandt in a LensCrafters store in Saginaw, Mich., and alleged that management ignored Sheard's complaints because he was a man being harassed by a woman.
"Sometimes people think that a young man -- well, they don't believe it can happen to a man," Sheard told HuffPost. "They just believe every guy would jump on a situation like that. That's far from the truth."
According to the suit, Sheard started working at LensCrafters in 1998. In 2006, Brandt told him she wanted to have a relationship with him that was "more than platonic." Sheard declined. From then on, Brandt would reference sex acts in front of Sheard, talk openly about his body, touch and grab his chest and backside and tell him she loved him and wanted to have sex with him, the suit claimed.
At a holiday party in 2008, Brandt allegedly tried to grab Sheard's crotch several times, to the point where Sheard had to leave. After repeated rejections, Brandt eventually made a sexual harassment claim against Sheard, a charge she later admitted was false, according to the lawsuit. The lawsuit alleged that LensCrafters management immediately investigated Brandt's charge while ignoring Sheard's.
Sheard repeatedly brought his issues to management -- at first the lab manager, and then up the company ladder -- all to no avail, the suit said. All told, the alleged harassment lasted for more than a year.
Sheard left LensCrafters in 2008, after Brandt's father threatened him at the store due to his repeated complaints, according to court records. The EEOC took up Sheard's case and filed its suit the following year.
Life hasn't been easy for Sheard since his job at LensCrafters unraveled, according to the suit. The situation at work led to stress and anxiety problems, and after leaving the job he underwent psychiatric treatment and started taking medication for depression.
Sheard had worked as an optical lab technician for more than a decade, since he was 18 years old, and finding a new job in the field hasn't been easy. LensCrafters' parent company, Luxottica Group, which was named in the lawsuit, owns many of the retail optical chains where Shears could potentially find work, including Pearle Vision, Sears Optical and Target Optical.
Despite his struggles with unemployment, Sheard said he's relieved that the LensCrafters ordeal is finally over.
Brandt could not be reached for comment, but in a statement LensCrafters denied Sheard's claims that it tolerated sexual harassment. "Much of the conduct that formed the basis of the plaintiff's complaint allegedly occurred when DOC Optics owned and operated the store at issue," the statement said. "LensCrafters agreed to a settlement to avoid the cost and distraction of ongoing litigation."
Female-on-male harassment cases aren't unheard of, though they are far less common than the male-on-female variety. According to EEOC data, the percentage of males filing harassment complaints has been rising in recent years, from about 12 percent in 1997 to an all-time high of 16.4 percent last year. But EEOC spokeswoman Christine Nazer says the agency doesn't track how many of those complaints are men filing against women or men filing against other men.
In 2009, movie-theater chain Regal Entertainment Group settled a similar EEOC lawsuit, in which a male employee claimed a female co-worker had repeatedly grabbed his crotch. In that case, the victim said management failed to address the situation and instead retaliated against him for reporting it. Regal paid $175,000 to settle the lawsuit.
In a statement on the Sheard case, EEOC attorney Nedra Campbell said, "Sexual harassment is always unjust and illegal, regardless of the gender of the perpetrator or the victim."

Note: Some allegations originally attributed to Sheard have been attributed to his lawsuit.
Popular in the Community