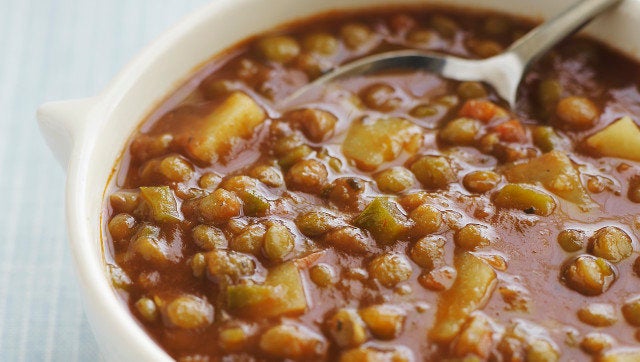 The first thing I ever cooked was lentil soup with chicken. Lentil was my dad's favorite kind of soup -- and for some reason, I already knew that the best gift you can give someone is dinner.
I was probably 5 or 6 years old. The recipe came from a kid's cookbook of Hanukkah recipes that my parents had given to me as a gift. The cover was bright orange and green, with a cartoon illustration of kids playing dreidel on the front. Reading was new, cooking was even newer, but for some reason I decided this was a task I could tackle on my own.
I have no idea why my parents gave their kindergartener a cookbook for Hanukkah. Actually, I suspect that it is because my parents had always considered dinner to be their most important decision of the day, and wanted me to follow suit. I'm not exactly sure that they understood the extreme to which I would carry out that desire as a grown up.
This was long before I understood the textural benefit that a quick soak in cold water gives your lentils. This was long before I knew that you needed to pick through those lentils for rocks before tossing them into your pot. Probably most importantly, this was long before I understood that you couldn't just cut raw chicken on the same cutting board that you chopped your carrots and celery on. Thankfully, when I announced that I'd be making lentil soup for dinner that evening and dragged a step-stool defiantly into the kitchen, my mother had the good sense to intervene.
My cooking training is 50 percent mom and dad and 50 percent obsessive reading, trying, failing and re-trying. The night I decided to cook up a pot of lentil soup was probably the first time I considered how to turn the stove on. But with my mother by my side and my dad's hopeful "something smells good in here" in my ear, I turned out the first in a very long series of hot bowls of soup.
As my parents and I all took our first bites, I knew I had done something well. The soup smelled warm and garlicky, it was a murky brown color with orange flecks of diced carrot and I was completely fascinated by how the onions had turned translucent -- now floating amidst shreds of chicken.
"Wow, pal. This is GOOD," my dad said. From that moment on, I was hooked. Not only on making my own food, not only on making food for other people, but especially hooked on the satisfaction that comes with someone tasting your soup and feeling happy.
What You Need:
1 onion
1 lb. of chicken parts
2Tbsp. oil
2 carrots
2 celery stalks
4 c. water
1-1 lb. can tomato juice
1/2 lb. lentils
1 tsp. salt
1/2 tsp. each garlic, pepper and parsley
Cut the onion in 1/2" pieces. Put in pot with chicken and oil, and saute for 5 minutes. Stir occasionally.
Peel carrots. Cut carrots and celery into 1/2" pieces, and add to the pot.
Add water, tomato juice, lentils and spices. Bring to a boil, lower heat, and simmer, covered for 1 1/2 hours until lentils are soft.