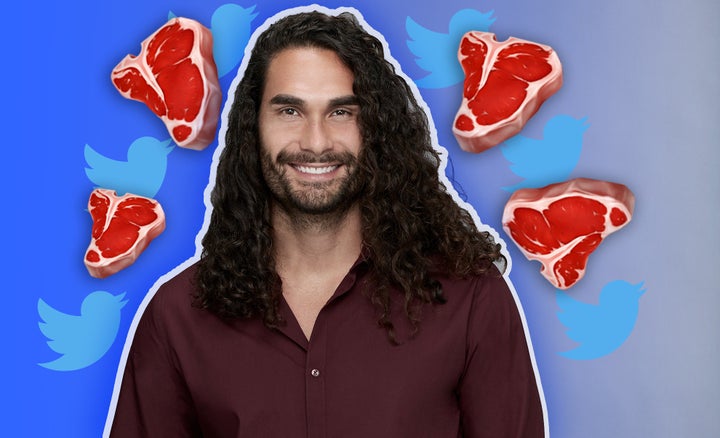 It's Beef Week at HuffPost Culture. Fight us.
But in the age of instant gratification and social media, sometimes the most dramatic beefs take place off-screen.
Enter Leo Dottavio, a seemingly "chill" contestant on Becca Kufrin's season of "The Bachelorette" who turned into an egomaniac on this summer's "Bachelor in Paradise." (In the interim between the two shows airing, Dottavio faced allegations of sexual harassment.)
The long-maned stunt double and Waterworld performer had a contentious exit during Tuesday night's "BIP," during which he eliminated himself before the women could eliminate him, told everyone they were "full of shit" and threw a drink at fan favorite Joe Amabile, calling him "Grocery Store Bitch."
"Bachelor" fans and former cast members, aghast, ripped into Leo on Twitter. But instead of taking this criticism in stride or posting a moody Instagram post, Dottavio served up nearly 12 straight hours of Twitter beef with a whole slew of Bachelor alums ― and even, for a moment, with our very own Claire Fallon.
The Leo vs. Everyone spat rapidly spiraled out of control, culminating in wild claims about the correlation between celebrity boxing matches and preventing school shootings.
What?? We know. Let us take you there.
How did this beef start?
The first to receive Dottavio's virtual ire was Bachelor Nation sweetheart Amanda Stanton.
On Monday night, Stanton, who has two children and appeared on both "The Bachelor" and "Bachelor in Paradise," tweeted: "Slightly off topic but Leo did get fired from Waterworld, right? Need to make sure before I take the kids ... #BachelorInParadise."
Later that night, she tweeted that "Leo scares me." The next night, at 10:37 p.m. Pacific, Stanton tweeted that she had received a DM from Dottavio calling her a "piece of shit" and telling her that her previous tweets would "come back to haunt" her.
Things really got interesting on Wednesday when Dottavio responded to "Bachelor in Paradise" success story Tanner Tolbert's tweets about his "Bachelor in Paradise" performance. Dottavio challenged Tolbert to "settle this old school" and "step into the ring," accusing Tolbert multiple times of being a "beta" male to his "alpha."
Tolbert jabbed back, joking about Dottavio's lack of "thick skin," and even offered to donate $5,000 to get him some therapy.
Dottavio later claimed that Tolbert was joking around with him, offering, as proof, a screenshot of a DM in which Tanner appears to be gamely trying to de-escalate Dottavio's aggressive rhetoric. 
But it was too late for that. 
So, who else got involved?
So many people! Far too many people! Including us, because apparently we can't help ourselves from jumping right into a complete dumpster fire!
Former Bachelor and many-time franchise star Nick Viall dove in headfirst, engaging Dottavio in a lengthy exchange of barbs that somehow led back to gender equality!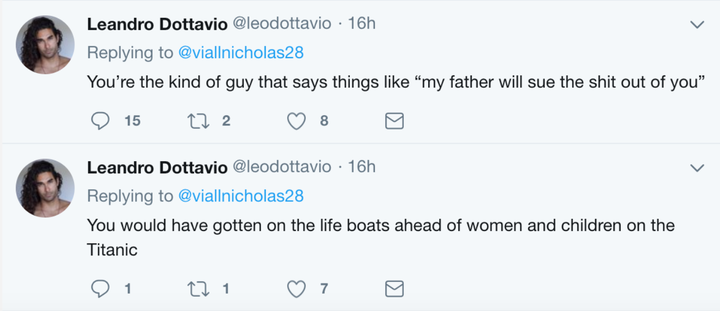 Lovable fuckboy of the show Dean Unglert chimed in with some marble-themed commentary after Dottavio suggested he fight both Viall and Tolbert "for all the marbles":


Your trusty HuffPost correspondent even commented on one of Dottavio's tweets. We wanted in on this beef!
And "The Bachelor" franchise's moral center, Ashley Spivey, who had been tweeting at ABC about Dottavio's alleged threats to Stanton, jumped back into the fray, resulting in this branching argument about which one of them is funnier and which one needs to get off Twitter: 




Why were mass shootings brought up at all?!
As a post-hoc justification for challenging men to physical fights on Twitter, obviously.
When several observers (including, full disclosure, one of the authors of this piece) criticized Dottavio for trying to mock and bully other male "Bachelor" alums into meeting him in the boxing ring by questioning their manhood, he rapidly pivoted.
That's why he's out here calling men who don't want to box him "soft": because he's just so deeply, passionately devoted to ending mass shootings through the most proven method possible. That method, apparently, is celebrity boxing matches with unwilling opponents.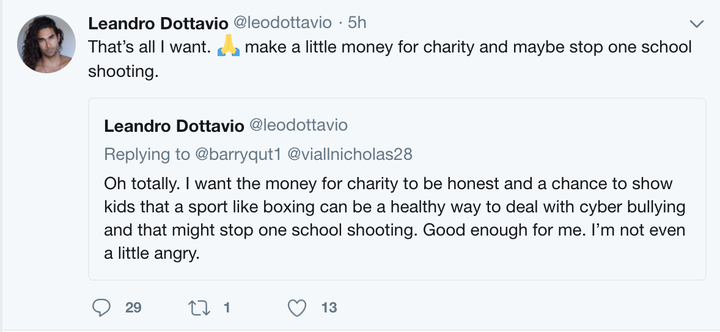 When pressed for evidence, Dottavio offered one link to a local news article featuring quotes from local men who claimed their boxing program could reduce gun violence in the area. (Shortly after the article was published, the founder of the program was charged with multiple gun-related felonies.)
While we could not track down any hard evidence that boxing reduces gun violence, there are other strategies that have been known to significantly reduce mass shootings, in case anyone out there wants to devote their energy toward productive advocacy.
So how did this beef finally, mercifully end?
On Wednesday night, after a full day of beefing, Dottavio tried to backtrack by posting a tweet claiming that the whole thing was just his attempt at being hilarious. (What a comedian this guy is!)

And by Thursday morning, nearly all of his tweets had been deleted, though they live on forever in our screenshots and on Reddit. As of this writing, all that remains are his retweets of a few fans who took his side: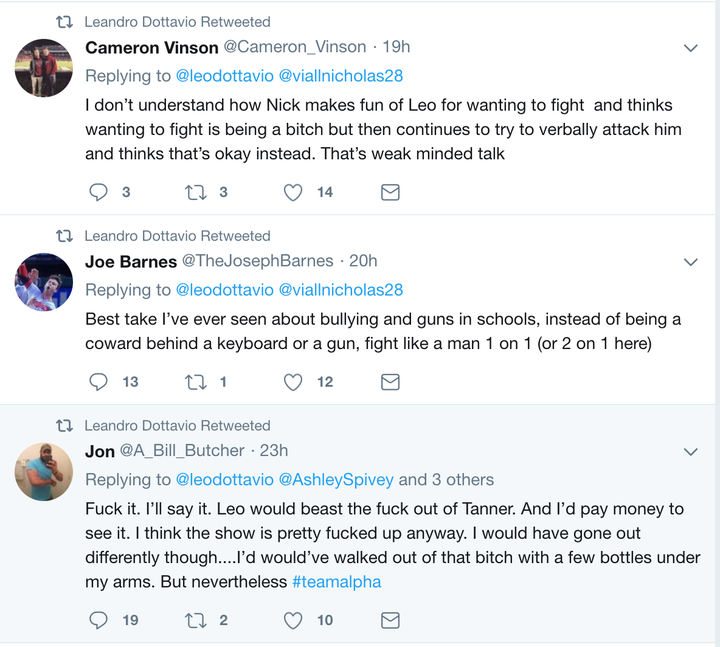 The surest way to try to make people forget that you challenged fellow reality stars to fight you, threatened at least one woman and made wild claims about gun violence is to simply delete the evidence. 
Why does this beef matter? Should I care?
Honestly, it doesn't really matter! (Though perhaps ABC and Warner Bros., who air and produce "The Bachelor" shows, should care.) But it is both an excellent example of toxic masculinity run rampant on a social media platform, and the ways in which reality television characters' on-screen personas bleed over into the real real world.
And, as with most beefs, it is equal parts completely horrifying and impossible to look away from.
REAL LIFE. REAL NEWS. REAL VOICES.
Help us tell more of the stories that matter from voices that too often remain unheard.