You must feel sorry for the Egyptian reporter on International Women's Day whose questions to Leonardo DiCaprio about his first Oscar earned her international infamy for a shoddy job of journalism.
"I am the first Egyptian journalist to cover the Oscar from here, and what about the first Oscar for you?" Shaimaa Abdel Moneim from Al Youm Al Sabei (The Seventh Day) asked "The Revenant" star in heavily accented and broken English.
The inanity and inaccuracy of that query set off alarms in her country and triggered an avalanche of criticism and ridicule across media outlets and platforms.
Social media reactions haven't abated, and inaccuracy because other Egyptians have covered the Oscars.
"I'm sorry, what was your question?" asked a puzzled Leo in one of several YouTube clips of the Hollywood news conference that went viral.
She repeated her question and he replied that it felt amazing to a burst of laughter by journalists and others in the room.
"We've become the laughing stock of the world," commented one viewer of the clip as another asked, "Who is this dingbat?"
The enterprising Egyptoons wasted no time in producing a hilarious cartoon video mocking the incident in which actors mimicked Abdel Moneim's fractured accent and in which DiCaprio switched to colloquial Egyptian and told her to speak in Arabic if it was easier for her.
She reiterated that she was the first Egyptian to cover the Academy Awards and asked the same ridiculous questions.
The exasperating two-minute exchange led DiCaprio to toss his Oscar at her and walk out of the room.
"Shaimaa Abdel Moneim fails media-wise and glitters in selfies with the stars' wax figures" headlined Misr Journal of the woman who didn't miss a chance to photograph herself on the red carpet and elsewhere at the event.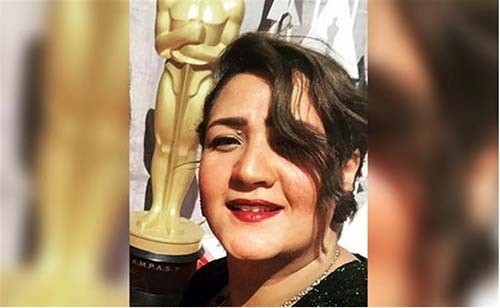 Screen shot of a Shaimaa Abdel Moneim selfie at the Oscars
Several detractors said Abdel Moneim's entry into the world of journalism was no thanks to her qualifications but to her father, a former police precinct head who was promoted to a key post in a government ministry.

"Shaimaa Abdel Moneim: First Oscar in 'Kosa' Journalism," was another headline from Al Naba'a (The News Item) referring to the Egyptian slang term for influence peddling that reportedly got her the job and assignment, and the ensuing reactions.
The news site said an added twist to the story was the Egyptian Journalists' Syndicate sending her a bouquet of flowers in appreciation of her efforts, noting that Abdel Moneim erred twice, by claiming to have been the first to cover the event and by going totally unprepared for it.
Al Modon (The Cities) in Lebanon knocked "the promising journalist and her newspaper that spent thousands of dollars to send her to a ceremony viewed by a third of the world's population, only to ask a meaningless question, and come out with a two-line reply that she called an exclusive: 'DiCaprio is proud of receiving his first ever Oscar.'"
"What About Za Sahafa (Journalism)?" came another dart from Lebanon's Assafir (The Ambassador) daily ridiculing Abdel Moneim, while feeling sorry for her, and the entire system that ignored the most basic professional standards, and, that turned any criticism of daily errors in print and broadcast media into "personal animosities."
Egyptian officials and pro-government media almost reflexively tag any criticism of the state of affairs in their country as a conspiracy theory.
"#Individual_incidents, this is a way of life. From a murderous police officer to a (male) sexual harassing flight attendant, to a failed journalist covering the Oscars. If we don't admit to these deep-rooted problems, we won't know how to solve them. What's ruining the hell out of Egypt is the principle of 'ma'alesh' (never mind) and that's the natural outcome of #Individual_incidents. Don't ruffle feathers. Let it pass, etc. All that is terrifyingly destructive and we don't feel it," said Egyptian development economist Mohamed El Dahshan in a double tweet.
Abdel Moneim later told a radio show host in a phone interview she'd made a real effort to convince the news conference organizers who had to cater to some 200 journalists to let her ask a question, but got flustered when DiCaprio looked at her.
She justified her fumbles to Al Elam (The Media) website that asked how she felt being butt of jokes locally and internationally by saying she had prepared for the event.
She also denied her father was a well-placed government official who eased her way into the profession.
In a cyber mea culpa, the journalist posted an apology on her Facebook page, admitting she blew a golden opportunity to ask a pertinent question due to her inexperience.
"I was on the first business trip to cover the Academy awards and it was a big opportunity for which I'd worked for two years," she wrote, adding that she had tried to relay the event as an overwhelmed star-struck rookie.
Calling all HuffPost superfans!
Sign up for membership to become a founding member and help shape HuffPost's next chapter