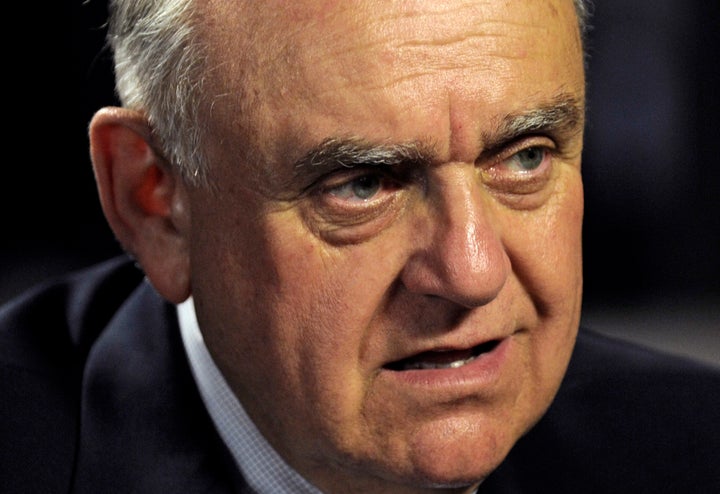 WASHINGTON ― The federal agency charged with protecting Americans from Wall Street excess hasn't been doing its job. The Securities and Exchange Commission whiffed on Bernie Madoff's Ponzi scheme and the entire financial crisis. It never assailed top financiers for their roles in the crash.
But on Wednesday, the SEC finally did something to make billionaires squirm: It charged Leon Cooperman, a Goldman Sachs executive-turned-hedge-funder famous for defending Wall Street's virtue, with insider trading. The agency alleges that Cooperman — who once publicly accused President Barack Obama of unfairly villainizing financiers — and his firm, Omega Advisors Inc., broke insider-trading laws.
According to the complaint, an executive at Atlas Pipeline Partners, a Houston-based energy firm, "shared confidential information with Cooperman … because he believed Cooperman would maintain the information in confidence and not trade on it, and because Cooperman explicitly agreed that he would not use the confidential information."
Instead, according to the SEC, "Cooperman and Omega used this information to trade and acquire … securities in advance of the public announcement ... which Cooperman understood would be beneficial for [Atlas'] stock price."
When Atlas announced the $682 million sale of the natural gas plant in July 2010, it's stock price soared by more than 31 percent, resulting in tremendous gains for Cooperman, who had placed additional bets that the firm's stock would rise.
Omega was not immediately available for comment
Cooperman has been a major figure on Wall Street for decades, spending decades as a power player with Goldman Sachs before striking out on his own with Omega. He has long been a critic of the Obama administration. In late 2011, he penned an open letter to President Barack Obama comparing his administration to Nazi Germany, and deriding the president's supposed attacks on the rich and Wall Street.
"Capitalism is not the source of our problems and capitalists are not the scourge that they are too often made out to be," he wrote. "To frame the debate as one of rich-and-entitled versus poor-and-dispossessed is to both miss the point and further inflame an already incendiary environment."
At one event in 2012, Cooperman said that one of the big problems in the country is "the forty or fifty per cent of the country on the dole" that will vote for Obama's reelection. Cooperman was an enthusiastic backer of Republican presidential candidate Mitt Romney, who echoed this sentiment at a private fundraiser that was surreptitiously recorded.
During his heady days as a cult figure among the 1 percent, Cooperman told Bloomberg's Max Abelson that he couldn't eat his egg whites at the St. Andrews Country Club in Boca Raton without someone thanking him for standing up for their interests. Anthony Scaramucci, another hedge fund investor critical of Obama, labeled Cooperman the "pope" of the billionaire revolt during the president's first term.
Once feared on Wall Street as a tough anti-fraud enforcer, the SEC's reputation has degraded under presidents George W. Bush and Obama. The agency's poor oversight of investment banks missed the risky activity that led to the 2008 financial crisis, and its investigators failed to scrutinize tips that would have uncovered the Bernie Madoff Ponzi scheme. It has avoided bringing cases against bank executives in the years since, and critics, including Sen. Elizabeth Warren (D-Mass.), have accused the agency of slow-walking important new regulations.
When the SEC has taken action against prestigious firms, it has settled for small sums and avoided taking on influential individuals. The SEC let Goldman Sachs settle a case over the company's massive mortgage bet against its own clients without admitting any wrongdoing, paying a fine equal to roughly 7 percent of the firm's 2010 profit. The only individual targeted by the agency, Fabrice Tourre, was a low-level employee involved in the trade: He paid an $825,000 fine for his involvement.
When several big banks pleaded guilty to felony price-manipulation charges last year, the SEC granted them waivers that insulated them from the additional regulatory scrutiny that would typically apply to law-breaking institutions.
Popular in the Community