 WASHINGTON -- Defense Secretary Leon Panetta said on Monday that the Obama administration will continue to use drone strikes as part of its counter-terrorism efforts, despite controversy over their use. He added, however, that he envisions a time when the program is no longer in use.
Panetta's comments came in an interview with ABC's Martha Raddatz. When asked if the 2014 pullout of troops in Afghanistan meant that the United States would increase its dependence on unmanned armed drones, Panetta said that the U.S. must use "what operational skills we have to go after those that would attack our country."
"I think that's reality," said Panetta. "We've done that in Pakistan. We're doing it in Yemen and elsewhere. And I think the reality is it's going to be a continuing tool of national defense in the future."
But even as he defended drone strikes, Panetta also said he did not believe the United States would need to use them indefinitely.
"And a key part of that has obviously been the use of the operations involving the drones that target those that are in the leadership in al Qaeda. And that's a reality," he said. "We've decimated their leadership as a result of those operations. So you know, my view of it is, you know, it's not something that we're going to have to continue to use forever."
The use of U.S. drones to locate and kill militant targets, which has increased dramatically during the Obama administration, is fraught with controversy. Opponents of the U.S. drone program argue that the number of civilian injuries and casualties, along with the psychological trauma caused by drone warfare, make drone strikes highly ineffective and counterproductive.
According to a September 2012 study by Stanford Law School and New York University's School of Law, defense leaders in Washington grossly downplay the negative collateral impacts of U.S. drone policy, including Washington's claims that drone strikes cause few -- if any -- civilian deaths.
"While civilian casualties are rarely acknowledged by the US government, there is significant evidence that US drone strikes have injured and killed civilians," the report read.
Relying on findings from The Bureau of Investigative Journalism, the Stanford/NYU report claimed that between June 2004 and September 2012, as many as 881 civilians were killed by drone strikes in Pakistan, including 176 children.
However, proponents of the U.S. drone strategy argue that drones are an effective counter-terrorism and intelligence-gathering tool that reduce U.S. troop casualties.
"Our criteria for using [drones] is very tight and very strict," Obama stated last August. "What the American people need to know is the seriousness with which we take both the responsibility to keep them safe but also the seriousness with which we take the need for us to abide by our traditions of rule of law and due process."
Public opinion on the Obama administration's drone policy largely favors the use of drone strikes to kill terrorism suspects overseas, according to a recent HuffPost/YouGov poll.
This month, a federal judge rejected a bid from The New York Times calling on the U.S. government to disclose more information on its drone program, including the use of drone attacks on American citizens abroad suspected of having terrorist ties. U.S. District Judge Colleen McMahon said that under the federal Freedom of Information Act (FOIA), the government was not compelled to release such details to the Times.
Chuck Hagel, nominated to be Panetta's successor as secretary of defense, has also defended U.S. drone policy, stating that drones play a "very important" role in U.S. military force abroad.
Before You Go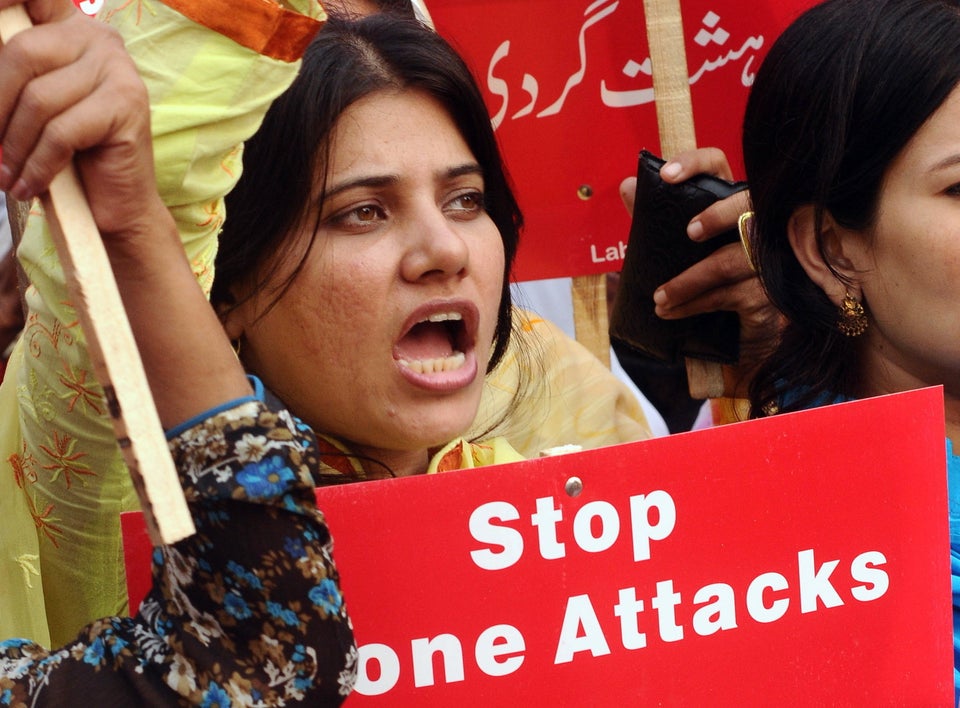 Protests Against Drones
Popular in the Community