 WASHINGTON -- The military services began racing Thursday to open jobs across the armed forces to women, a historic change that likely will put more women into direct combat in Afghanistan and in any future conflicts.
The sweeping new rules at the Pentagon, ordered by outgoing Defense Secretary Leon Panetta after a year of consultations with senior military officers, require the military services to expand all positions to women -- or convince the defense secretary why those jobs should remain exclusively male.
"Today Gen. Dempsey and I are pleased to announce that we are eliminating the ground combat exclusion rule for women and moving forward with a plan to eliminate all gender-based barriers to service," Panetta said in the official announcement of the policy change at the Pentagon. "Our purpose is to ensure the mission is carried out by the best qualified and most capable service members, regardless of gender and regardless of creed and beliefs."
"If members of our military can meet the qualifications for a job -- and let me be clear, we are not reducing qualifications -- then they should have the right to serve."
Defense officials said Thursday that the services have until May 15 to submit specific plans for lifting all remaining job restrictions for women, and until January 2016 for all exemptions to be sought and changes to be put in place. The changes do not require the approval of Congress, which will have 30 days to weigh in on the decision.
The current restrictions on female members of the military are based on the 1994 Direct Ground Combat Definition and Assignment Rule, which generally bars women from assignment to units below the brigade level when the unit's primary mission is direct ground combat. On Thursday after the announcement, Panetta and Gen. Martin E. Dempsey, chairman of the Joint Chiefs of Staff, signed a memo rescinding that rule.
The '94 rule gives the services discretion to further restrict women from positions with physically demanding tasks, special operations, stationing or cohabitating with combat troops, or a lack of privacy. Despite the ban, some women have been serving in combat for more than a decade. According to the Defense Department, active-duty female personnel make up roughly 15 percent -- or 207,308 members of the more than 1.4 million members -- of the armed forces.
Nevertheless, some 280,000 women have served in the Iraq or Afghanistan wars or both, many in positions that exposed them to danger. Since 2001, 152 women have been killed in combat in the two wars, and 946 were wounded, according to the latest Defense data.
Despite some lingering questions about how women endure in a war zone, several studies have showed that they hold their own.
A 2011 study, by Dawne Vogt of the National Center for PTSD, looked at nearly 600 men and women deployed to Iraq or Afghanistan and measured levels of stress that included exposure to combat, firing a weapon in combat, being fired upon, handling human remains and witnessing injury and death. She found that men and women experienced about the same levels of post-deployment mental health issues. Levels of post-traumatic stress, mental health functioning and levels of depression were similar, she reported, but she did find that men were at greater risk for substance abuse.
As noted by Dempsey, who made the announcement Thursday with the defense secretary, a primary impetus behind the shift is "to better align our policies with our experiences we've had over the past decade of war."

Although the Defense Department opened 14,325 jobs to women in May 2012, some 237,854 (roughly 19 percent) of the 1.2 million positions available throughout the military remain closed to women.
Of these, 53,000 are jobs for which women would qualify -- as medics or mechanics or intelligence specialists -- but for the fact that the openings are in combat units, such as special operations forces and small infantry units. Another 184,000 jobs involve specialties, such as tank crewman, that have also been closed to women.
Defense officials said Thursday that the services have already been examining the physical and psychological demands of the jobs and units currently closed to women, and will be developing gender-neutral requirements for those jobs.
Those requirements will be different from military physical testing standards, which are gender-normed. In the Army's physical fitness testing, women earn top points for running two miles in 15:36 minutes, for example, while men must run that distance two minutes faster. Women score tops by doing 42 push-ups; men must grunt through 71.
Job requirements are different. For instance, the loader on a tank, who works from a stool in a cramped space, must be able to seize a 50-pound shell from its rack, swing around and ram the shell up into the main gun breech. That action, repeated again and again in a tank battle, requires significant arm, chest and shoulder strength. Such requirements are not likely to change. But there is no reason a woman couldn't compete for that job, said one official in a Thursday briefing on the details of the policy shift.
"People aren't going to be excluded from jobs simply because of gender," said a senior Marine Corps official who cannot be identified by name under Pentagon briefing rules. But other jobs may have traditional requirements; for instance, that a tank crewman be able to finish a long road march with a heavy pack. Those requirements will be examined closely to see if they really make sense.
"We've been looking at this for a long time, and for us the issue is, 'Can they do it?' Those that can will have the opportunity.
"Lowering the standards," the official said, "will not be the answer."
Dempsey emphasized this point when asked whether he personally expects women to qualify for the military's most elite combat positions in special operations forces, such as the Navy SEALS.
"I think we all believe that there will be women who can meet those standards," Dempsey said. "In order to account for their safety and success in those kind of units, we have got to have enough of them."
Panetta similarly urged that the changes must be implemented in a measured way.
"Further integration of women will occur expeditiously, even while we recognize the need to institutionalize steps of this importance," he said.
Asked which positions will be opened as of Thursday, Dempsey responded: "None, we just made the announcement. Give me a break, we need time to sort it out."
Panetta and Dempsey said that President Barack Obama has been kept well informed of the changes being implemented at the Pentagon, and has been very supportive of the idea of expanding women's roles.
"As commander in chief, I am absolutely confident that -- as with the repeal of 'don't ask, don't tell' -- the professionalism of our armed forces will ensure a smooth transition and keep our military the very best in the world," Obama said in a statement Thursday after the announcement. "Today, every American can be proud that our military will grow even stronger with our mothers, wives, sisters and daughters playing a greater role in protecting this country we love."
Rep. Tammy Duckworth (D-Ill.), a Purple Heart recipient, former assistant secretary of Veterans Affairs and the first female double amputee of the Iraq War, noted in a statement Thursday to The Huffington Post that the policy change allows the best qualified to serve, regardless of gender.
"This decision to allow women to serve in combat will allow the best man or woman on the frontline to keep America safe," Duckworth said. "There has always been some level of opposition to increasing the diversity in our military, whether it has been minorities or women ... As a veteran who saw combat action, I know the inclusion of women in combat roles will make America safer and provide inspiration to women throughout our country."
Before You Go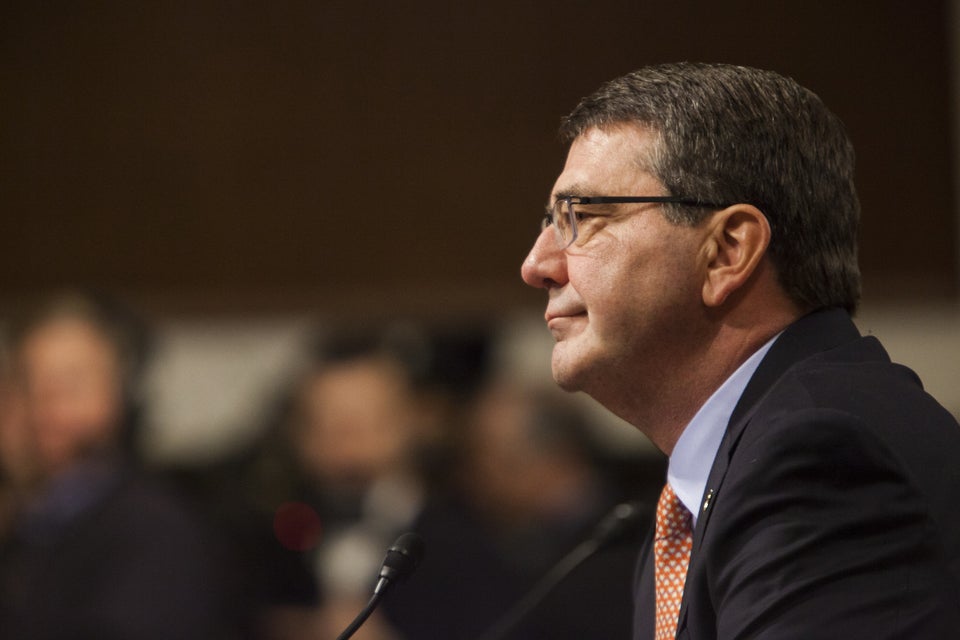 Secretaries Of Defense
Popular in the Community