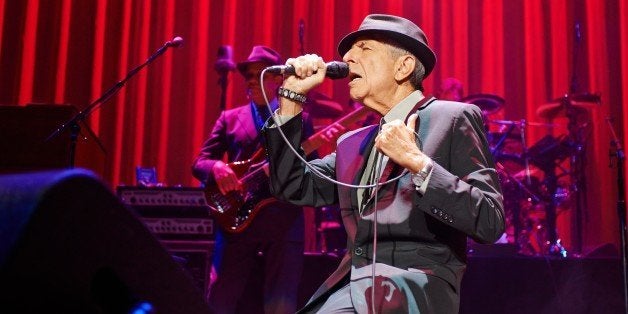 Popular Problems is his 15th collection of original songs.
It's tempting, given those facts, to think that he's slowing down.
That would be wrong -- Cohen has never been fast.
Are these songs slow? Just listen to "Almost Like the Blues," which is what, in the old days, would have been called its most likely hit:
Is that, I ask you, slower than "Suzanne," which he recorded almost half a century ago?
The refusal to speed -- the pathological unwillingness to write a song that rips you out of your chair -- is the through-line of Cohen's career. He says so himself, in "Slow," the first song on the new CD:
I'll get there when I do
Don't need no starting gun
It's not because I'm old
And it's not what dying does
I always liked it slow
Slow is in my blood.
Slow, as in sex. Slow, as in speech. Slow, as in graceful movement and calculated expression. Slow, as in philosophy: nowhere to go, no hurry to get there.
"When you're chasing buzz," someone said of Tina Brown, "you're always behind." Cohen, timeless, was generally ahead of his time. And now time has caught up to him -- he's right on time. On our time, which begs us to jump off the hamster wheel, think, look and breathe. Our time, which begs us to recover our selves. Time, the ultimate popular problem.
From the beginning, Cohen focused on creativity rather than career. He knew what he had to work with, and he played to his strengths. Or, rather, as I explained in a New York Times piece a few years ago about "Old Ideas," he played to his weaknesses:
His range as a composer is limited; as he has noted, "People said I knew three chords when I knew five." His vocal range is even more limited. A fan got it exactly right when he said, "No one can sing a Leonard Cohen song the way Cohen himself can't." The dirge-like songs and midnight voice that result are an easy target for reviewers. He's "the poet laureate of pessimism." "The grocer of despair." "The godfather of gloom." "The prince of bummers." And, inevitably, "music to slit your wrists to."
But because his "limitations" are violations of the basic beliefs of the music business, they ironically became his strengths.
"Roshi [his Zen master] came to the studio one night when I was recording 'New Skin for the Old Ceremony.' That was in the seventies. In those days I was being written off as a morbid old depressive drone peddling suicide notes. (Still am, in some circles). Roshi slept through most, but not all, of the session. The next morning I asked him what he thought. He said, 'Leonard, you should sing more sad.' That was the best advice I ever got. Took a while to put it into practice."
Slow and sad and increasingly spare. How does Popular Problems differ from other Cohen CDs? It's more stripped down, more electronic -- like the skeletal Cohen, it doesn't have an ounce of fat. Which pushes the words and the delivery forward. And, of course, the subject of these songs, which is love, which Cohen describes as that "very dangerous area where the possibilities for humiliation and failure are ample."
At 80, Cohen announced, he'd start smoking again. On this CD, he already did.
REAL LIFE. REAL NEWS. REAL VOICES.
Help us tell more of the stories that matter from voices that too often remain unheard.