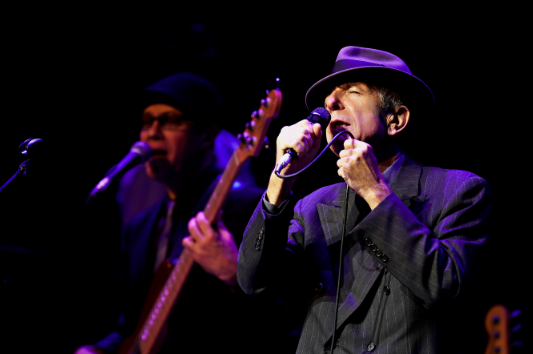 Leonard Cohen, Old Ideas World Tour 2012
Last night, 20,000 of us in the audience sat mesmerized, collectively holding our breath as Leonard Cohen, performing his Old Ideas World Tour 2012, sang "Bird on the Wire" at Madison Square Garden. Except for Cohen's low gravely voice, the Garden was so silent you could have heard a finger slide across an iPhone. He was the preacher, the stage was his altar and the venue was his cathedral. The backdrop was a wall of silk curtains which rose from the floor to the rafters and changed colors with each song. The sound system was so perfect you could hear each syllable and chord from everywhere in the Garden.
Like a bird on the wire
Like a drunk in a midnight choir
I have tried in my way to be free
Cohen, 78 years old, has always seduced with his raspy voice but now his tone is even richer, a fine, full-bodied wine. Cohen didn't just sing words, he sang prayers. Dance me till the end of love and Love is the only engine of survival and I loved you when you opened like a lily in the heat. It's easy to see that he started as a poet long before he became a singer/ songwriter. After his first poetry book, The Spice-Box of Earth, they called Leonard Cohen the best young poet in English Canada. All his songs are poems, about love and sex, religion and faith, depression and desire, and betrayal and redemption. In every verse he leaves his listeners to ponder their own lives:
I saw a beggar leaning on his wooden crutch
He said to me, "You must not ask for so much"
And a pretty woman leaning in her darkened door
She cried to me, "Hey, why not ask for more?"
Cohen, a Canadian, moved to America in 1967, hoping to become a folk music singer-songwriter and hung around Andy Warhol's Factory. Cohen's song "Suzanne" became a hit for Judy Collins. When he put out his first album, Songs of Leonard Cohen, it was a cult favorite in both Great Britain and the U.S. and stayed on the charts for a year. Two years later, Cohen released his second album, Songs from a Room, including "Bird on a Wire," produced by Bob Johnston.
After the 1990's, Cohen's track "Everybody Knows," co-written by Sharon Robinson (who also sang back-up and a solo last night) was featured in the film Pump Up the Volume, and suddenly he had an entire young audience as fans. His popularity continued among the young after Natural Born Killers featured three of his songs: "Waiting for the Miracle," "The Future" and "Anthem."
In 1994, Cohen went into retreat at the Mt. Baldy Zen Center in California where he stayed five years and was ordained a Buddhist monk. I figured that was the end of his musical career, but was thrilled that in 2001 he released Ten New Songs, co-composed with Sharon Robinson. The album was a hit, especially the single "In My Secret Life."
Sadly, in 2004, Cohen discovered that his longtime close friend and business manager, Kelley Lynch, was stealing money from him (and had been since 1996). Cohen sued and a Los Angeles County superior court awarded him $9 million. Lynch ignored the suit and didn't respond to a subpoena. Last March, Kelley Lynch was arrested in Los Angeles for violating a permanent protective order that forbade her from contacting Leonard Cohen. She was found guilty and sentenced to eighteen months in prison and five years probation. Cohen told the court, "It gives me no pleasure to see my one-time friend shackled to a chair in a court of law, her considerable gifts bent to the services of darkness and deceit. It is my prayer that Ms. Lynch will take refuge in the wisdom of her religion, that a spirit of understanding will convert her heart from hatred to remorse."
Leonard Cohen's compassion could be felt in every song last night -- from "Everybody Knows, Darkness" and "Anthem" to "I'm Your Man, Democracy," and "Suzanne." He also had the generosity to introduce every band member -- each a virtuoso, including Sharon Robinson and The Webb Sisters on background vocals, Neil Larsen on keyboards & Hammond B3 accordion, Mitch Watkins on guitar, Javier Mas on bandurria, laud, archilaud, and12-string acoustic guitar, Rafael Gayol on drums and percussion, and Alexandru Bublitchi (violin).
Early in the evening, Leonard Cohen adjusted the angle on his fedora, looked out at the audience and said, "I don't know when we'll meet again, but tonight I promise I'll give you everything I've got." And he did, including an encore of six more songs.
Popular in the Community