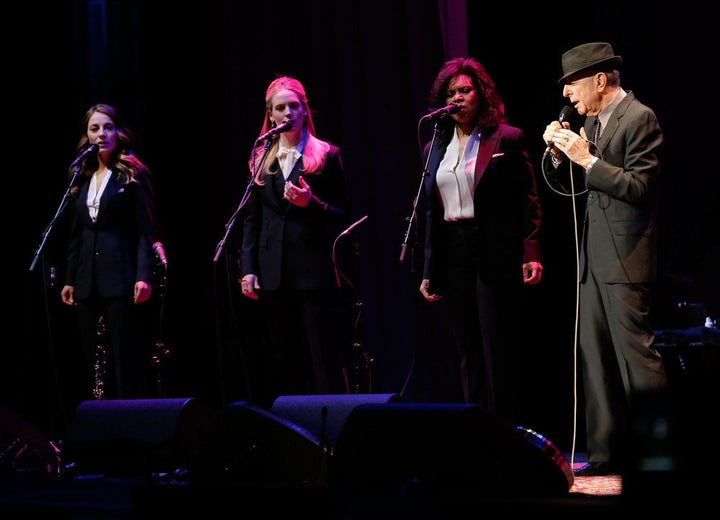 Seeing Leonard Cohen at Radio City Music Hall in New York City last week was one of the greatest performance experiences of our lives. Of course, we had been hearing about his legendary concerts since 2008 when he began a series of world tours, which have continued to this day, selling out the world's greatest venues, often within hours of tickets going on sale. And of all the older rockers and musicians still on the scene, Cohen commands some of the largest numbers of young people flocking to hear him and his extraordinary band. Not bad for a guy pushing 80.
What is it that makes a Leonard Cohen concert different from almost any other night on the town? As Angelica Houston once said of him, he is "part wolf, part angel." And that spectrum, which pings in most of us as well, is obvious in his music, his lyrics, and his onstage presence. He lets the wild have its day -- the passions and the darkness, the vagaries of love, loss, and death -- and at the same time, there is tenderness and generosity in his view. In just one or two lines of poetry or lyrics, he sums up a lifetime's vague murmurings of the heart.
Surrounded by world class musicians, some of whom he has worked with for over 40 years and most of whom are legends in their own right, Cohen pays homage to each several times throughout the evening and gives ample time for their solo performances. This alone is worth the price of the ticket. Check out their bios here: http://www.leonardcohen.com/us/tour/band.
But finally, it is the experience of the audience that reveals the talent of those onstage. In this case, the concert-goers of New York would simply not let Leonard Cohen leave. Before the final song ended, the entire sold-out crowd was on its feet, clapping in unison, yelps and whistles piercing the air. Three encores later -- at midnight -- it was at last closing time, and we left that great venue with flushed, radiant faces -- a flash mob of exalted strangers. It is heartening to know that in this time of spectacle and trivia, of celebrity voyeurism and gangsta rap, there are still plenty of those who are moved by what can only be described as a class act.
When he first walked onstage that night, Cohen had said, "I don't know when we will meet again, but tonight we will give you all we've got." He was, as expected, true to his word.
Check out our Dharma Salon conversation about this experience in the video clip below. Till next time!
Related
Popular in the Community