Many years ago while visiting Greece, Leonard Cohen was asked who his favorite Greek singer was. "Athena," he replied without hesitation. While making his final CD, "You Want It Darker," Cohen found out that Athena had moved to Los Angeles and immediately asked her to sing the chorus of his song "Traveling Light."
Before moving to Los Angeles, Athena had been on a dynamic trajectory in Europe releasing three albums and performing at the Glastonbury Festival, Royal Festival Hall and throughout France and Greece. The Guardian called her "brave and original" and The Daily Mail wrote that Athena was "Radiating class and oodles of talent... a voice blessed... this rare diamond ought to shine." Here in the U.S., Billboard hailed her as "a talented rising pop star" with "a voice blessed."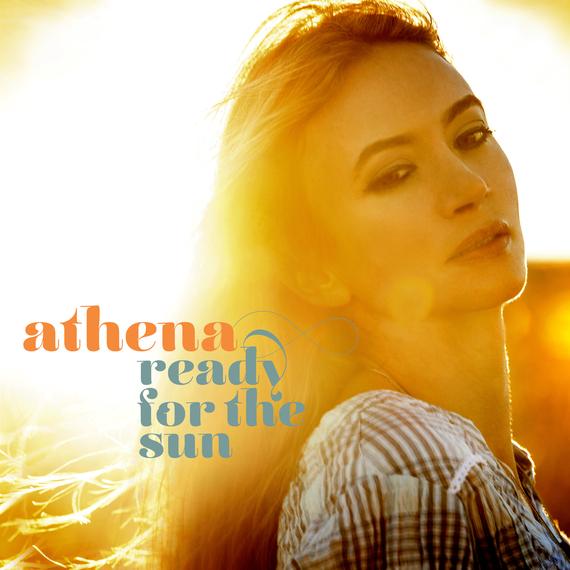 Produced by Ethan Allen, Athena's debut U.S. CD "Ready for the Sun" features studio greats Adam Levy (Norah Jones), Deron Johnson (Miles Davis), Jimmy Paxson (Stevie Nicks), Michael Ward (Ben Harper) and Jonathan Flaugher (Ryan Adams).
I was fortunate to see Athena perform many of the songs from the CD at Hotel Cafe last Tuesday. Personally I loved "Autopilot," "Everything To Me" and the soulful, contemplative ballads "Where Wildflowers Grow" and "All of You." In the tradition of Adele, Whitney Houston, and Aimee Mann, Athena's voice is both heartwarming and majestic.
I asked Athena about the CD and she said that it was "about being ready for the light even in the darkest of places where our hearts have broken and it's cold, where we have shrunk and dried up and it feels so very small and scary to be exposed, yet knowing, as so many poets - from Rumi to Mary Oliver to Leonard Cohen - have pointed to, that it's those very cracks, those wounds, where the light enters, the joy too I feel seeing that people are gathering the courage to live in harmony with one another and with our own self within and that 'peace' to become the natural, the unquestionable, the mainstream."
Calling all HuffPost superfans!
Sign up for membership to become a founding member and help shape HuffPost's next chapter