BRANCHBURG, N.J. ― Most of Rep. Leonard Lance's fellow Republican lawmakers have chosen to avoid their constituents during this congressional recess. Lance, who represents New Jersey's 7th District, made a different choice Wednesday night.
The congressman might have a better understanding of his colleagues' thinking after enduring more than 90 minutes of hostile questioning from constituents. They were furious about President Donald Trump's behavior and agenda ― and not very keen to hear their representative recite GOP talking points.
The capacity crowd at Raritan Valley Community College welcomed Lance with applause and sent him off with more at the end. That was about as good as it got for the five-term lawmaker.
"I never use the term yelling," Lance told reporters afterward. "I thought it was vigorous."
That it was, but there definitely was yelling. A lot of it.
This town hall lacked the kind of stand-out moment seen at other recent events, including a farmer handing Sen. Chuck Grassley (R-Iowa) a bottle of antacid, a constituent telling Sen. Bill Cassidy (R-La.) that her cancer-stricken daughter could die if the Affordable Care Act were repealed, or vitriol on a multitude of topics being heaped on Rep. Jason Chaffetz (R-Utah).
But Lance, who comfortably secured re-election last year in a district that Democratic presidential nominee Hillary Clinton won by a slender margin over Trump, didn't have any easy night. He remained affable, even genteel, as the crowd jeered, booed and interrupted his responses to questions randomly chosen from numbered slips of paper.
"I hope it was useful to the constituents."
Lance attempted to explain his party's repeal-and-replace strategy for the Affordable Care Act, promising the currently nonexistent "replacement" would guarantee coverage to people with pre-existing conditions, ensure young adults could remain on their parents' policies until age 26 and prohibit insurers from establishing lifetime limits of benefits.
Then Lance called for Planned Parenthood to spin off its abortion services into a separate organization to avoid federal funding cuts.
One constituent wanted Lance to push for investigations into Trump's ties to Russia and the country's interference with the presidential election, and demanded to know whether the congressman would support impeachment if evidence emerged that Trump's campaign worked with the Russians. "I am a lawyer by trade and I certainly don't want to prejudice ―" Lance began. He didn't get to finish.
Continuing, Lance assured his constituents, "I want you to know that I am very suspicious of the Russian government."
Even mundane praise for House Speaker Paul Ryan (R-Wis.) sparked an angry response. "I think Speaker Ryan is a very fine individual," Lance said. "I think he's a person of great integrity. And I am proud that he is speaker of the House of Representatives." Choruses of boos punctuated each sentence.
A man in the auditorium's mezzanine called down to ask Lance if he opposed Trump's "dopey" wall on the Mexican border. Lance meandered through a reply that included saying he opposed walling off the entire border and thought Trump's plan was too expensive.
"Answer the question! It's easy. Yes or no!"
"He's not speaking out against Donald Trump's excesses and corruption."
One man questioned why Lance opposes a proposed natural gas pipeline in New Jersey but supports the oil-carrying Keystone XL Pipeline and Dakota Access Pipeline.
Another questioner raised Trump's business conflicts of interest and his failure to release his tax returns. "President Trump should turn his tax returns over to the public. I urge him to do so," Lance said.
That wasn't good enough for the questioner, who demanded to know if Lance supports the effort by Rep. Bill Pascrell (D-N.J.) to instruct Trump to hand over his tax records to the House Ways and Means Committee for a review.
"I don't believe the Ways and Means Committee should be investigating the returns of private individuals," Lance said. This really set off the crowd.
As the evening wound down the final question, a woman pressed Lance on Trump's erratic behavior, his penchant for lies and his attacks on federal intelligence agencies and the press. Lance's response provoked the angriest reaction of the night.
"I believe that when the president misstates ―"
"Push back! Push back! Push back!"
"We need someone who will fight for us!"
Huddling with local and national reporters immediately afterward, Lance showed little sign that the berating had taken a toll, and insisted he was glad to meet with people in his district.
"We were always going to have town hall meetings in person this year," Lance said. He has another one planned at the same location Saturday morning.
Lance attributed most of the hostility to voters who supported Clinton in the election, but he didn't parrot the suddenly popular GOP line that the protests were manufactured.
"Those in the audience were constituents. I don't think they were paid. I think they came here in a manner of public-spiritedness," he said. "I hope it was useful to the constituents. I know it was useful to me."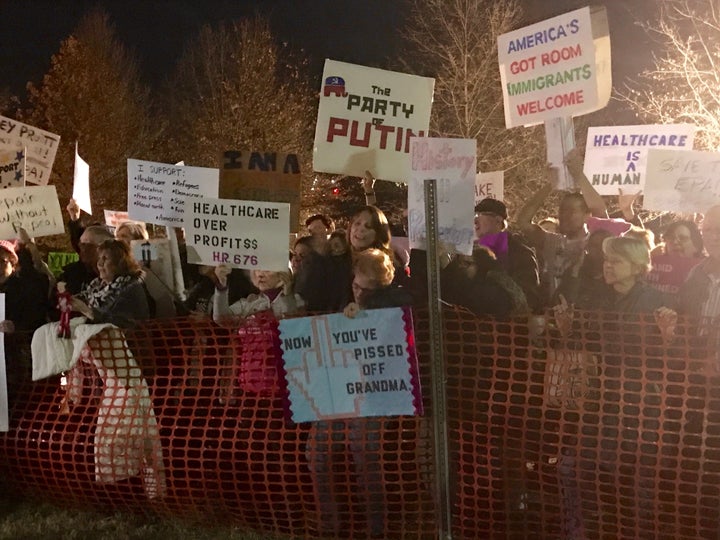 Outside the auditorium, two residents of nearby Tewksbury Township said they didn't find their congressman's contributions to the dialogue or his stance toward Trump to be very useful.
"He made it through the evening. That's about it," said Susan Becker, who attended the town hall with other members of the newly formed Tewksbury Area Indivisible. The group, which is made up of about 60 locals, is affiliated with the loosely organized national Indivisible movement founded to oppose Trump's agenda.
Jennifer Robinson, who leads the group, said she wasn't satisfied by Lance's words or his actions to date.
"He's not protecting us," she said. "He's not speaking out against Donald Trump's excesses and corruption and he's not calling for independent investigation."
These novice activists instead found satisfaction helping their neighbors organize and put pressure on their elected representatives.
"People are awake," Robinson said. "Every day a new organization pops up here and here and here, and they're connecting."
CORRECTION: An earlier version of this story understated the number of members of Tewksbury Area Indivisible.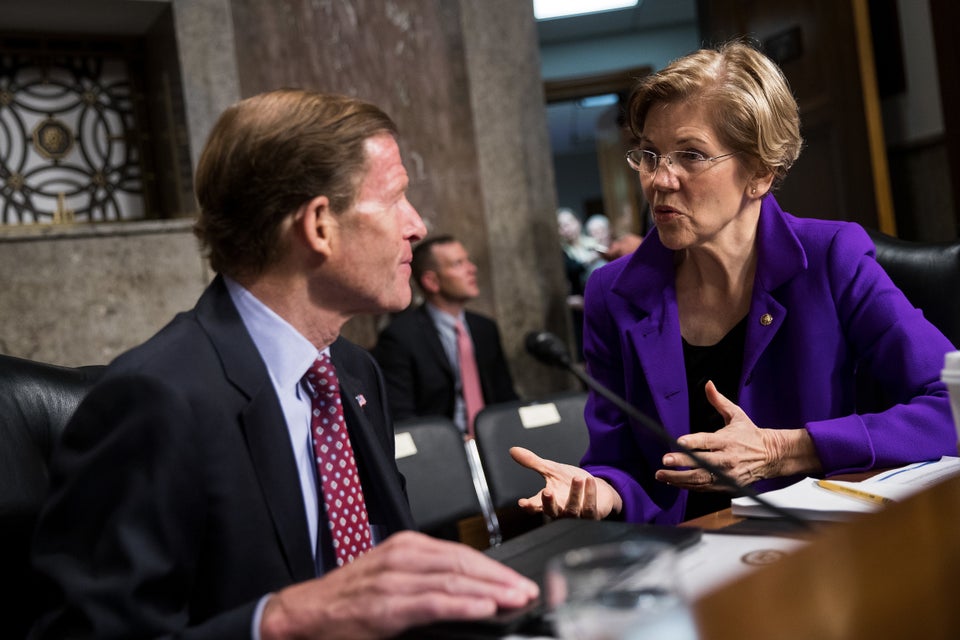 2017 Scenes From Congress & Capitol Hill