WASHINGTON ― For the second time in less than two years, President Donald Trump is poised to fill a Supreme Court vacancy. But he's not the one remaking the nation's most powerful court for generations of Americans. It's Leonard Leo.
Leo, executive vice president of The Federalist Society, a national organization of conservative lawyers, has played a central role in the selection and confirmation of three Supreme Court justices: John Roberts, Samuel Alito and Neil Gorsuch. And on Wednesday, Leo announced that he's taking leave from his job, effective immediately, to personally advise Trump on a replacement for retiring Justice Anthony Kennedy.
Trump plans to pick someone from his previously released list of 25 potential Supreme Court nominees ― a list that Leo put together for him, at Trump's request. If all goes as planned, Leo, 53, will have helped secure his fourth justice on the court by the early fall.
No president in modern history has had this kind of influence in reshaping the Supreme Court. Leo doesn't singularly deserve credit for putting these judges on the court, of course; it takes teams of people to get a nominee through. But long after Trump is out of the White House, Americans will be feeling the effects of a court stacked not by any particular president but, in large part, by Leo.
"It's incredible," said Carl Tobias, a law professor at Virginia's University of Richmond and an expert on judicial nominations. "Certainly, he's had an outsize influence for any one person. I know President George W. Bush relied on him a fair amount for two nominees, and in this administration, I don't think there's ever been anything quite like it."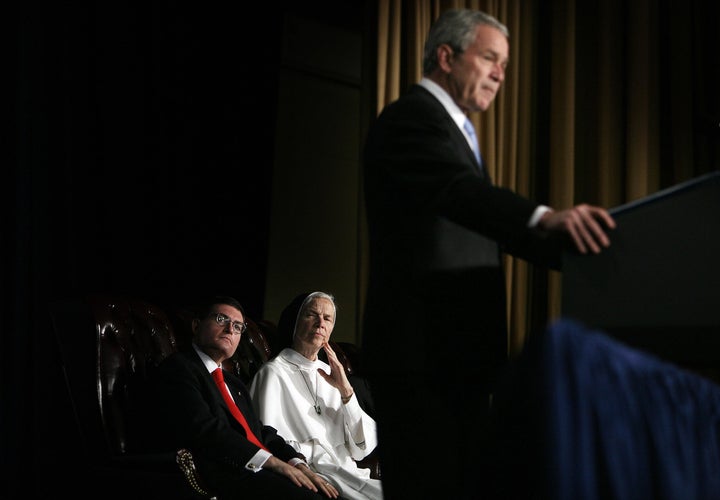 Leo is essentially a master networker. Over the span of two decades, he has turned The Federalist Society into a pipeline for taking conservative law students and grooming them to be judges and public figures.
His strategy is simple enough: Send Federalist Society speakers to law schools around the country and engage students. Foster networking between young conservatives and society members, who can help students land clerkships with judges who are also members. Host local and national events for people to socialize and essentially audition for jobs in corporate law firms or in government.
Over time, members, now part of a massive conservative network of about 70,000 people, help each other get powerful jobs in government or on federal courts ― including the Supreme Court.
"Anyone who is anyone who is a conservative lawyer is a member of The Federalist Society," said Carrie Severino, chief counsel of Judicial Crisis Network, a conservative judicial advocacy group with close ties to Leo and that helped get Gorsuch confirmed.
Five Supreme Court justices have benefited from Federalist Society membership: Gorsuch, Alito, Roberts, Clarence Thomas and the late Antonin Scalia. Many of Trump's nominees to U.S. district and circuit courts were vetted by Leo. Some, like Circuit Court Judge Amy Coney Barrett, who has suggested that Roe v. Wade was "an erroneous decision," are now on Trump's shortlist for a Supreme Court seat.
Of the 25 people on Trump's list of potential Supreme Court picks, all but one ― Margaret Ryan, a judge on the U.S. Court of Appeals for the Armed Forces ― are either Federalist Society members or have been involved with its events.
"We're at the point where almost the entire Supreme Court is something Leonard Leo was active in in this process," laughed Severino. "There isn't anyone who knows the conservative legal movement as well as him."
The Federalist Society maintains that it takes no official positions on policies; rather, it advocates principles, like the duty of the judiciary, to "say what the law is, not what it should be." But there's a clear pattern to the judicial nominees being fed by the group: They are young, conservative and have records of being incredibly anti-abortion, anti-LGBTQ rights and anti-voting rights.
"We're at the point where almost the entire Supreme Court is something Leonard Leo was active in in this process."
For progressives, it's been a nightmarish perfect storm: Trump has huge numbers of U.S. court seats to fill, thanks to Senate Republicans denying so many seats to President Barack Obama; the White House is outsourcing the selection of judicial nominees to The Federalist Society; and the Republican-led Senate is eager to confirm all of them.
So far, Trump has confirmed one Supreme Court justice, 20 district court judges and a whopping 21 circuit court judges ― more than any president has confirmed by this point in office and nearly one-eighth of all circuit court seats.
"Selecting nominees from The Federalist Society ensures that the right will cement the hold they have on the judiciary for the next several decades," said Nan Aron, president of Alliance for Justice, a left-leaning judicial advocacy group.
"What they have in common is an exceptional hostility to the progress that's been made in this country since the New Deal, whether that's to workers, civil rights litigants, women, consumers or people who care about the environment," Aron said. "Nominees being confirmed by the Republican Senate today would have been deemed unqualified even under President George W. Bush because of their extremism."
A White House spokesman did not respond to a request for comment about how central Leo is to Trump's Supreme Court selection process.
The Federalist Society did not respond to a request for an interview with Leo.
White House officials might chafe at the idea that it is Leo, and not them, driving Trump's judicial selections. Maggie Haberman of The New York Times conveyed as much in a Monday tweet about the role of the White House legal team.
"Clarifying something from yesterday - the Federalist Society and Leonard Leo are not synonymous when it comes to the Trump list of 25 prospective SCOTUS nominees," she tweeted. "Leo developed this list with Don McGahn, the WH counsel who is hugely important to this process."
Popular in the Community