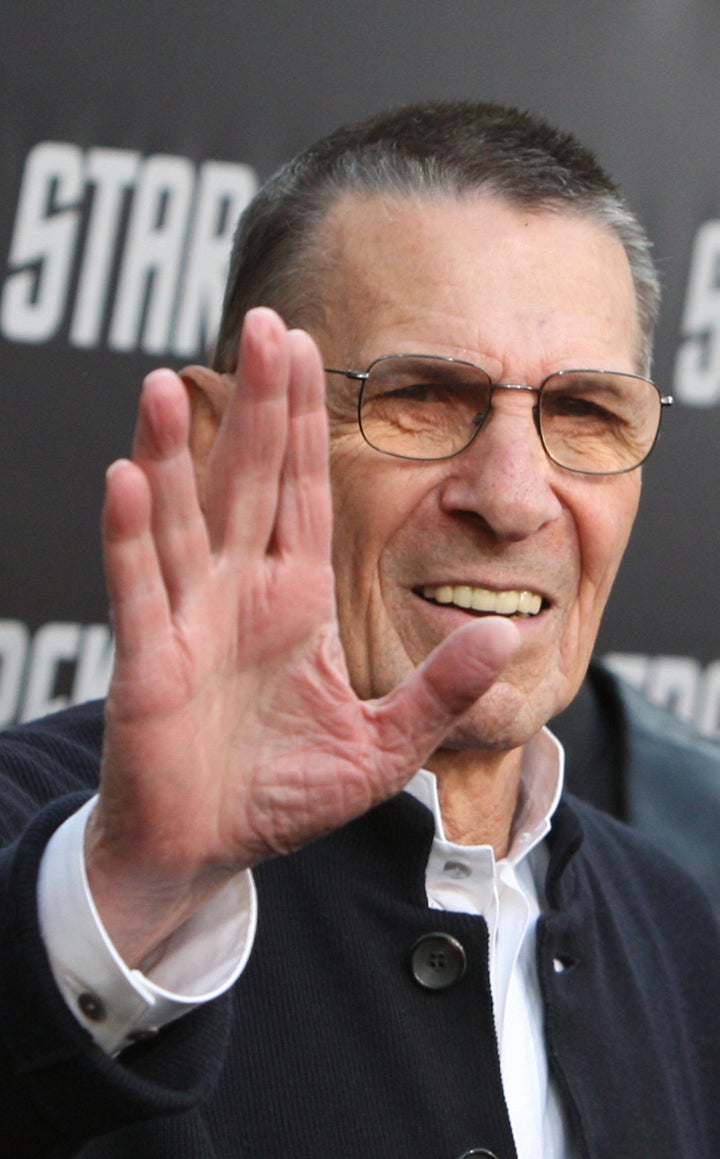 By Adelle M. Banks
c. 2011 Religion News Service
ROCKVILLE, Md. (RNS) The V-shaped hand sign that made actor Leonard Nimoy famous as Mr. Spock may have seemed to be from a planet far away. But the "Star Trek" star says he created it from childhood memories of his Jewish family.

"I reached back to my early years as a child when I was sitting in a synagogue in Boston with my family at the High Holidays," he said Wednesday (May 18) at B'nai Israel Congregation here.

Before the sold-out audience in suburban Washington, the 80-year-old actor re-enacted the blessing Jewish leaders recited at that Orthodox service. Prayer shawl over his head, he stuck out his hands in the shape of the sign he adapted for the TV show that ran for just three seasons in the 1960s but became an instant pop culture phenomenon.

As the show was in its second season in space, the final frontier, Nimoy told his director that natives on Spock's home planet of Vulcan should have a special greeting.

"Humans shake hands," Nimoy told him. "Asian people bow to each other. Military people salute each other. What do Vulcans do?"

When he saw the gesture as a child, he had made a point of learning how to do it himself.

"I didn't know if it would come in handy some day," he joked with his audience of 900 that included some diehard "Star Trek" fans.

Nimoy said he later learned that it was the shape of the letter shin in the Hebrew alphabet, the first letter of "shalom," or peace.

When it came time to film the gesture for the first time -- boldly going where no television show had gone before -- Nimoy's pointy-eared character had it a lot easier than the actress he greeted.

"She held her right hand in the shape with her left hand out of sight of the camera," he recalled. "When I raised mine, she was ready and she raised hers."

Nimoy said he could relate to the half human/half Vulcan Mr. Spock, who was treated as an outsider on board the USS Enterprise and on his home planet.

"I was the other in Boston," he said. "The Jews were a minority. ... I knew what it was like to be the other in that culture and therefore I could bring that quality to the Spock character."

Nimoy said he's often been asked if he thought there was Judaism in the sci-fi series.

"I think that 'Star Trek' consistently shows certain Jewish values," he said, including valuing education, upholding the dignity of the individual and social justice.

But he said the greatest Jewish value the show depicted was the idea of "tikkun olam," or healing the world.

"That's what the mission of the ship is," he said of the Enterprise. "To get up there and solve problems and make things better. ... Certainly that's a Jewish value."

Before his career took off, Nimoy got some advice from his father, who wasn't so sure his son's acting career would live long and prosper.

"He said, 'You should learn to play the accordion,"' Nimoy recalled of his dad, who worked as a barber. "You can play weddings, bar mitzvahs. ... I didn't take his advice."
Popular in the Community