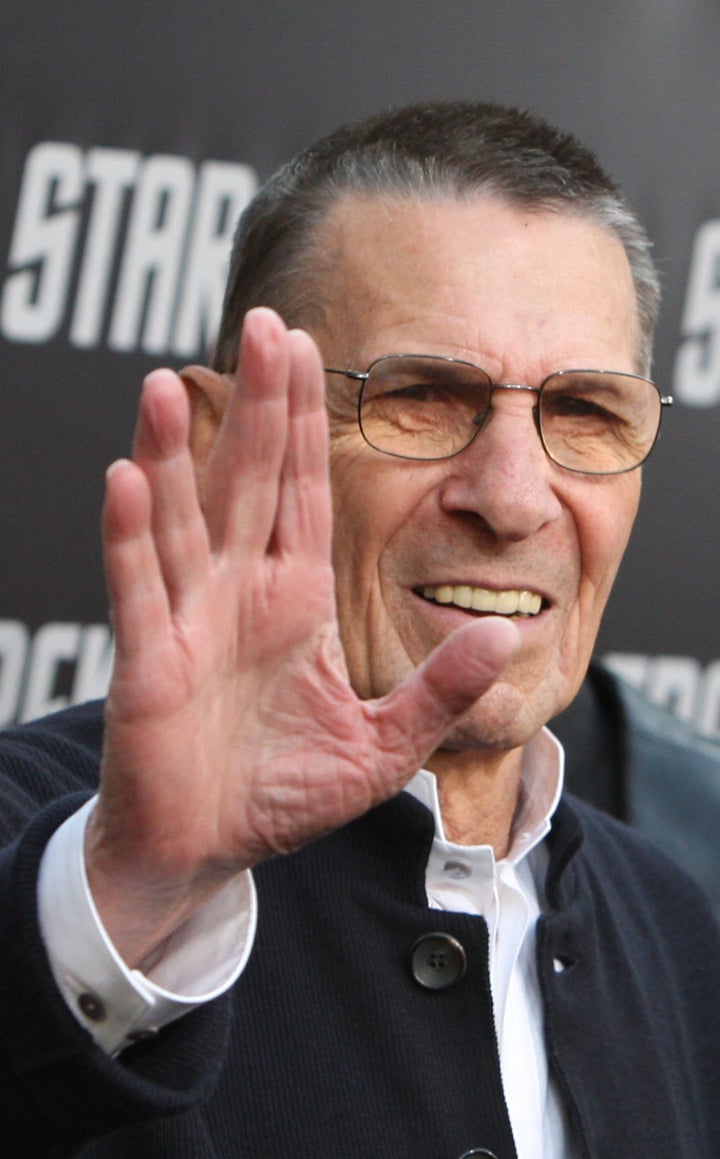 Sometimes a guy gets called "Renaissance man," and many guys (to their peril) call themselves that -- but rare and wonderful is the real deal. Consider the application form: Master of multiple arts? Erudite intellectual? Poet, polyglot, polymath, pillar of society? Maybe even: Larger-than-life persona? Risk-taker and rule-breaker? Well, check, check, check, and so on. I recently spoke with one of these guys, a real-deal Renaissance person. You've probably heard of him. His name is Leonard Nimoy.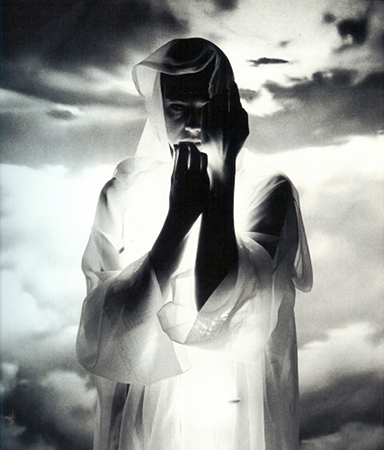 From Shekhina, by Leonard Nimoy
Now, interviewing Mr. Nimoy is a pleasure, but it's also somewhat tricky. So storied a career -- six decades of elegant acting, dynamic directing, poignant poetry, velvety vocals! -- prompts in the jocular journalist a plethora of quirky questions, such as: "What's it like being totally amazing constantly?" and "Do you have any single daughters?" and "Pon Farr -- how's that goin' for ya?" But these we cast aside, for today we discuss Mr. Nimoy's career as a fine artist, a passionate lifelong photographer.
The occasion centers on Secret Selves, Mr. Nimoy's latest show and catalogue of photography, for which he recently presented seminars in two Los Angeles locations: at Westwood's beautiful Hammer Museum (where he covered the project and greeted the audience in conversation with the "new Spock," Zachary Quinto); and at Century City's elegant Annenberg Space for Photography (where he expanded the Secret Selves lecture into an exploration of the Sacred Feminine as well as a truly fascinating oral autobiography). Throughout, Mr. Nimoy appeared as a charming and sophisticated cultural hero at the top of his game. It was awesome.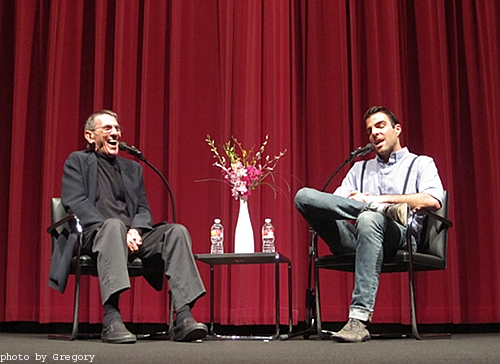 Spock on Spock: Leonard Nimoy and Zachary Quinto at the Hammer.
Warming up, we talk technique. In circles of professional photography, it is well-known that Mr. Nimoy began snapping images in 1940s Boston when he was 13 (on the family camera, which he still owns), and in the early 1970s he studied at UCLA under avant-garde photographic artist Robert Heinecken -- from whom he may have absorbed the philosophy, "There is a vast difference between taking a picture and making a photograph." I ask him how he feels about the radical shift from celluloid to digital.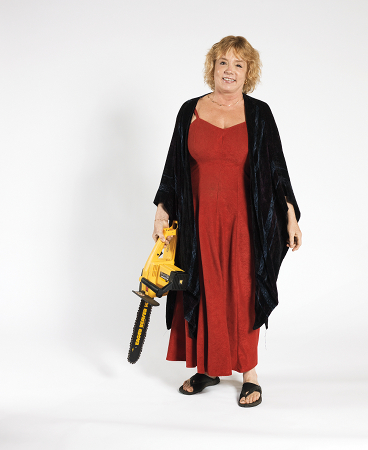 From Nimoy's Secret Selves: Kathleen -- psychotherapist.
"For me, getting out of the darkroom is a revelation. I'm out in the sunlight!" he laughs. "I'm working with light instead of dark, so I'm comfortable with the transition. The new work was all done digitally -- and we chose a very high-resolution, very sophisticated piece of equipment, a Hasselblad digital camera. Because I went in knowing that I wanted a lot of resolution, in order to make very clear, very high-resolution, life-size prints." Indeed, the popular Secret Selves show at MASS MoCA, which ran through the second half of 2010, included several of Mr. Nimoy's bare-all subjects -- for his first major show in color -- at a 1:1 scale.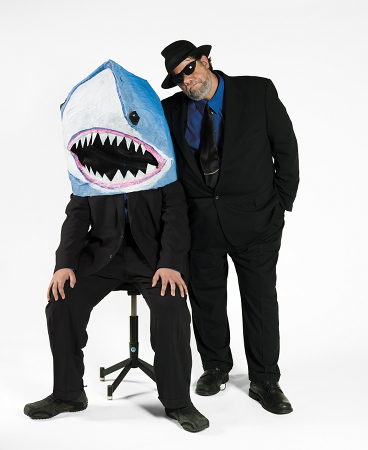 From Nimoy's Secret Selves: Martin always wanted to be a gangster; his son eats lawyers.
Following his successes with Shekhina (his masterful 2002 work based on the Talmudic term for the Divine, extended into feminine sensuality) and The Full Body Project (2007, offering wider visions of beauty featuring San Francisco's Fat Bottom Revue) came the recent Secret Selves. Mr. Nimoy's concept is based on Aristophanes' notion (via Plato's Symposium) that humans were once literally two-faced, four-limbed creatures -- whole -- who grew so powerful and insolent that Zeus felt it necessary to cleave them in twain (thus leaving us as pining halves), and it was "cast," as it were, by Massachusetts gallerist and publisher Rich Michelson. Summoning 100 volunteers from all walks of life, Messrs. Nimoy and Michelson, their respective wives and a small crew interviewed the subjects (the accompanying video is delightfully entertaining and presents souls most ... human), and then invited them to reveal their eponymous beings for Mr. Nimoy's lens. It's a deceptively simple yet truly provocative presentation.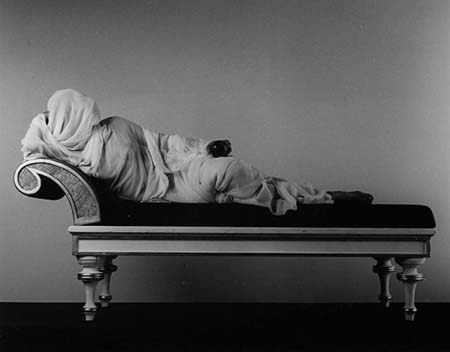 From Nimoy's Paulina Bonaparte Borghese series, at the American Academy in Rome.
Segueing from the technical to the spiritual, Mr. Nimoy continues, "I choose the equipment, and the philosophy of the equipment, based on what it is I'm trying to accomplish. They're tools to accomplish a concept. In this particular case, I wanted to capture the full impact of these beings surrounded by white space, in order for there to be no identifiable setting or atmosphere, and I wanted them all in the same isolated background, all uniform, in a sense. So the camera and the digital work leant itself to that. That's why I chose to photograph it the way I did. In other cases, depending what the thematic concept was, I would change my approach." (Concept is key in Mr. Nimoy's art. As the non-photojournalist vigorously declares in his public lectures, "I do not carry cameras.")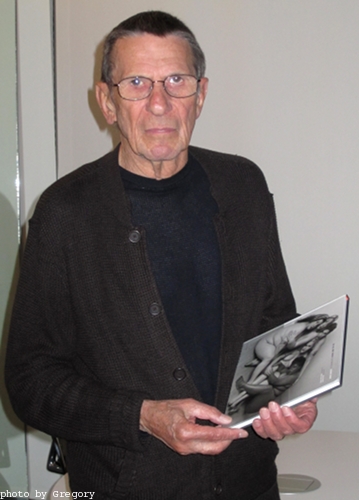 Man. Myth. Legend. (I've always wanted to say that.)
I comment that his Secret Selves subjects really brought it in terms of personality, and Mr. Nimoy the artist seems as chuffed as his own audience, chuckling heartily: "Yeah, they sure did, didn't they! It was a great experience! I had no idea what to expect. I was thrilled with the way it evolved, and especially because these people came with such enthusiasm, and creativity, and vulnerability, and generosity. I was learning as I was going, I was inspired by what they had written -- very brief statements: 'I'm a secret whore,' 'I'm a mad scientist,' 'I'm a dog-lover,' you know: 'I consider myself a dog.' Whatever!" He cracks up laughing. "I thought, okay, let's explore this. What is this all about? What does this mean to you? Who are you? What is your daily life all about? How do you earn your living? Are you a family person? And what's this secret you're walking around with?"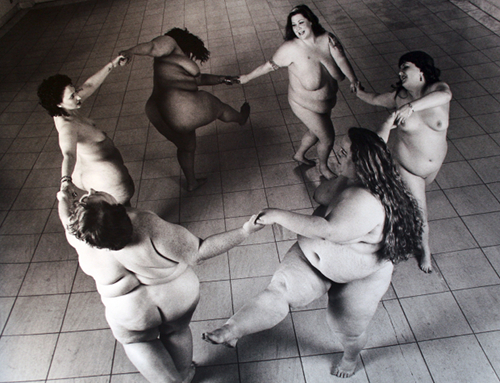 "Matisse Circle": from Nimoy's The Full Body Project
"I think all art has something to do with the human condition -- if it has any merit. But in this particular case we're asking people to uncover something that people carry with them throughout their lives without revealing it. And I was struck by the fact that so many people were willing to do that! Because it's a dangerous territory. It's a dangerous territory. Some of these things that people reveal to us in some of these conversations, I wonder if they even reveal to their most intimate partners in their lives."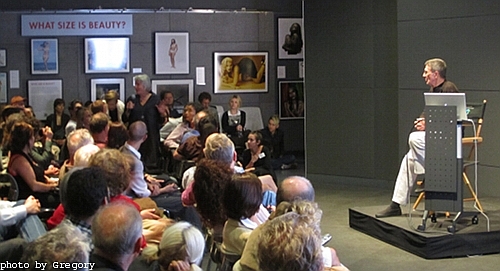 Susan Nimoy expounds upon her husband's concept of beauty.
Would his experiment yield different results in other countries, other cultures? "I would expect to, sure. Even in other cities." Referring to quintessential college town, Northampton, he adds, "I think this was a snapshot of a particular area and a particular culture."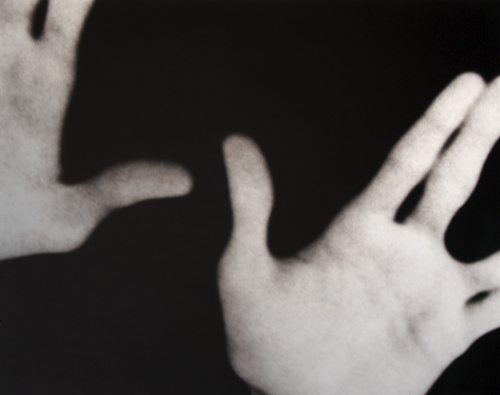 Leonard Nimoy's "Hands"
It turns out that some of the subjects even banded together to form a group, to continue what began with Secret Selves. I suggest to Mr. Nimoy that perhaps he (and the massive reputation which precedes him) may have summoned a wave of creativity and introspection. Brilliant yet casual, he responds.
"Well, y'know, I'll tell ya, that's an interesting comment. I'm afraid that so much of what we're exposed to is so superficial -- that when you do get to something human, it tickles people, people's curiosity is aroused! And they rise to the occasion! They want to rise to the occasion! They want to be intrigued! They want to be touched as humans!"
Leonard Nimoy appears this weekend at Creation Entertainment's Star Trek 45th Anniversary Convention in Chicago, where he will be presenting his photography seminar on Saturday night.
Leonard Nimoy photographs courtesy R. Michelson Galleries
Related
Popular in the Community