By Jack Healey and Jack Magee

USP Coleman 1. Coleman, Florida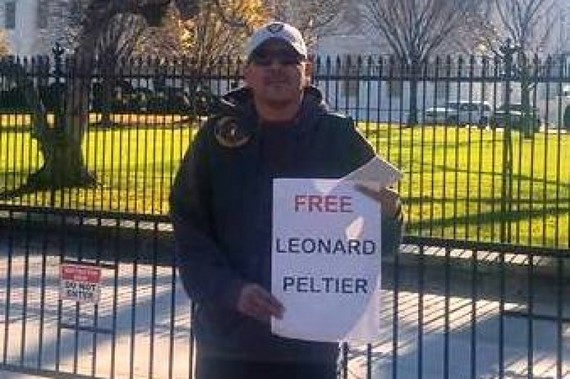 While his family and native and other supporters gathered this past weekend to hold a candlelight prayer vigil outside the White House, Leonard Peltier received news that his youngest son has passed on. Wahacanka Paul Shields-Peltier passed away in his hotel room. He was 41. He had traveled from Rapid City, South Dakota to the capital to help in efforts to try to gain his father's freedom. He had been in poor health, having suffered a stroke while working on sustainable housing for tribal members on the Pine Ridge Lakota-Sioux reservation.

Peltier is scheduled to undergo long awaited prostate surgery very soon and has himself suffered a stroke, causing the loss of 90% of the sight in one eye. He has heart disease, high blood pressure, diabetes, a long endured maxillofacial jaw problem and recently an unaddressed abdominal aortic aneurysm. After complaining of prostate symptoms for years, Peltier was finally taken to see a doctor who told him that he needed prostate surgery. He was given no other information about when or where it will take place, only that it was urgent.

In many ways Leonard Peltier has fallen through the cracks in the American justice system. Several times laws that would have allowed him or anyone else to be released have been ignored or ruled not applicable in his case. One such law designated that all prisoners sentenced before 1987 who have served 30 years or two thirds of their sentences should be released.
Media Attention
His case has been featured on 60 Minutes, Front Line and other television and radio shows and was the subject of the Robert Redford film Incident at Oglala. The Peter Matthiessen book In the Spirit of Crazy Horse also detailed the story.
As the Obama administration winds to a close Peltier's hopes of returning home hang in the balance. He has long held out the hope that he might one day return home to live out whatever time he may have left and to die among his own people. Now he hopes to be able to go home to put his youngest child to rest. This clemency campaign can be put into two words, "Its Time!"

Hard Time
Peltier has now served 41 years in prison, and with twenty years of accrued good time he has now served over 61 years, and therefore on this alone he could be set free. He has spent time in the harshest of American prisons having spent his first ten years in the "behavior modification" units at Marion Federal Prison in Illinois, much of it in total isolation. This in spite of the fact that he had never been convicted of a felony prior to his sentencing, and both he, and his father are military veterans. He has spent time in Leavenworth, Lewisburg and now Coleman 1, some 1900 hundred miles from his home and family at the Turtle Mountain Chippewa reservation in North Dakota.
The late Senator Daniel K. Inouye of Hawaii who was a Congressional Medal of Honor recipient and Chairman of the Senate Select Committee on Indian Affairs advocated for Peltier's freedom for many years before his death in 2012.
His list of current supporters is impressive. From the National Congress of American Indians to Archbishop Desmond Tutu, and from Robert Redford to Ringo Starr. Human Rights Action Center of Washington DC has produced a series of public service announcements under the banner of I WILL ASK.

They feature celebrities from Carlos Santana to Jackson Browne and from Kris Kristofferson to Graham Nash. They can be seen on youtube. Many others including fashion model Cameron Russell, actors Rosie Perez, Maggie Q, Irene Bedard and Judd Nelson have advocated for a new trial or clemency for Peltier.
Now he waits for the positive decision he hopes will come from President Obama who has shown a real interest in addressing the many problems in Indian country, including profound poverty and neglect and an ongoing struggle to protect what land they have left. The standoff at Standing Rock reservation in North Dakota symbolizes that effort.

Please President Obama Free Leonard Peltier Now. It's Time.

Photo Credits. Wahacanka Paul Shields Peltier standing outside the White House and
Leonard Peltier taken at Coleman 1 Federal prison in Florida.
Popular in the Community