A New York Times investigation into the 2010 death of an inmate from a New York prison has reignited concerns about brutality in the state's prison system.
Leonard Strickland, a 44-year-old man who suffered from schizophrenia, died after enduring "fatal injuries" from prison guards at the Clinton Correctional Facility in Dannemora, New York, on Oct. 3, 2010, according to his family's lawsuit. 
Last month, as Strickland's family sued over his death, the Times successfully argued that a video recording the paper had obtained from the prison should be made public. It's not clear why an officer began to film the incident in the first place, but the video shows officers pushing Strickland up against a wall and then dragging his body across the floor instead of using an available gurney. Medical staff performed CPR for almost 30 minutes while Strickland was still handcuffed, and he died a few hours later.
Although the New York State Police Bureau of Criminal Investigation ruled that Strickland's death was "natural" and the district attorney for the Northern District of New York determined that prison officers had not engaged in criminal behavior, the video, witness accounts and independent reports appear to contradict that finding. 
Officers "failed to recognize an inmate in distress as opposed to an inmate being non-compliant," according the New York State Commission of Correction, which published a report to reveal "misleading and false statements by officers," according to the Times.
Footage of the entire incident, first published by Times, runs to 44 minutes. The timeline below breaks it down into its major elements, demonstrating that while officers portrayed Strickland as uncooperative, the video shows he may have been physically incapable of following their instructions.
00:00 -- Strickland faces the wall
His clothing is torn, revealing bruises on his back. Two officers are holding him by the arms while Strickland is still handcuffed.
"Inmate Strickland, you're going to be applied a strip frisk. Do you understand me?" one officer asks.
After Strickland mumbles a response, officers proceed to remove his handcuffs and place his hands against the wall, though Strickland appears unable to hold himself up.
Later, officers said he was actively pushing back. 
"He was pushing off the wall, we had to hold our hands up on his back just to keep him there," Terry James, one of the corrections officers present during the incident, later testified in court. "There was a lot of pressure" and Strickland was pushing "violently," James added.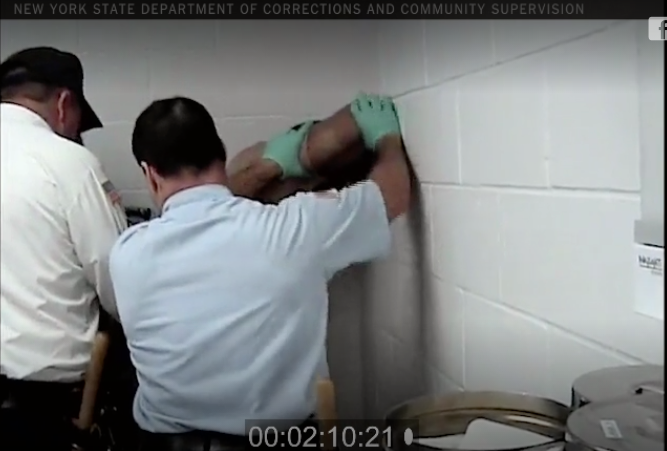 01:51 -- "Stay on the wall!"
Strickland begins to cry out in pain, visibly struggling to hold himself up. In its report on the altercation, the Commission of Correction stated that "Strickland appears to be unable to support his own weight."
Yet officers continue to accuse him of resisting. They respond by yelling, "Stay on the wall! Strickland, don't move. Stop resisting. Don't move. Don't push back."
Another officer can be heard asking for backup because Strickland is "acting disruptive."
03:05 -- Strickland falls over
Now on the ground, Strickland cries in pain. Three officers hover over him.
They now accuse him of being disobedient. "Mr. Strickland, you are going to abide by the rules," one officer yells. 
"He's still fighting with us," one officer says. Another officer calls for backup. Strickland can be seen slipping to the floor.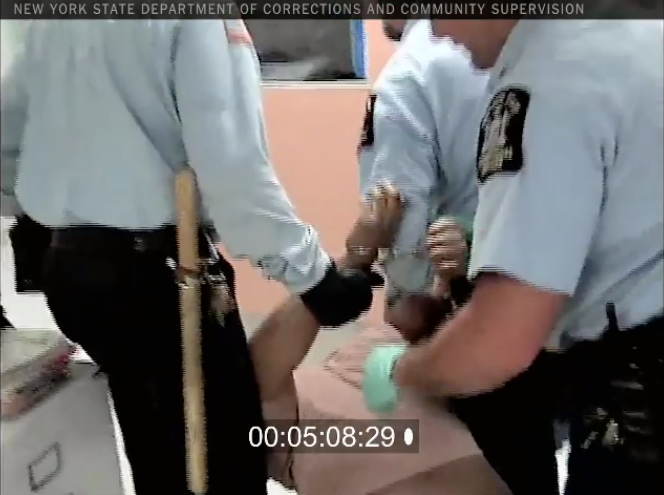 05:00 -- Officers drag Strickland
Strickland finally tumbles to the ground and three officers begin to drag him. Even though he appears incapable of getting up, they yell, "Walk on your own!" 
They move past a gurney. Instead of using it to transport him, they pick him up by the feet and carry him down the hallway.
"Stop pulling your hands!" one officer yells.
"We're giving you an opportunity to stand up," someone tells him. "Strickland, will you stand up? Just stand up! No compliance, Sergeant." Strickland can be seen lying facedown in the elevator.
Officers drag Strickland into the prison's hospital area, where he remains facedown and unresponsive. 
Sgt. Steven Sweeney later defended the decision to avoid the gurney, saying "I directed the officers to assist him to the elevator using professional techniques." Sweeney admitted during his testimony that no one ever checked Strickland's pulse or his breathing.
09:15 -- "Is he breathing?"
Medical staff enter the room. "Let's get an ambulance for him," they say.
They ask for a stretcher and turn Strickland over onto his back.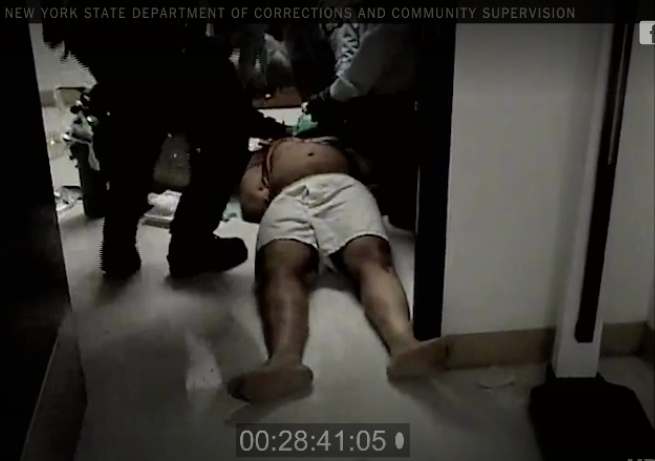 11:05 -- "Medical emergency!"
Medical staff members perform CPR for over 25 minutes while Strickland remains handcuffed.
Asked in court why no one removed Strickland's handcuffs, Sweeney explained that "At this point, medical is involved but he is still a disciplinary problem to me. There's been no call made about what's going on with him so I'm not going to take the handcuffs off of him." However, he did not explain how Strickland represented a disciplinary issue. 
The nurse who administered the CPR "showed complete disregard of the obvious signs of a non-responsive inmate," the Commission of Correction report stated.
37:50 -- "We're going to have to stop CPR."
"We're going to have to stop CPR in a second," a nurse says.
Officers and medical staff pick Strickland up off the floor and place him onto a stretcher. They roll him out of the medical area. His knees are bloodied.
Strickland is then finally placed into an ambulance. "The time is now 10:15," the man recording the video says before the camera shuts off.
Strickland died a few hours later at a nearby hospital. 
The Department of Corrections said they could not comment on the case due to pending litigation. 
Meanwhile, prison staff have yet to face punishment. The officers and nurses implicated in the incident "either still work at Clinton or other state prisons, or were promoted or retired with full benefits. In the years since the Strickland case, several of them have again been accused of brutality by inmates," according to the Times.
PHOTO GALLERY
Prison Breaks: They Made A Run For It
REAL LIFE. REAL NEWS. REAL VOICES.
Help us tell more of the stories that matter from voices that too often remain unheard.