A Leonardo Da Vinci self-portrait is in critical condition, and there might not be anything experts can do to fix it.
Restoration experts recently conducted tests on the red chalk drawing depicting the bearded genius in his sixties, which was made in the early 1500s. The self-portrait developed red blotches, funghi and spots over its delicately rendered face; most believe the damage occurred while the work was accidentally exposed to sunlight while being framed for an exhibition in 1929. The diagnosis: "Foxing," an art restoration term for marks that shouldn't be there. The foxing may have developed from the oxidation of Da Vinci's pigment or from fungus developing in the paper.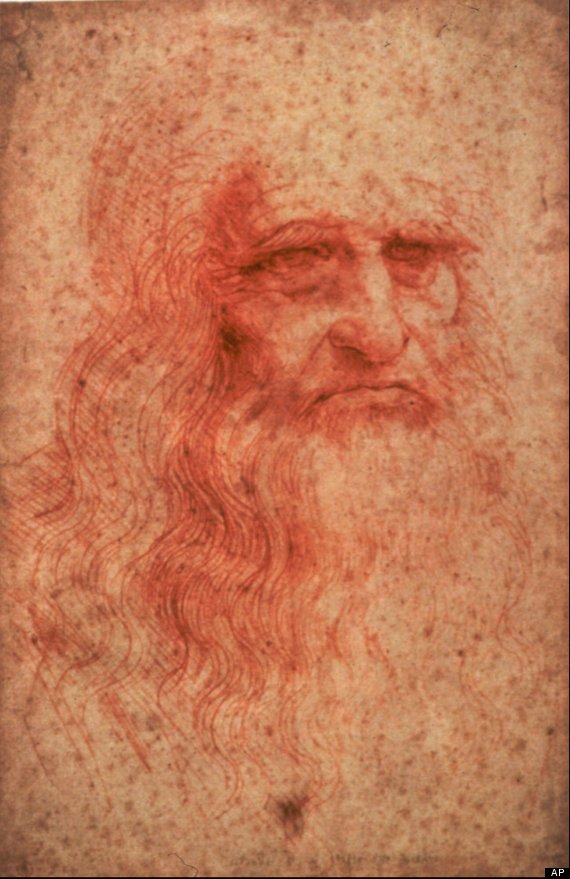 This undated handout photo of a self-portrait of da Vinci (circa 1516) opened at the Museum of Science in Boston in 1997. The exhibit, called "Leonardo da Vinci: Scientist, Inventor, Artist", was the only U.S. stop on its international tour (AP Photo/Leonardo da Vinci).
Yet the most devastating aspect of the prognosis is that the small work, which measures a mere 13.2 by 8.5 inches, is in such bad condition that any attempt to save it could very possible destroy it. Thus scientists and restorators are left with an epic dilemma of whether or not to intervene that seems like it came out of an episode of ER.
Restorators decided to exercise caution before taking action. "Because this is a masterpiece, prudence has prevailed. It's scary to deal with a work of art of this magnitude and uniqueness," Maria Cristina Misiti, head of Italy's Central Institute for Restoration and Conservation of Archival and Book Patrimony, explained in the Chicago Tribune. Experts are extremely hesitant to attempt to restore the piece in case it could be ruined forever, so they will keep the image out of sight in order to preserve what remains.
Here is a slideshow of some of Da Vinci's most beloved (and well-preserved) masterpieces:
PHOTO GALLERY
Leonardo Da Vinci Fun Facts
Calling all HuffPost superfans!
Sign up for membership to become a founding member and help shape HuffPost's next chapter
BEFORE YOU GO