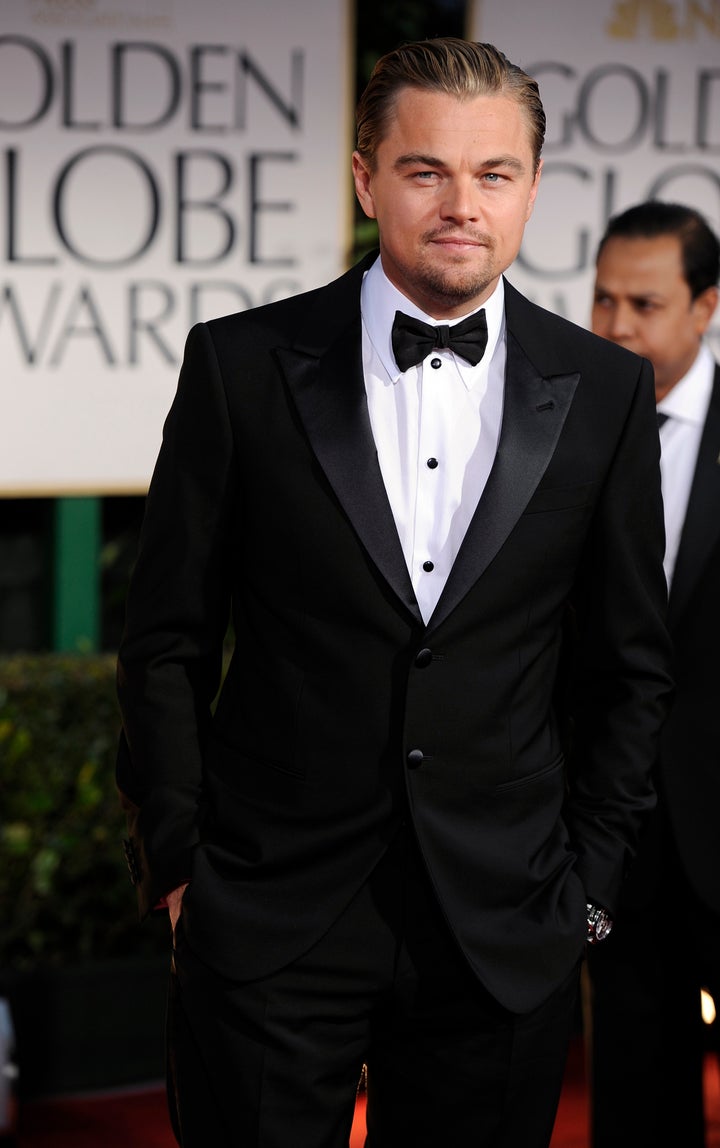 Well, the list is out. Thus beginning the exciting road to what is the biggest night for Hollywood and of course self-described "movie buffs." Despite gripes that this year was somewhat disappointing, I was happy to see nods to the throwbacks like Christopher Plummer, Kenneth Branagh and even Nick Nolte. I was even more thrilled to see comedic favorites like Jonah Hill, Melissa McCarthy and Kristen Wiig score nominations. But much of my enthusiasm was lost when I realized who was missing from the list -- begging one very obvious question: WHY DOES THE ACADEMY HATE LEO?!
Seriously, what is it going to take for this man to get his Oscar?
So far, Mr. DiCaprio has only been nominated for an Oscar three times in his relatively long career. (He's 37. He first appeared on screen in 1990.) For many other actors this would seem generous or even remarkable. Not for Leo and especially not when you consider his resume.
Shutter Island, Catch Me If You Can, Gangs of New York, Revolutionary Road, Inception and now J. Edgar. These are all successful movies that scored some degree of critical acclaim and not a single nomination for any one of them? You have to at least wonder if there aren't other factors at play.
Angelina Jolie, Sean Penn, Hilary Swank, Morgan Freeman, Matt Damon and Meryl Streep all scored nominations with Clint Eastwood behind the lens. Yet, somehow, Leonardo DiCaprio in an Eastwood-directed biopic (we know the Academy loves to fall over themselves for biopics) couldn't make the cut.
No one can be sure exactly when or why the Academy decided they weren't #TeamLeo, but a strong case could be made for the time period between 1994 and 1997.
Leo scored his first nomination a Best Supporting Actor nod in 1994 for a little film called What's Eating Gilbert Grape. If I can drop the "PC" for second, I've gotta say his performance in this one definitely disproves Kirk Lazarus' theory that you can never go "full retard." It seems Leo did and it paid off. I'd like to argue that he should have won, but he lost to Tommy Lee Jones for The Fugitive. That was a stellar performance so it would be a difficult argument to make.
He followed up Gilbert Grape with a series of noteworthy performances in movies like The Basketball Diaries, Baz Luhrmann's Romeo and Juliet and Marvin's Room. The Academy barely noticed these films. I guess no one can really blame them either.
Then in 1997 he hopped aboard the RMS Titanic and by the time this thing was done making a splash everyone was showered in Oscar love... everyone except Leo. It scored 11 nominations in all. Two were given to his onscreen partner Kate Winslet and Gloria Stuart. Leo got the shaft. He knew it and all of Hollywood knew it. But what we still don't know is why? I'll go as far as to argue that his performance coupled with his Teen Beat looks helped steer that ship into cinema glory. That wasn't enough to get any Oscar love.
What would come after Titanic is a string of enjoyable performances peppered with a few forgettable roles (Don's Plum anyone?) and the fruitless wait for Leo's Oscar. This is even sadder when you consider he reunited with Titanic co-star Kate Winslet in 2008 for Revolutionary Road. Neither Kate nor Leo were nominated for this film, however Kate still won an Oscar that year for The Reader and it only reinforced just how far behind he is in accolades.
Despite the sad look back, there may be hope on the horizon. Leo has once again teamed up with Baz Luhrmann for The Great Gatsby, which will be out later this year. He's also taking an evil turn later this year in Quentin Tarantino's hotly anticipated Django Unchained. Word has it that Leo will be playing an evil slave owner.
Maybe that will bring the Academy around. Hollywood's golden pretty-boy playing one of the most despicable characters ever penned in a Tarantino film. Though, I should warn that the cast is pretty stacked with stars like Jaime Foxx, Joseph Gordon-Levitt, Samuel L. Jackson, Christoph Waltz and Kurt Russell. If history has shown us anything it's that in a strong ensemble piece the academy will most certainly treat our boy like the red-headed step child who plays in kitty litter. They will shut him out, again.
Despite my assessment, I will try to remain optimistic about the road ahead. In the meantime I'll keep demanding answers to this award season's most important question: WHY DOES THE ACADEMY HATE LEO?!?
Popular in the Community