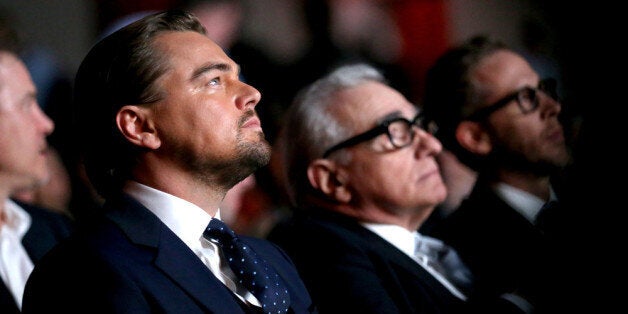 Leonardo DiCaprio has made five films with Martin Scorsese. Four of those collaborations ("The Wolf of Wall Street," "The Departed," "The Aviator," "Gangs of New York") received Best Picture nominations, while DiCaprio himself has scored two Best Actor nods. For DiCaprio, his work with Scorsese counts as the most significant of his career.
"I always feel like a kid in this industry. I feel like I got my foot in the door, now I'm going to run with this opportunity and do everything I possibly can to make as many movies that I feel like aren't getting made," DiCaprio said during a panel discussion with editor Thelma Schoonmaker and screenwriter Terence Winter about his Scorsese films at New York's Ziegfeld Theater on Thursday night. "It's interesting because I've been doing this since I was 13. It's 26 years. I'm almost about to turn 40. I'm looking back at some of the stuff that I've gotten to do, and at the center of it is this amazing, accidental collaboration that I've gotten to have with Marty. It's hard for me to articulate or put into words everything I've learned from him."
DiCaprio didn't try, but he did discuss "The Wolf of Wall Street," the pair's latest film. The epic of sex, drugs and amoral behavior earned five Oscar nominations: Best Picture, Best Director, Best Adapted Screenplay, Best Supporting Actor (for Jonah Hill) and Best Actor for DiCaprio.
"It's a very rare film," DiCaprio, who is also Oscar nominated for his work as a producer on "Wolf," told the enthusiastic audience of press members and everyday ticket buyers. "It's a reflection back to the 1970s, to films that I was so informed by and so moved by -- those film where the director was able to put their vision up on screen without too much interference. This is one of the rare opportunities where you'll see a grand American epic where it's truly the director's vision. This is the director's cut. This is culmination of artists who got together and said this is the movie we want to do. Sometimes it's going to be disturbing. It's going to be a very dark look at the world around us. It's going to be hilarious. You may misinterpret it, but this is what we wanted to put onscreen. It's something you're not going to see much nowadays, but it's what I'm absolutely most proud of about making this movie."
With regard to the misinterpretations, "The Wolf of Wall Street" came under fire after its release on Christmas Day, with some viewers criticizing the film for glorifying the behavior and actions of DiCaprio's Jordan Belfort, a crooked stockbroker who bilked his clients out of millions. Scorsese's film doesn't focus on the victims, a point of contention for many who felt that the film was irresponsible in its depictions of white-collar crime.
"It's been an interesting process for me to be a part of a film that had an initial reaction that was controversial," DiCaprio said, before citing other lightning-rod Scorsese films such as "Taxi Driver" and "The Last Temptation of Christ." "He is the type of filmmaker who is not going to spoon feed the audience about how to think or what to feel. He's going to show these people in a very authentic way and that culminates in the way the film ends: some of these people don't get punished properly. He didn't show the victims: that's the magic of moviemaking and why he's such a brilliant filmmaker. He doesn't judge his characters. He says, 'Look, I'm going to put you the audience into the mindset of these people. Then let's create a dialogue from that.'"
DiCaprio and Scorsese have no other projects in current development, but don't be surprised if a sixth feature eventually happens. "Here you have Martin Scorsese at 70 years old, still this vital, still taking these kinds of chances," DiCaprio said about "The Wolf of Wall Street" and its director. "He's being vigilant about making a movie that's trying to push the envelope. It's amazing."
REAL LIFE. REAL NEWS. REAL VOICES.
Help us tell more of the stories that matter from voices that too often remain unheard.
BEFORE YOU GO
PHOTO GALLERY
Leonardo DiCaprio & Martin Scorsese