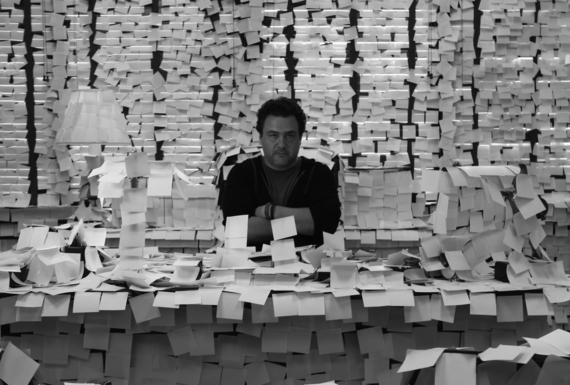 Being an immigrant is something that could hold a lot of people back in life and yet for Leopoldo Gout, it was the force he needed to shape all of his success.
The author behind the new book 'Genius: The Game' is a man inspired by literature, art, science, movies, television, and the world around him.
Gout has already made a name for himself as an artist and filmmaker. Now turning to film, television, books and even virtual reality, Leopoldo hopes to project a sense of community and multiculturalism through diverse and intricate storytelling.
He has an interest in strong characters who face the impossible in order to find a genuine sense of meaning in their lives and his young adult fiction questions the expectations that come with dystopian and magical spaces.
The following interview delves into Leopoldo Gout's new book, the first in the series, while also looking at where his biggest inspirations come from and how he overcame insurmountable obstacles including being dyslexic to accomplish his dreams.
Piecing Together a Passion Project:

What inspired you to create this particular novel?
I came up with the idea by looking at the landscape of young adult fiction where there are several dystopian worlds with super powers and magic. It was from this that I started to draw on the fact that we are all born with one superpower; our brain. It has allowed us to go to the moon and back!
The book is about how you can be a superhero without having to have an actual superpower. At the core of the novel, it tells us how you can change your own fate and that you can decide right now to take yourself seriously. I wanted to create a space that has power through our imagination, I think there's lots of energy in that.
What gave you the idea to do a story about a band of misfit geniuses that work together to save the world?
As an artist, I've always been interested in the experience of movies, television, and video games. I digested a lot of this and tried to sow it into a very compelling adventure. When I was young, I would watch Raiders of the Lost Ark and read adventure novels and I've always had that in the back of my mind. I always wanted to combine the opening sequence of Indiana Jones with the idea of being able to see the world as cool and different. It's about the power of experience.
I also did a lot of research before the novel which helped shape the way it turned out. For example, I looked at a kid in Sierra Leone who at 12-years-old built a windmill out of trash in order to generate electricity and help her mother see because she was losing her eyesight.
I have done extraordinary research about all sorts of kids of the same age that have shifted their destiny. I'm interested in this as I, on my own, have done a lot of incredible things. I'm not talking about fame or fortune, I just get to do the things I'm passionate about and, to me, that's a superpower.

The book has a very diverse cast of characters. Why was this important to you?
I think I wanted to do my contribution as a Mexican immigrant in the United States and wanted to say something that was different. I wanted something more of the world than I experienced and that I see on my own. I've always seen the world as a multicultural, multi-ethnic, multi-dimensional, place with people from all sorts of races and interests and genders. That energy is extraordinary, and yet a lot of young adult fiction is not as diverse as the way I have experienced the world.
I'm really passionate with Genius because I feel like as an immigrant I'm a part of the political landscape that we live in. It's really a call to arms. I'm saying that we are here and we're not going to go anywhere, and we can change the world and there's a lot of positivity even in illegal immigrants.
The parents of the lead character in my book are illegal. This country was made by immigrants and that's something I've always loved about it. My story is all inspired by real people. They are young people that have imagination and curiosity who are the enemies of the far right. The enemy of the rhetoric is curiosity. These people are changing the world. They're cool and different.
Finding the Right Audience:
Who would you say the book is targeted towards?
I think, mostly, I wanted it to talk to my kids and to people of all ages and give them a little bottled version of all of my experiences. I think this approach was very natural for me. It's been incredible to see how the teen age group is responding to the book. We're presenting the book in many diverse schools all over the country. We take a bunch of books and the kids come from all over the place to get one.
Many of the school librarians have told me that it's a great experience for the kids because the book is about all sorts of varied experiences and it's influenced by my life, but it's also connected to the traditions of great world adventures, of art and other thrilling novels. It's about changing your stars through your imagination.
How do convince kids who've never read any of your books that they should pick this up instead of another video game?
I always start by telling kids a little bit about my life. I grew up in a middle class Mexican family and I lived in an apartment with my mother, two sisters and my brother. Even though I didn't grow up with a lot of money, I grew up with a lot of culture. I read books. I met explorers, filmmakers, and artists. My mother instilled in us this incredible wonder and curiosity for the world. So, I always start with that and I tell the kids that I was lucky because somebody told me that the world is big out there and that we should grab a book as a lever of understanding. My talks with kids are not just about the story in the book, but about the process, about my process. I have an advantage in that I found a rich life that has given me a platform to speak on all sorts of things. I wanted to be able to share this with them and it's been amazing so far.
How is it that you are getting the books to schools?
It's pre-organized. Basically, librarians have a lot of competition because of the Internet, so they partner with local book stores from all over the country. Then, the local book stores stock it. But I usually end up giving away some of my books, too. I'm doing this for the long haul and for the right reasons. To me, it's more about getting it to a wide range of teachers, students, artists, to as a wide audience as I can get to.
I also partner with Arizona State University and CSI (The Center for Science and the Imagination) through Brian David Johnson who's starting Project Genius. He used to be Intel's futurist and he loves my book and he's been inspired by it. He's basically trying to do what I wrote about in the real world and the ASU Foundation is trying to find genius kids with under-privileged communities and try to figure out a way to empower them through technology. We're doing all sorts of different programs and processes with the kids and I couldn't be more proud.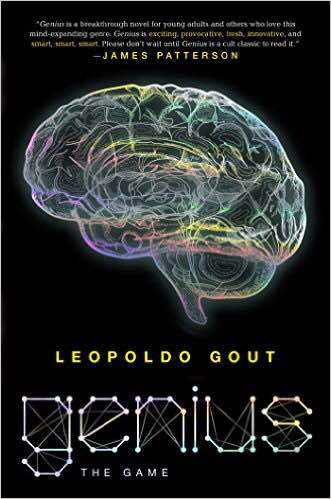 The Art of Writing and Publishing:
What's your writing process like?
I'm interested in art and a lot of my work starts with doodling and drawing. I've always had a very visual experience. I always begin by making drawings and notes while I research an idea. I'm very passionate about the research process. Every project I've done, whether it's a movie or a book, is about connecting stories, digesting stories, like being a detective.
I spoke with people from China to Africa, I spoke with coders, with bloggers from all nationalities and I have a research associate the great writer Keith Thomas who helped me tremendously. I talk to all sorts of people and I watch endless videos on Youtube. I always read hundreds of stories before doing the outline for the piece. Then, I do more drawings. It takes me many rounds of editorial drafts with my publisher because English is my second language and I'm dyslexic. So, it's not only hard for me to write but I'm also picky, and I love working with the editors. I work really hard to make sure that I accomplish the project that I wanted to do.
I have my own way of doing things and I have really great collaborators that work with me, including Brian David Johnson. I have a wide source of people that are happy to help. Writing in a different language is always a challenge but I love it. My process is more like being a mad scientist in a lab blended with an artist in a studio than a writer scribbling in a notebook.
How do you find the time to write alongside being a film executive?
I love what I do. I really love what I do and I do it all the time. I'm writing a script as well that I finished with another partner, so I have the capacity to do a lot of things. It's just my way of doing things. My younger brother who's a film director is my business partner in a film company. He can only do one thing at a time whereas I love doing a bunch of things at a time.
What is it like working with James Patterson as an executive? Did he give you any useful advice when writing the novel?
Jim and I have a very different style, but I respect him tremendously. I've been working for him for a long time so obviously you get influenced by everyone you work with, but Jim is one of the most disciplined, hard working people I've ever met and he's always told me "Leopoldo, learn to focus and drive through focus." I've never met somebody as focused as he has been with his brand and his imagination and to me it has been very inspiring.
I'm very proud that I created this thing out of my own heart and he was very generous to give me a great quote.
Why didn't you publish the book through one of his publishing companies?
Well, I wrote my first novel with someone else and this one, Genius, is published with Feiwel & Friends / Macmillan. When I put together the treatment for this novel, I had a few solid ideas and chapters and I did a lot of research. After meeting various teams I met Jean Feiwel and later Holly West and their entire publishing team at Feiwel & Friends who have been incredible partners.
To be honest, it's not about the publisher, it's about the people. When I met the people at Feiwel & Friends it just felt like home. They really got me and pushed me to be brave. I feel like they really brought the best out of me and I couldn't be more happy about having them as the publisher.
Are you interested in turning Genius into a movie?
Yes. We are already developing a movie and reality show and there's multiple studios and television companies who are making offers right now. I also want to develop the vision if we do a film, I'm doing it initially myself because I have the advantage of already being a filmmaker. I'm very excited about it! It has a tone that I have not seen before and I believe it will contribute to the culture and can truly go into a place that will feel refreshing in that space. I strongly believe that global audiences are ready for a rift in the space.
I'm also focusing on the foundation led by Brian David Johnson at Arizona State University and the Center for Science & the Imagination because they really are creating a global project. What I love about ASU is their ideas and that it's a public university so the IP will be fully owned by whoever creates it. So if we develop an incredible idea with and for a particular community, that community will fully own it. It's something that can help us contribute to society in a positive way and I'm looking forward to dive fully into the project. I have always raised the question that: Can BIG GLOBAL entertainment and art help our world in some way? I hope with Project Genius that the answer is yes.
Where can people get the copy of the book?
Everywhere, in every bookstore and it's also available on Amazon and my website geniustheseries.com. I've been talking to people from all over the world about the book and it's been an overwhelmingly positive experience.
Calling all HuffPost superfans!
Sign up for membership to become a founding member and help shape HuffPost's next chapter