This article is part of HuffPost's Project Zero campaign, a yearlong series on neglected tropical diseases and efforts to fight them.
YANGON, Myanmar ― Su Myant Sandar was 17 when she first noticed a red patch on her cheek. At the time, she was working with her girlfriends at a garment factory on the poor outskirts of this city. She covered the spot with a thick layer of thanaka, a traditional plant-based makeup, and continued going to work as normal.
But it was not an ordinary spot. It was the first visible sign of leprosy, a largely forgotten bacterial infection that affects tens of thousands of people every year, mostly in southeast Asia and most of them extremely poor. An ancient disease, leprosy causes skin lesions and nerve damage and can lead to severe disfigurement and disability.
Though curable and not highly contagious, the disease has long carried an intense social stigma, one that used to relegate people with leprosy to the fringes of Myanmar society. Modern treatment has erased some of this stigma, but even those who are cured shoulder a heavy emotional burden.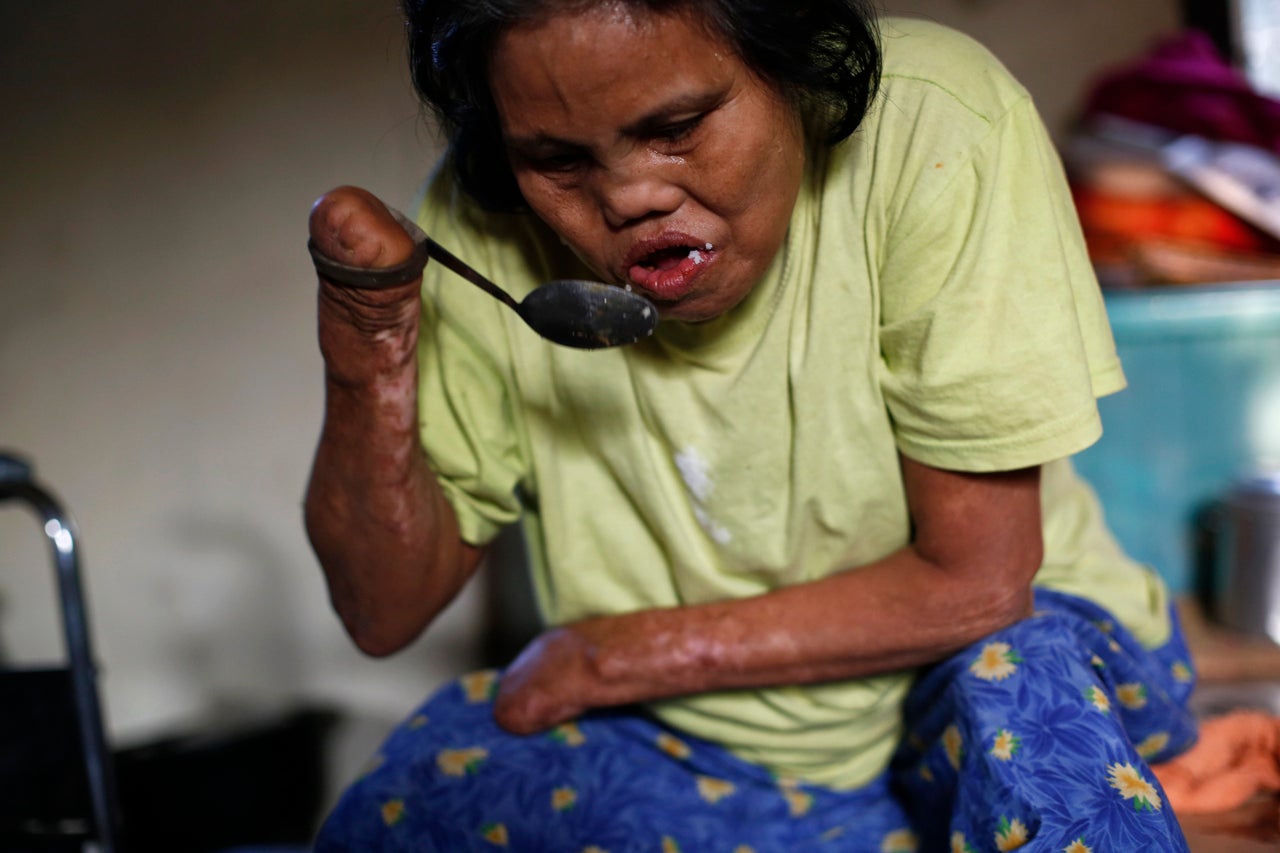 By the time the lesions spread across her body, Su Myant Sandar was out of a job and isolated from her friends. Already an orphan, she ate by herself every day, with her own fork and glass. Her brother quarreled constantly with his wife about her staying with them. She'd started receiving treatment at a local hospital, but it made her so lonely and exhausted that she stopped going before she was fully healed.
Su Myant Sandar's relapse, months later, was severe. The disease reappeared in new patches on her skin, while weakness and numbness crept into her hands. She caught tuberculosis around the same time.
Her family decided to send her to the Myitta leprosy asylum, two hours away from Yangon. She's still there today.
Now 20 years old, Su Myant Sandar is on the 11th month of a yearlong treatment at Myitta. She will be completely cured soon, but her limbs are covered with deep scars and have grown as thin as a child's. Still, she says she feels "very lucky." Unlike many other patients at the center, some of whom are in wheelchairs, leprosy didn't mar her face or paralyze her fingers permanently.
Contrary to popular belief, the disease doesn't cause body parts to fall off. But in extreme cases, it damages nerves so much that patients won't feel injuries and might not treat wounds properly, which in turn can lead to infection and amputation. Facial paralysis and blindness may occur, and fingers and toes may curl and shorten. The disease can also destroy nasal cartilage, causing the nose to collapse entirely.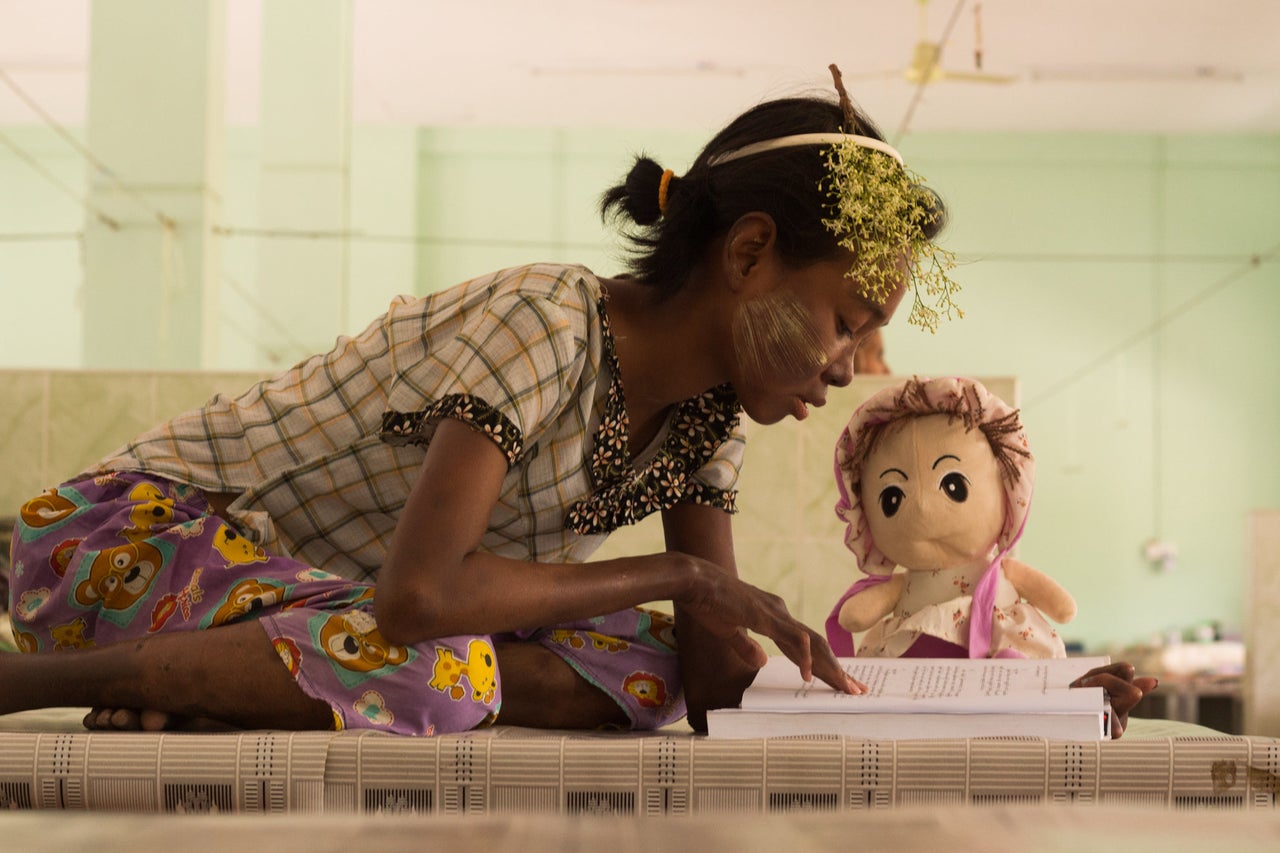 Even though Su Myant Sandar escaped some of leprosy's most devastating physical complications, she has no dream of a boyfriend or a family in her future.
"A normal man would not want me," she said in a resigned monotone.
"I don't want to leave this place ever again," she added. "I don't want to go back home ever again. I have an 'auntie,' a 'sister' and friends here. They are like me. They don't reject me."
Su Myant Sandar has plenty in common with the other 130 patients at the Myitta center. They share a background of poverty, malnourishment and fear of an "outside" world that has inflicted on them the deep wounds of abandonment and rejection.
Centers such as Myitta give shelter and food to people who are often unable to provide for themselves due to disability. In the past, people with leprosy often lived around hospitals, either producing alcoholic drinks or begging, or ended up in rundown colonies where people died of malaria in great numbers. But in the bright, Spartan wards of this modern structure, patients can receive visits and move in wheelchairs around the tranquil courtyard.
Scientists believe leprosy is spread when a person carrying the bacteria coughs or sneezes and a healthy person inhales the droplets. Transmission requires prolonged, close exposure, but the odds of contagion are higher among people with compromised immune systems or who live in houses with no ventilation.
"The majority of the population ― even doctors and nurses exposed to leprosy patients ― would not get it," said Dr. Zaw Moe Aung, country director of the Leprosy Mission Myanmar, which provides medical assistance to centers such as the Myitta facility.
Malnourishment and poverty affect vast segments of Myanmar's population of 51 million. Newly recorded leprosy cases average about 3,000 per year here.
"Fifteen percent of the new cases are still identified too late, when preventable symptoms such as loss of sensitivity or claw hands mean nerve functions are compromised," Zaw Moe Aung said.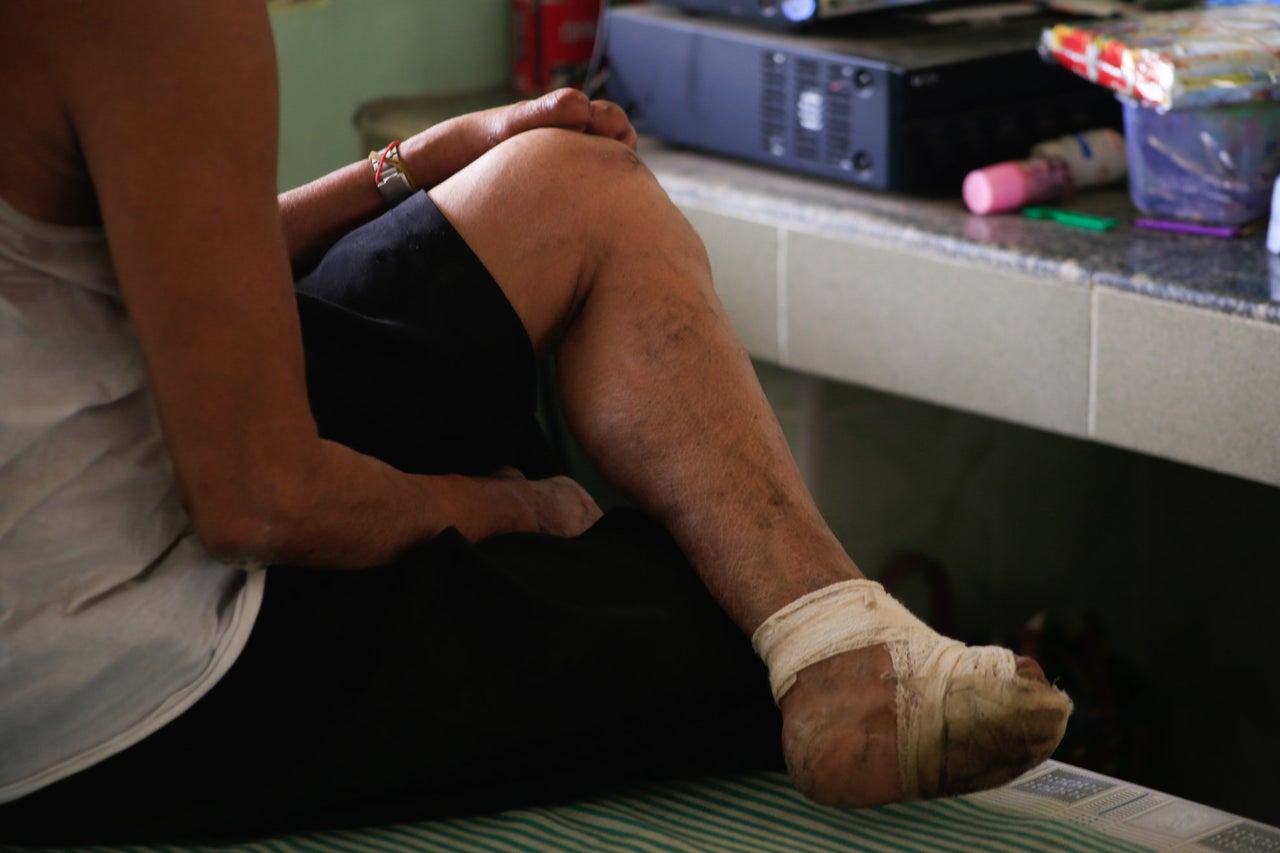 In the 1980s, a multidrug therapy arrived on the scene. It proved effective in fighting leprosy around the world and is still the main form of treatment. If patients get this treatment at a point in the disease where their nerves are still repairable, they can avoid permanent disability. But many are cured only after the disease has rendered them unable to walk, write or see.
But "elimination" does not mean a disease is gone completely ― only that it's been reduced to a manageable level. Even after things reached that point in Myanmar, there was still much work to be done. And unfortunately, worldwide efforts to fight leprosy have stalled.
"Announcing that it had been 'eliminated' sent the wrong signal to the world," Zaw Moe Aung said. "Donors halted funding and even health workers lost interest ― there was no inspiration for new generations to go and work with leprosy patients."
"They would flock to HIV, TB, and get doctorates studying these illnesses, while nobody cared about leprosy," he went on. "But you still need treatment, support for disabled patients and prevention education for the wider community. It might otherwise spread or be detected when it's too late."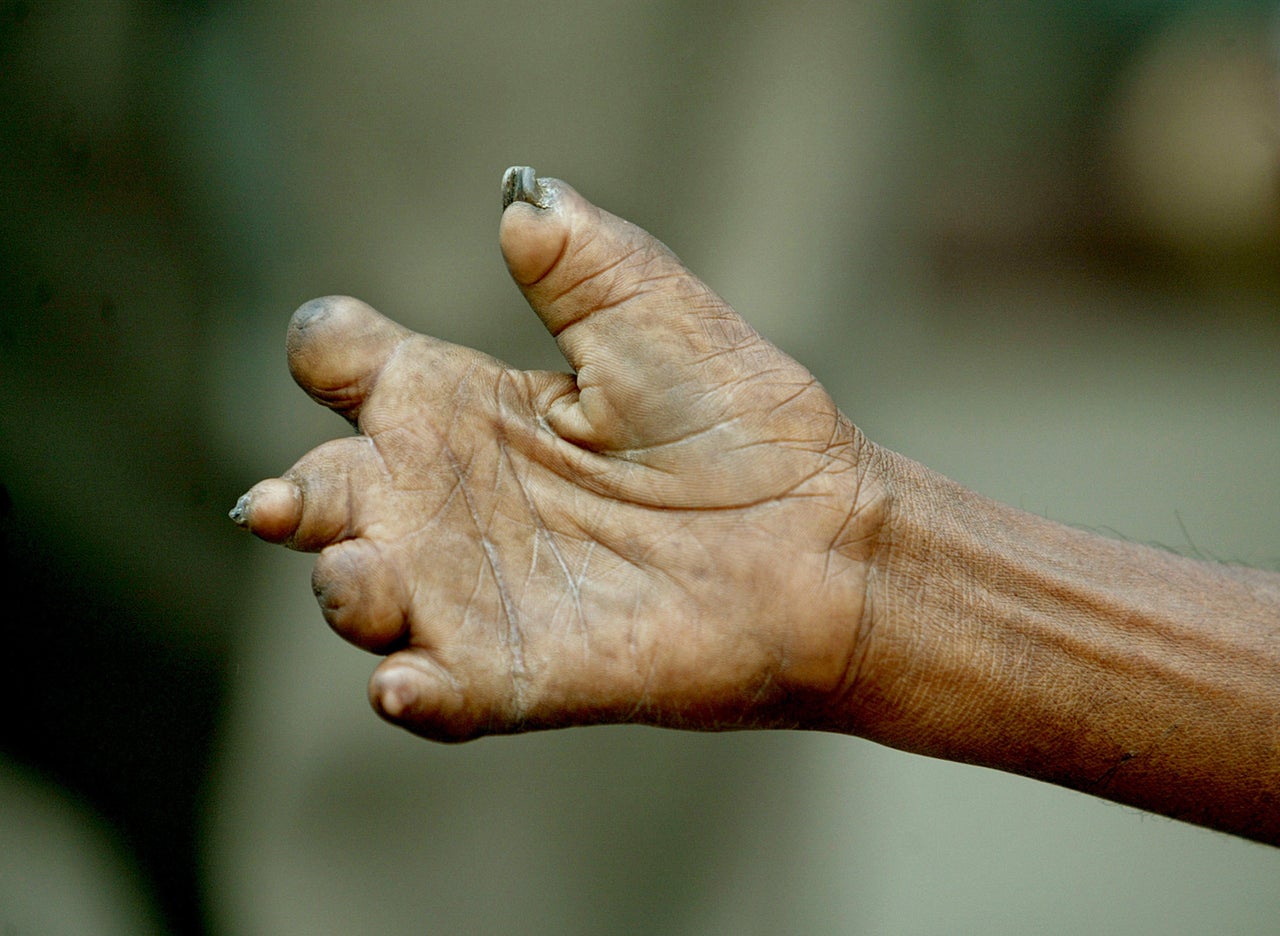 In Myanmar, public information campaigns featuring writers and celebrities also helped to bring down the number of new cases, and to reduce the stigma that once saw people forcing patients off buses, burning their homes and sending them to live in separate villages ― even after their illness had been treated. But the judgment is still there.
"Self-stigma is also a real problem," Zaw Moe Aung said.
U Aye Ko, an 80-year-old former magician and a patient at Myitta, says he felt like he needed to cut himself off from the world.
"I did not want my family to become a disgrace," he said.
U Aye Ko used to perform in theaters all over the country. When he was 50, a red patch that had been on his hip for years started spreading. Leprosy symptoms can take up to 20 years to develop, so when new lesions appeared and his hands eventually lost sensitivity, he decided to leave his home.
"I felt inferior. I preferred to go," he said. But even though leprosy has deformed his hands, he added, he can still perform the tricks his grandfather taught him, like conjuring flowers from his mouth.
His days of public performances may be over, but his desire to reunite with his family has grown stronger.
"I will try to make contact with them," U Aye Ko said. "I know that my nephews live in Singapore. I would like to know how they are."
This series is supported, in part, by funding from the Bill & Melinda Gates Foundation. All content is editorially independent, with no influence or input from the foundation.
If you'd like to contribute a post to the series, send an email to ProjectZero@huffingtonpost.com. And follow the conversation on social media by using the hashtag #ProjectZero.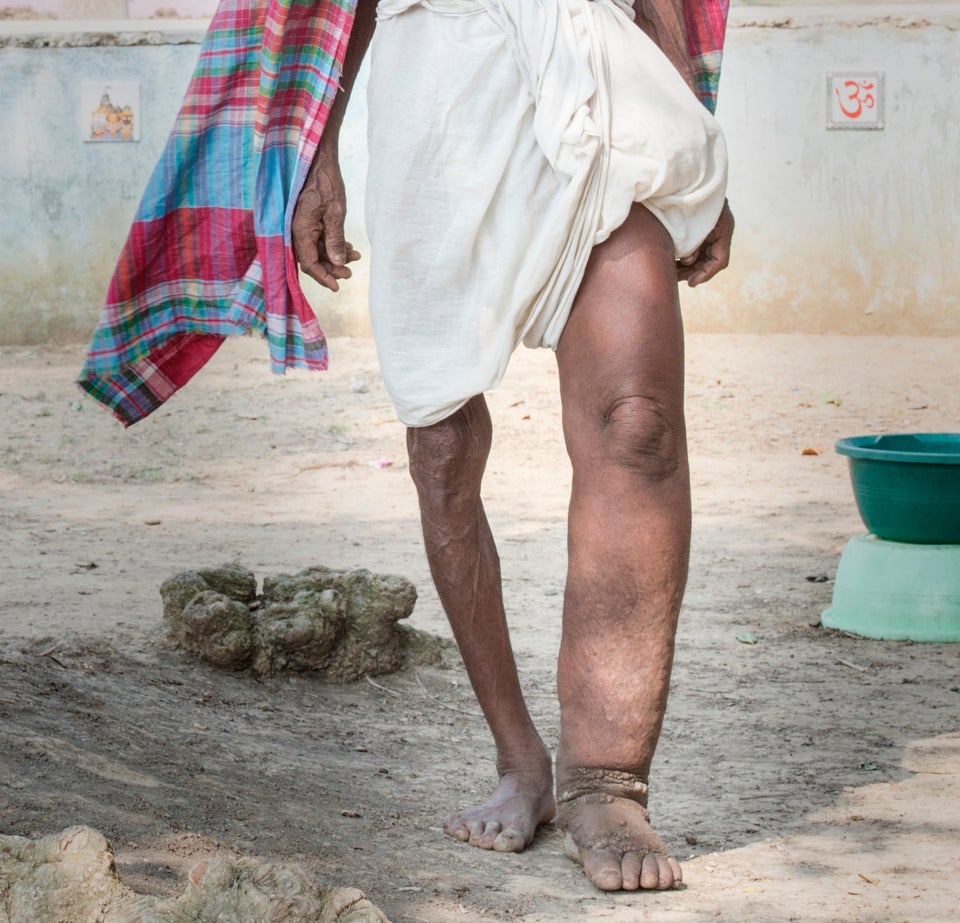 Neglected Tropical Diseases
Support HuffPost
The Stakes Have Never Been Higher
Related
Popular in the Community